Case Study: Market Analysis for Proposed Four Seasons-Branded Condominiums
Nashville, Tennessee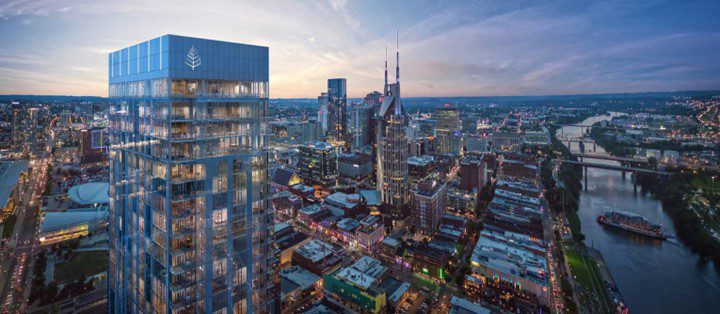 Project Type
Market Analysis
Hotel-Branded Residential
Product Type
Branded Residential
For-Sale Condominiums
The Challenge
In early 2017, AECOM Capital (AECOM) was contemplating the development of Four Seasons-branded condominiums and rental apartments in the SoBro district of Nashville, Tennessee. The proposed program included a Four Seasons hotel (which had been sold to another investor), 145 for-sale condominium units, and 265 multifamily units, as well as supporting parking. AECOM was interested in engaging a consultant to provide a third-party evaluation addressing achievable pricing, absorption, and programming. Thus, RCLCO was engaged to undertake this independent analysis to address the market potential of the proposed for-sale residential development.
Solution
RCLCO's approach to this analysis began with an assessment of the economic development context into which the project would deliver, including an analysis of the socioeconomic trends in Nashville as a whole and the downtown area specifically.  Given the unprecedented nature of the development, RCLCO analyzed both the local market context and super-regional analogues, focusing particularly on Four Seasons branded condominiums in peer markets. RCLCO examined this set of case studies in order to gauge the premium achieved at hotel-branded residential projects.  Equipped with case study premium analyses and local market context based on a customer-based demographic analysis, RCLCO provided underwriting guidance for the proposed development, speaking to the adequacy of market depth, recommended unit sizes and mixes, achievable sales prices, and estimated absorption. Our findings were then summarized in a detailed written report with supporting exhibits.
Impact
The Four Seasons-branded condominiums delivered in November 2022, surpassing $300 million in total sales and selling all but two residences before the grand opening. RCLCO's analysis and recommendations were integral in determining the optimal residential program to best serve the target market, leading to an exceptionally quick sales timeline.
Image Source: Four Seasons
VIEW MORE CASE STUDIES
Speak to One of Our Real Estate Advisors Today
We take a strategic, data-driven approach to solving your real estate problems.
Contact Us