Best Minds: Justin Kennedy and Jonathan Roth, Managing Partners and Co-Founders, 3650 REIT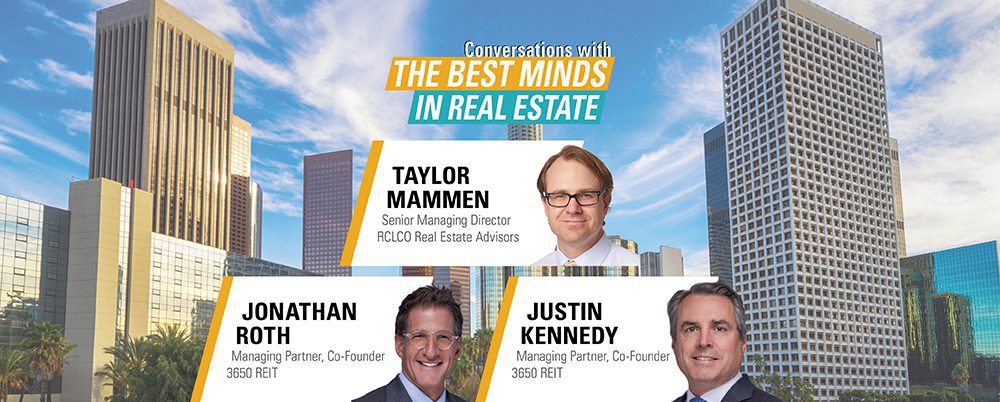 July 30, 2020
Real Estate Investing
Podcast
Subscribe: Google Podcasts | Spotify | Stitcher | TuneIn | RSS
How does 3650 REIT combine expertise in finance and development to create successful real estate lending partnerships?
"As lenders, the rate of change is accelerating and now during the crisis, it's accelerating up to near light speed. As we emerge from the crisis, the rate of change is not going back to what it was in 2015. It's going to accelerate, and borrowers have to be very conscious about who your lender is and the structure you're getting yourself into." – Justin Kennedy
In this episode, RCLCO Senior Managing Director, Taylor Mammen, speaks with 3650 REIT Managing Partners and Co-Founders, Justin Kennedy and Jonathan Roth, about coming up in the real estate industry among the backdrop of the industry's RTC era in the 1990s, how that crisis, among others, set the stage for Jonathan and Justin's careers, and lessons learned about equity investing from a lender's position.
"The reality is, stuff happens along the way. And if you don't have that relationship with your capital provider or if you don't anticipate the many things that can go wrong, those things can bite you. The overuse of leverage always bites back whether you're using it as a lender or as a developer." – Jonathan Roth
About Justin Kennedy, Jonathan Roth, & 3650 REIT
3650 REIT is a balance sheet lender dedicated to long-term, value-added relationships. They maintain the relationships with sponsors and their intermediaries by holding each CRE loan through maturity and servicing them actively. Jonathan Roth is a Co-Founder and Managing Partner of 3650 REIT and is responsible for the identification and evaluation of investment opportunities as well as the formulation and implementation of best practices for the identification, structuring, documentation and management of all investment opportunities. Co-Founder and Managing Partner Justin Kennedy brings 34 years of CRE experience, including finance, investment, distressed assets and development. In 2013, Kennedy co-founded 3650 REIT's CRE development affiliate, Grass River Property, a leading South Florida developer and manager of mixed-use, urban-infill and transit-oriented properties.
About Taylor Mammen & RCLCO
Mr. Mammen joined RCLCO in 2006 and is Director of RCLCO Fund Advisors (RFA) based in the Los Angeles office. Under Mr. Mammen's leadership, RFA helps guide institutional investors' investment strategies, and sources, underwrites, establishes, and oversees their investments in operating companies, joint ventures, funds, and direct assets. Specifically within the past 10 years, Mr. Mammen and the RFA team have allocated in excess of $5 billion in equity commitments across real estate property types, geographies, risk profiles, and investment vehicles. Additionally, he is a member of RCLCO's Executive and Investment Committees and is instrumental in implementing growth initiatives, business development efforts, and investment decisions.
RCLCO is proud to be the "first call" for real estate developers, investors, the public sector, and non-real estate organizations seeking strategic and tactical advice regarding property investment, planning, and development. RCLCO leverages quantitative analytics and a strategic planning framework to provide end-to-end business planning and implementation solutions at an entity, portfolio, or project level.
Topics in this episode include:
Coming up in the real estate industry among the backdrop of the industry's RTC era in the 1990s
The idea that led to the creation of 3650 REIT
The often-forgotten human element of real estate investment
The functional questions of how to operate an organization with three Managing Partners
Learning and advancing careers in moments of crisis and downturn
Lessons learned about equity investing from the position of a lender
Speak to One of Our Real Estate Advisors Today
We take a strategic, data-driven approach to solving your real estate problems.
Contact Us