Interactive Map of the Top-Selling Master-Planned Communities: 2013-MY 2019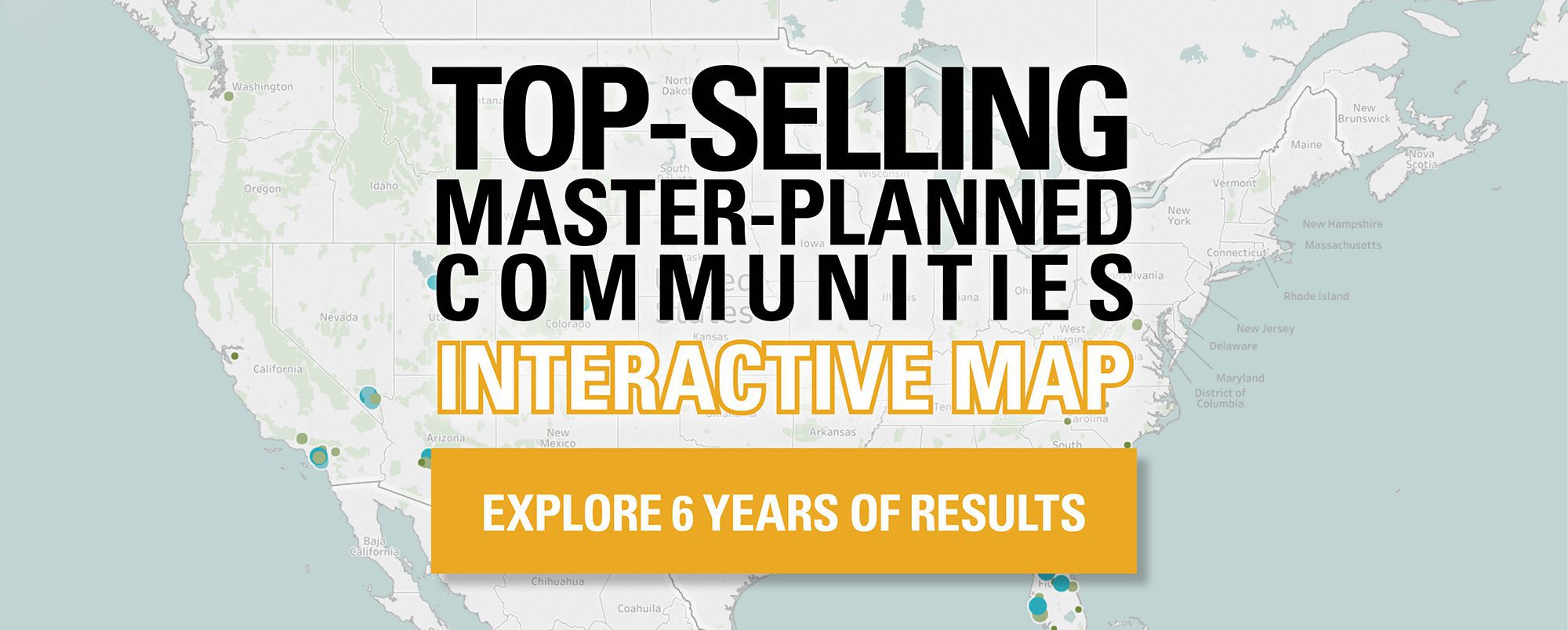 July 9, 2019
For-Sale Housing
Master-Planned Communities
Following the release of RCLCO's report, The Top-Selling Master-Planned Communities of Mid-Year 2019, RCLCO has prepared an interactive map tool which visualizes the sales at Top-Selling MPCs across the country from 2013 to mid-year 2019. Through this visualization, it is clear to see that Florida, Texas, and California represent the largest share of home sales amongst the top-selling communities, with the share of sales in other states steadily growing over the past six years.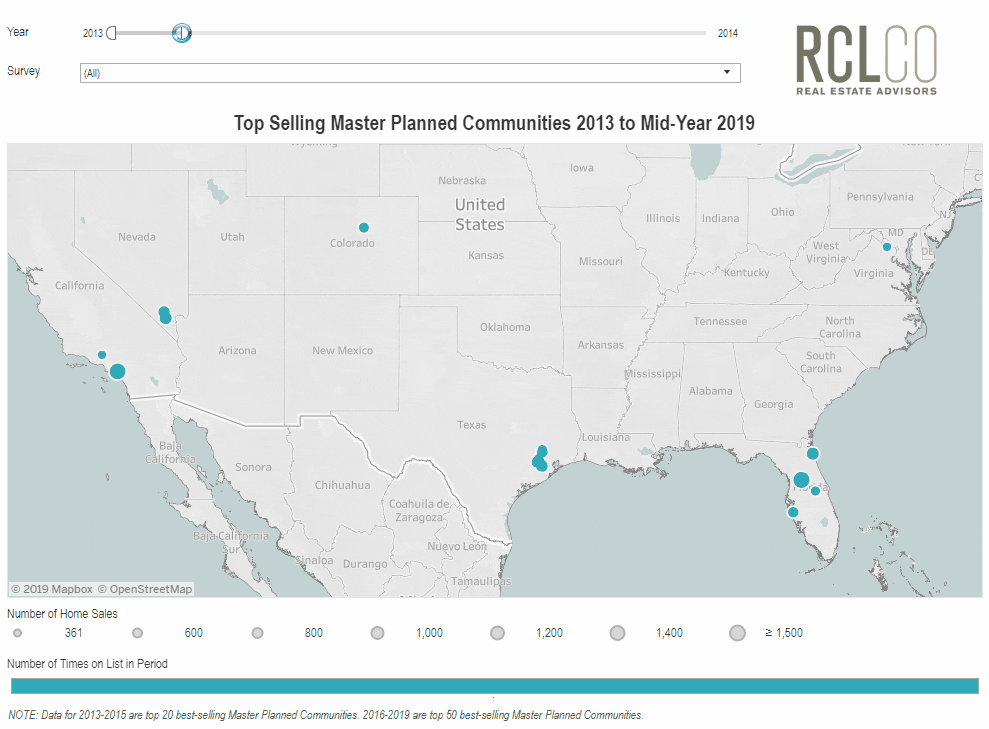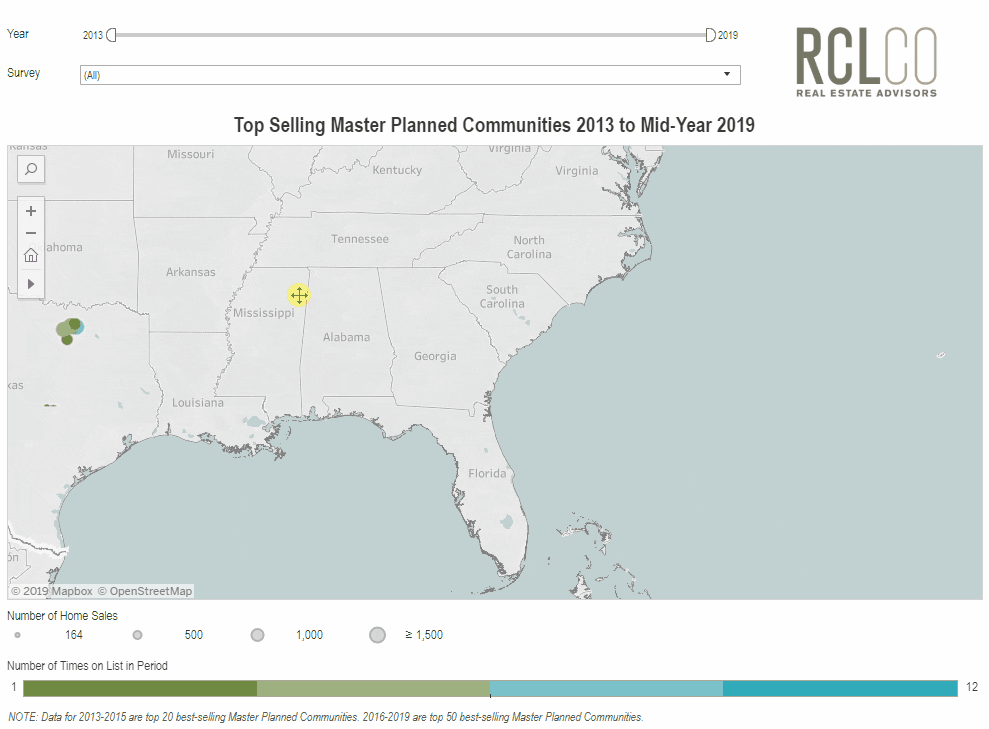 Animated Examples of the Interactive Map Tool
---
---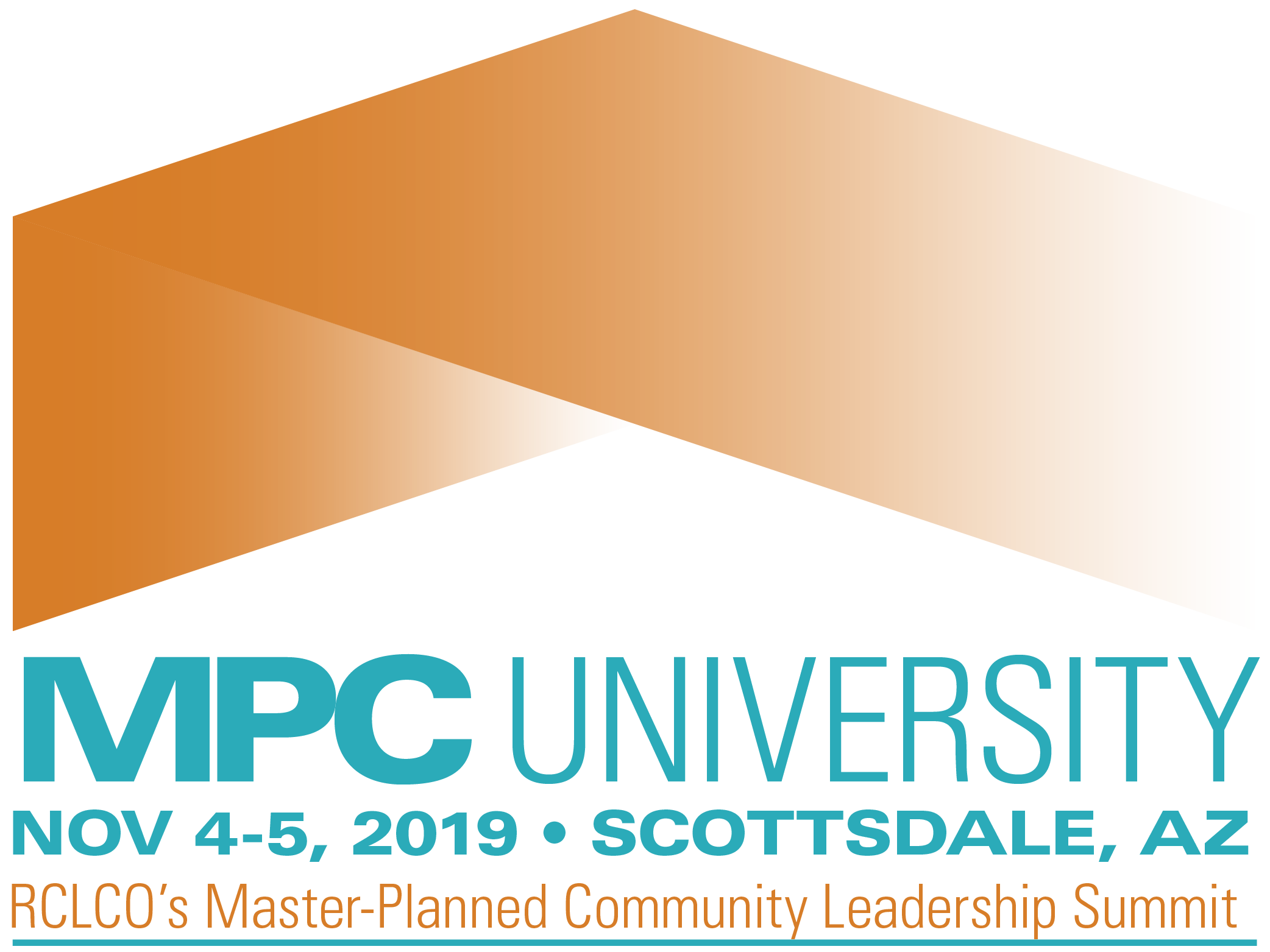 After exploring the latest rankings of the Top-Selling MPCs, sign up for MPC UNIVERSITY to learn more about the secrets to MPC success at our 8th national summit!
MPC University unites the best minds in real estate for two days of behind-the-scenes tours, networking, and educational sessions. Register by August 2 to save $200 with our Early-Bird rate.
Learn more at rclco.com/mpc-university
---
The ranking of RCLCO's top-selling communities is based on total net new home sales as reported by each individual community. To be included in our ranking, MPCs must have a number of features. True MPCs are developed from a comprehensive plan by a master developer, and incorporate a variety of housing types, sizes, and prices, with shared common space, amenities, and a vital public realm. The best examples of MPCs are developed with a strong vision and comprehensive plan that guide development and unify the community through distinctive signage, wayfinding, entry features, landscaping, and architectural/design standards. Beyond the built environment, MPCs differentiate themselves from typical suburban subdivisions in that they provide a means for interaction among neighbors in the sense of the word "community." They foster an environment within which generations can live better in terms of housing and the community environment, and many offer educational opportunities, neighborhood shopping and services, and even employment centers to complement the residential neighborhoods. Although rooted in a vision, the most resilient MPCs have flexible master plans that are environmentally sensitive, market responsive, and nurture the lifestyles of their residents.
Given the above criteria, we do not include the collective sales of multiple, separate communities that are unified only through marketing efforts rather than a preconceived community vision, nor do we include communities that are a collection of subdivisions that have few unifying elements other than consistent signage and name.
---
Interactive Map prepared by Swagata Ghosh, Vice President, BI Operations. 2019 Mid-Year MPC Report and research prepared by Todd LaRue, Managing Director, and Karl Pischke, Vice President.  Additional research support was provided by Josh Ball, Sevan Douzdjian, Ryan Guerdan, Kara Perusse, Lorren Royston, Eric Whinnen, and Morgan Zollinger.
Reasonable efforts have been made to ensure that the data contained in this Advisory reflect accurate and timely information, and the data is believed to be reliable and comprehensive. The Advisory is based on estimates, assumptions, and other information developed by RCLCO from its independent research effort and general knowledge of the industry. This Advisory contains opinions that represent our view of reasonable expectations at this particular time, but our opinions are not offered as predictions or assurances that particular events will occur.
Speak to One of Our Real Estate Advisors Today
We take a strategic, data-driven approach to solving your real estate problems.
Contact Us