Best Minds: Andy Carmody, Tricon Capital Group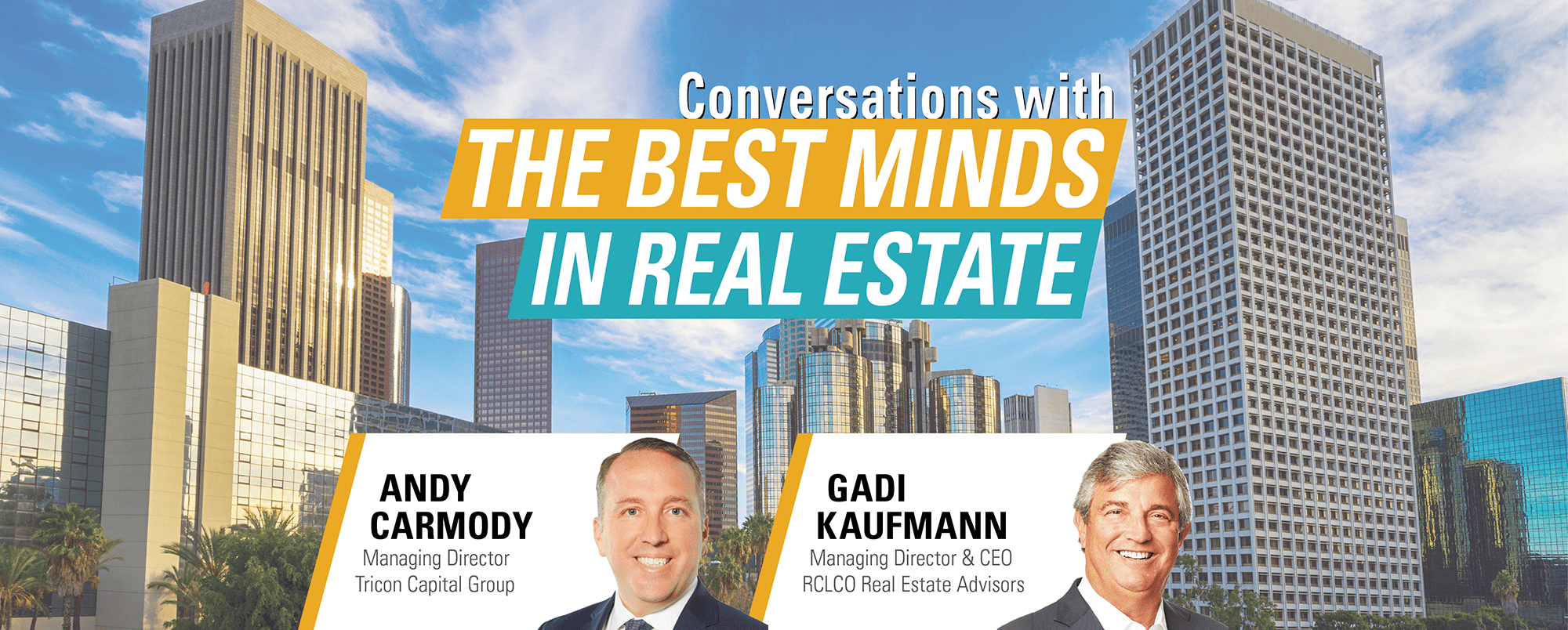 April 4, 2019
Podcast
Residential Housing
Subscribe: Google Podcasts | Spotify | Stitcher | TuneIn | RSS
How does the co-head of Tricon Capital Group manage his own success, both at the company and in his personal life?
In our inaugural episode, RCLCO's CEO & Managing Director, Gadi Kaufmann, sits down with Andy Carmody, Managing Director of Tricon Capital Group, to reveal how Carmody measures success, how to maintain a healthy work-life balance as an executive, and personal lessons learned throughout a career in real estate and beyond.
"The real opportunity here is what's next – where is there new and interesting opportunity in residential real estate in North America and what meaningful role can we play?" – Andy Carmody
About Andy Carmody & Tricon Capital Group
Andy Carmody serves as co-head of Tricon Housing Partners, Tricon Capital Group's land and homebuilding vertical. In this role, Carmody designs and implements strategy, manages senior relationships with key stakeholders, sources investment opportunities, and oversees the investment team responsible for business plan execution and asset management. He is also responsible for overseeing Tricon's master-planned community development platform operated through the Johnson Companies LP. Tricon Capital Group is an investment manager focused on the residential real estate industry in North America with approximately $5.7 billion of assets under management.
About Gadi Kaufmann & RCLCO
Gadi Kaufmann is Managing Director and CEO of RCLCO, a premier end-to-end solutions provider in the real estate sector. RCLCO offers entity- and portfolio-level strategy planning, economic and market analysis advisory work, due diligence and underwriting services, workouts and restructuring work, turnkey development management services, and transaction services. Gadi joined RCLCO in 1979. He specializes in economic consulting for real estate projects and portfolios; in corporate strategy planning and management consulting at the enterprise level; in transactional and negotiation services; and in financing and capital formation strategy formulation and implementation. He is an active board and committee member of several industry and academic organizations, including the PREA Board of Directors, Editorial Advisory Board Member of The Institutional Real Estate Letter – North America, Chairman of the New Programs Committee of PREA, Trustee of ULI, Governor of the ULI Foundation, and member of the boards of the Ziman Center for Real Estate and the Luskin School for Public Policy at UCLA.
Topics in this episode include:
Balancing family and personal life (6:31)
Why real estate? (13:01)
Career lessons & takeaways (16:29)
Defining success (31:00)
Crafting and executing strategic goals (32:49)
Advice for young professionals (35:07)
Areas of continued improvement (39:36)
Management best practices (41:23)
Speak to One of Our Real Estate Advisors Today
We take a strategic, data-driven approach to solving your real estate problems.
Contact Us