Press Release: Sriyas Pande Joins RCLCO Fund Advisors as Vice President
June 20, 2023
Sriyas Pande Joins RCLCO Fund Advisors as Vice President
The real estate portfolio manager will join RFA's growing team, concentrating on institutional client relationships, strategy development, investment sourcing, and asset management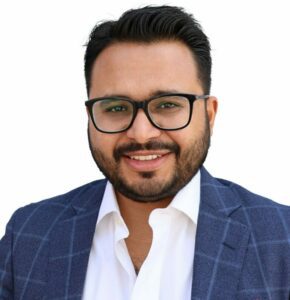 LOS ANGELES, Ca., June 20, 2023 —  RCLCO Fund Advisors (RFA), the investment advisory affiliate of RCLCO, is pleased to announce that Sriyas R. Pande will be joining the team as Vice President, reporting to RFA Managing Director Ben Maslan.
"Sriyas has a proven record of success and experience across a wide range of activities in institutional portfolio management and real estate asset management and we are thrilled he has chosen to join us at RFA," said Ben Maslan. "Our clients look to RFA for broad and deep knowledge of all phases of real estate investment, and both high-level strategic advisory and ground-level implementation, and Sriyas' wide
range of experience will help us advise them effectively."
Pande joins RFA with extensive investment and portfolio management experience, most recently as Real Estate Portfolio Manager at the Employees Retirement System of Texas.  At ERS, he oversaw the pension fund's relationships with open end core funds, closed-end multi-family funds, and PropTech funds. Prior to his tenure at ERS, Pande was an Asset Management Analyst with Harbor Group International, where he worked in all aspects of investment management including acquisitions, due diligence, asset management and dispositions.
Pande has a Bachelor of Business Administration in Finance from Texas Christian University and a Master of Science in Real Estate from the Zicklin School of Business at Baruch College of the City University of New York (CUNY).  In 2022, he was selected as a Pension Real Estate Association's John W. Koza Leadership Fellow.  He is based in the Los Angeles area.
About RCLCO Fund Advisors (RFA)
Established in 2011 and an SEC Registered Investment Advisor since 2014, RCLCO Fund Advisors advises institutional investors on real estate investments through its analytical rigor, highly customized client-centric service, and impassioned search for alignment. With approximately $100 billion in real estate assets under advisement, RFA's diverse and experienced team offers a differentiated approach to real estate investing to address the unique challenges faced by institutional investors through its focus on demand-driven investing, real estate operations, and partnership alignment.
Learn more at www.rclco.com/rfa.
About RCLCO
RCLCO is the "first call" for real estate developers, investors, the public sector, and non-real estate companies and organizations seeking strategic and tactical advice regarding property investment, planning, and development. Our team leverages quantitative analytics and a strategic planning framework to provide end-to-end business planning and implementation solutions at an entity, portfolio, or project level. With the insights and experience gained over 55 years and thousands of projects, RCLCO brings success to all product types across the United States and around the world. RCLCO has offices in Austin, Denver, Los Angeles, New York, Orlando, and Washington, DC, and offers an array of consulting services across real estate economics and management consulting.
Media Contact
Rachel Hoeft
Marketing and Graphic Design Manager
E: rhoeft@rclco.com
Speak to One of Our Real Estate Advisors Today
We take a strategic, data-driven approach to solving your real estate problems.
Contact Us