Webinar Recording: Homebuilder Performance and Strategies in Southeast Florida
Join RCLCO Managing Director Brad Hunter and Director of Business Development Joshua A. Boren to learn how South Florida homebuilders are managing the economic impacts of COVID-19.
Download the video recording of the webinar by filling out the form to the right and following the link that appears.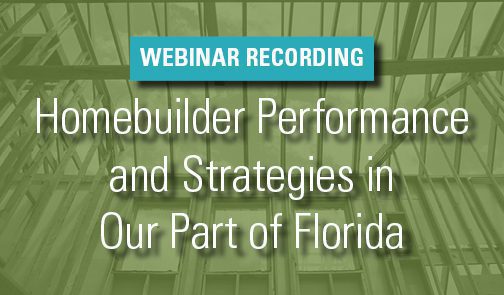 This presentation with Brad Hunter, customized to the markets in the southeastern portion of the State of Florida (Miami-Dade up through Indian River), shares important information for homebuilders and multifamily developers. RCLCO is known as the gold standard in real estate consulting and provides a solid perspective in how builders are moving tactically in this crisis environment, and how they will position for the post-virus world. Brad also gives his perspective on the factors that will determine how long the crisis will last and what the recovery will look like for local builders, developers, and their suppliers. Brad Hunter has been advising builders and developers in this part of Florida for 30 years and helped many of them to anticipate the turns and navigate the 2006-2009 crisis and to prosper in the strong recovery that followed it. In this uncertain time, it is important to look past the "noise" and pick a path forward that is going to set you up to survive and to thrive.
Format:
30-minute moderated discussion
15-minute interactive audience Q&A
Sign Up For Our Newsletter