Best Minds: Anne Olson, Chief Operating Officer, Centerspace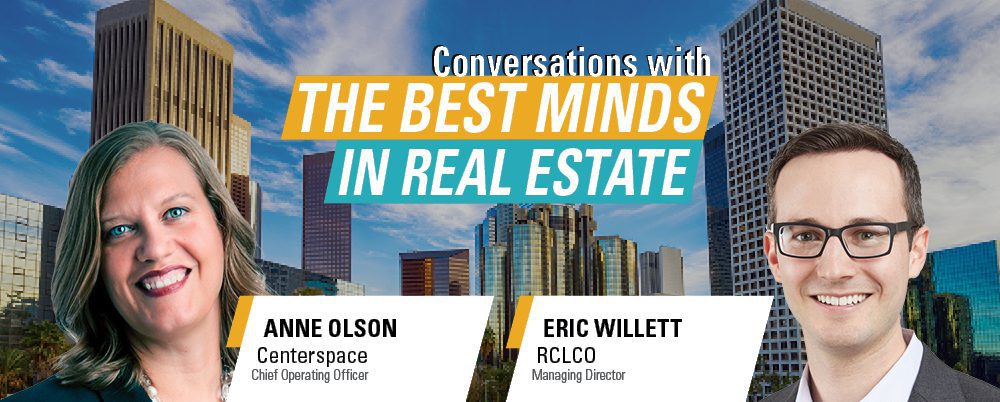 February 16, 2022
Podcast
Strategic Planning
Management Consulting
Subscribe: Google Podcasts | Spotify | Stitcher | TuneIn | RSS
How does Centerspace differentiate itself within the REIT landscape?
In this episode of Conversations with the Best Minds in Real Estate, Managing Director Eric Willett speaks with Centerspace's Chief Operating Officer, Anne Olson, about growing up on a farm before starting a career as a lawyer. Olson discusses the value proposition that Centerspace is providing in their selected markets and addresses how the firm is creating the internal infrastructure to support increasingly critical ESG efforts.
 "Our experience with real estate is in places that we live, work, shop, and stay. They are all in places where we are. Trying to connect community and institutional capital allocation to things like market demographics is sometimes a jump but it's an important one to make when working at scale." – Anne Olson
About Anne Olson & Centerspace
Anne Olson was appointed the Chief Operating Officer in June 2018 after joining Centerspace as General Counsel in April 2017. She leads the operations, asset management, technology, legal, and internal audit functions for the Company. Since joining Centerspace, Anne has overseen more than $800 million of dispositions and the expansion of Centerspace's market presence in Denver, Colorado. She is an active member of ULI and NMHC, and is a member of NMHC's Innovation Committee.
Centerspace is on a mission is to provide great homes for residents and investors. They understand the importance of extending a highly professional level of service to all of their residents — service that adds value to their lives and turns their apartment into a home. From Denver, CO to Minneapolis, MN and states between, Centerspace continues to grow throughout the Midwest, proudly providing apartment homes to thousands of residents, extending their vision to be the premier provider of apartment homes in vibrant communities by focusing on integrity and serving others.
About Eric Willett & RCLCO
Eric Willett is a Managing Director in RCLCO's management consulting practice. He works with a wide variety of market-leading firms throughout the real estate industry to craft and execute organizational strategy, portfolio transformation, and corporate growth initiatives. Eric brings extensive experience in strategic planning and organizational improvement to projects that interface with client teams at all points in the development lifecycle. His collaboration with executive teams has resulted in transformational strategies for real estate companies across all industry sectors and a range of global markets.
RCLCO is proud to be the "first call" for real estate developers, investors, the public sector, and non-real estate organizations seeking strategic and tactical advice regarding property investment, planning, and development. RCLCO leverages quantitative analytics and a strategic planning framework to provide end-to-end business planning and implementation solutions at an entity, portfolio, or project level. With decades of experience, the firm provides bespoke management consulting and strategic planning services for real estate companies, from monitoring long-term trends and evaluating potential market impacts to conceptualizing and implementing new business strategies. Click here to learn more.
 Topics in this episode include:
Growing up on a farm before starting a career as a lawyer with a focus on real estate (1:40)
How the need for a ground-floor tenant led to Anne buying and renovating a retail space with her family in her hometown (3:43)
The professional experience that led Anne to transition from General Counsel roles to the C-Suite how it informs her leadership (5:56)
The value proposition that Centerspace is providing in their selected markets (9:22)
How Centerspace made the decision to expand into Denver and market attributes that informed the reasoning for the move (12:18)
The lessons learned from the early days of the pandemic and staying adaptable in order to support the team and the residents (15:27)
How self-service technology is reshaping the landscape of customer interaction for the multifamily sector (19:02)
The traits and values that makes a Centerspace team member different from the rest of the industry (22:49)
How Centerspace approaches the common investment framework of suburban vs. urban core and how those decisions impact acquisition criteria (24:10)
Anne's advice for the next generation of real estate leaders: ask for help when you need it (26:52)
The increasing importance of ESG and creating the internal infrastructure to support these efforts (28:15)
Anne's love of live music and her experience taking a company retreat to the Red Rocks Amphitheater (33:35)
BROWSE MORE PODCAST EPISODES
LEARN MORE ABOUT RCLCO'S MANAGEMENT CONSULTING SERVICES
Speak to One of Our Real Estate Advisors Today
We take a strategic, data-driven approach to solving your real estate problems.
Contact Us