Best Minds: Colby Cox, Founder & Managing Partner, Convergence Investments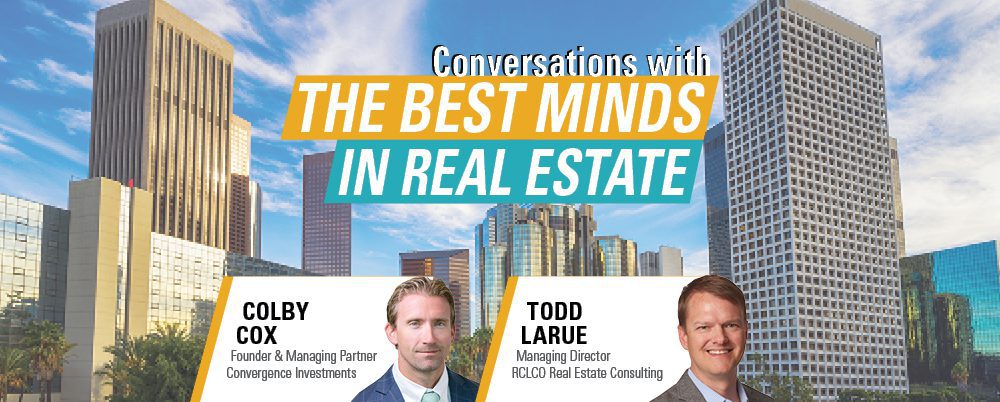 June 30, 2021
Podcast
Master-Planned Communities
Subscribe: Google Podcasts | Spotify | Stitcher | TuneIn | RSS
How is Convergence Investments reinventing the antiquated state of housing and community development?
In this episode of Conversations with the Best Minds in Real Estate, Managing Director Todd LaRue speaks with Convergence Investments' Founder & Managing Partner, Colby Cox. Cox discusses his unique professional work history, starting the company at age 22 after finishing his undergraduate degree, falling in love with the pace and momentum of real estate dealmaking, and how he balances risk-taking between personal endeavors (such as paragliding and snowboarding) with the professional risk management of real estate development.
"The future of community development could act as a transformative mechanism for existing antiquated infrastructure in the surrounding areas… using communities to solve old problems is the next step, and it can follow an economic model that makes a lot of sense." – Colby Cox
About Colby Cox & Convergence Investments
Colby Cox is the Founder & Managing Partner of Convergence Investments and is an accomplished entrepreneur with a devout passion for starting and growing companies. Spending the majority of his career in real estate investment, Cox has developed more than $500 million worth of real estate assets since the formation of Convergence Investments in 2002. He has led the growth of multiple ventures and investment funds over the past 15 years, including the Convergence Opportunity Fund platform. As a serial entrepreneur, he focuses on brand leadership, innovation, and disruption in all his pursuits.
Convergence Investments is a Jackson, Wyoming-based private equity real estate investment firm that operates in a specialized corner of real estate: Master-Planned Community Development. They use their investment model to passionately shape land into innovative, highly desirable planned communities across the country, creating wealth for investors and communities that offer exceptional living experiences to residents.
About Todd LaRue & RCLCO
Todd LaRue joined RCLCO in 2004 and serves as Managing Director in the Austin, Texas office. He manages and directs engagements for developers, landowners, investors, and public sector entities seeking strategic development, investment, and/or planning advice regarding their real estate. His work is focused on providing strategic guidance for complex, large-scale land-use projects including master-planned communities, high-rise mixed-use developments, and resorts. For these engagements, he conducts analyses to help guide clients' planning decisions and development strategies.
RCLCO is proud to be the "first call" for real estate developers, investors, the public sector, and non-real estate organizations seeking strategic and tactical advice regarding property investment, planning, and development. RCLCO leverages quantitative analytics and a strategic planning framework to provide end-to-end business planning and implementation solutions at an entity, portfolio, or project level.
Topics in this episode include:
Colby's unique professional work history of starting his own company at age 22, shortly after finishing his undergraduate degree (1:40)
Falling in love with the pace and momentum of real estate dealmaking through internships while in college (3:06)
Starting a real estate company without seed capital or an investor, getting help from family along the way, and the transaction that launched the business into profitability (4:20)
The major transaction that led Colby to rededicate himself to the original mission of the company: to create great communities (8:10)
How demographic shifts are driving the real estate market in terms of driving demand for preferred products and locations (11:00)
How the lack of commercial non-recourse funding for development projects has created a high-interest private lending market and kept housing supply depressed (13:10)
Balancing risk-taking between personal endeavors (such as paragliding and snowboarding) with the professional risk management of real estate development (19:25)
The difficulty of finding good partnerships, and the importance of communicating and aligning with the values of potential business partners (26:40)
Creating better working relationships by approaching leadership as a mission of self-exploration, humility, and understanding (30:50)
The current antiquated nature of housing development and the potential of 360-degree sustainability (34:30)
Speak to One of Our Real Estate Advisors Today
We take a strategic, data-driven approach to solving your real estate problems.
Contact Us