Best Minds: James Nozar, Strategic Property Partners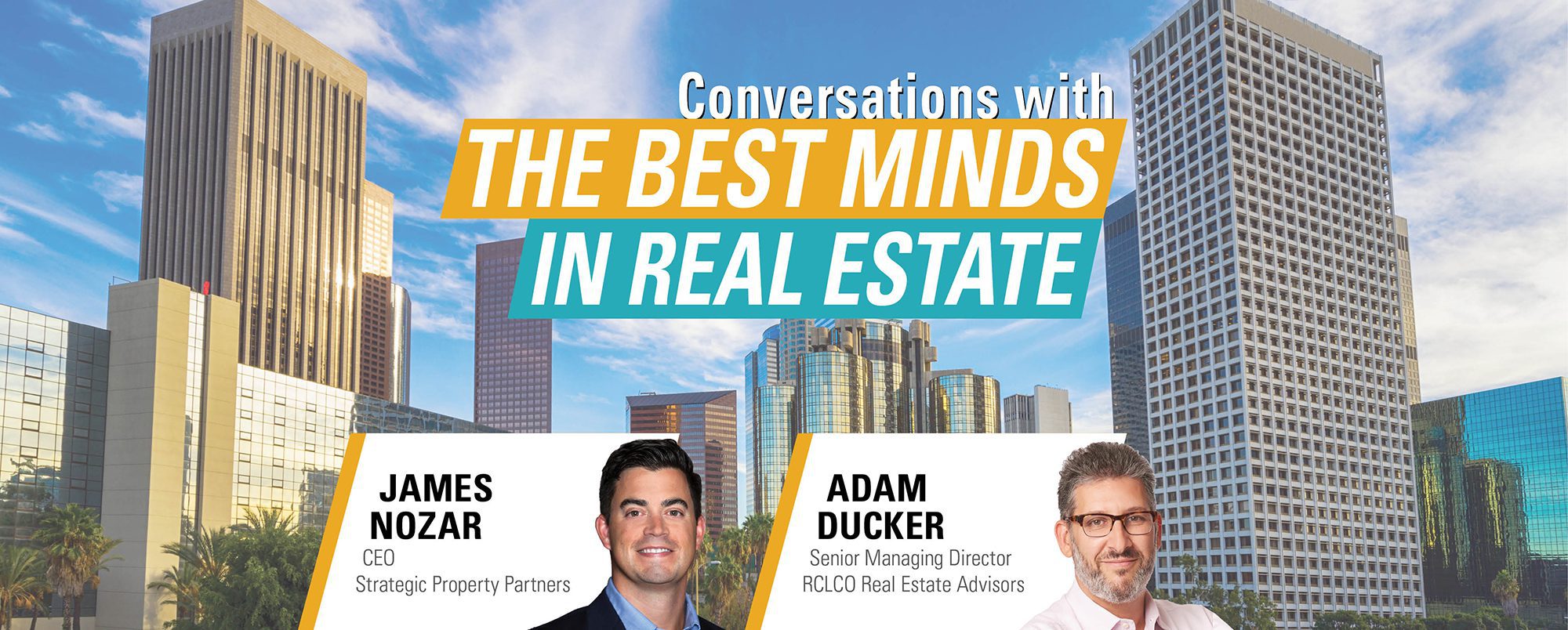 August 6, 2019
Podcast
Sports-Anchored Mixed-Use Development
Strategic Planning
Subscribe: Google Podcasts | Spotify | TuneIn | RSS
How has Strategic Property Partners pioneered a community-centered approach to sports-anchored entertainment districts with the redevelopment surrounding Amalie Arena?
In this episode, RCLCO Senior Managing Director, Adam Ducker, speaks with Strategic Property Partners CEO, James Nozar, for a conversation about expanding the definition of sports-anchored entertainment districts, establishing company culture from scratch in a new venture, and lessons learned from an extensive career in real estate consulting and development.
"We really saw the primary opportunity – with our scale and our approach we could attract and shape some of the growth that was happening in the urban core." – James Nozar
About James Nozar & Strategic Property Partners
James Nozar is the Chief Executive Officer of Strategic Property Partners (SPP), a full-service commercial real estate development firm focused on world-class execution, innovation, and creating high-quality and experiential places, based in Tampa, Florida. Hired in March of 2016, James oversees all aspects of the business, including the planning, design, entitlement, programming, construction, delivery, and long-term operations of the Water Street Tampa development, a large waterfront mixed-use community in downtown Tampa. Nozar joined SPP from The JBG Companies in Washington D.C. where he spent 10 years as a development manager and internal design and programming resource. Prior to JBG, Nozar worked as a real estate consultant for RCLCO and Ernst & Young after receiving a B.S. in Building Construction and a Certificate in City Planning from the Georgia Institute of Technology.
Water Street Tampa offers a vibrant vision for the future of downtown Tampa, and for the people who live, work, study, and visit the neighborhood each day. Building on decades of insights into what makes a sports-anchored entertainment district successful, Water Street Tampa represents a significant investment in the city's future with the addition of nine million square feet of new commercial, residential, hospitality, entertainment, cultural, retail, and educational spaces, connected by pedestrian-oriented streets to community anchors such as the Tampa Convention Center, Amalie Arena (home of the Tampa Bay Lightning NHL team), Tampa Bay History Center, Florida Aquarium, and Tampa Riverwalk.
About Adam Ducker & RCLCO
Adam Ducker is a Senior Managing Director of RCLCO, a premier end-to-end solutions provider in the real estate sector. RCLCO offers entity- and portfolio-level strategy planning, economic and market analysis advisory work, due diligence and underwriting services, workouts and restructuring work, turnkey development management services, and transaction services. Adam joined RCLCO in the mid-1990s as an associate directly after graduate school and learned the trade with the firm. He is a recognized expert in economic development; market and financial analysis; positioning, repositioning, and marketing of real estate assets; consumer research; and corporate strategy development. He has particular depth of expertise in high-density housing, retail/entertainment, and hotel development.
RCLCO is proud to be the "first call" for real estate developers, investors, the public sector, and non-real estate organizations seeking strategic and tactical advice regarding property investment, planning, and development. RCLCO leverages quantitative analytics and a strategic planning framework to provide end-to-end business planning and implementation solutions at an entity, portfolio, or project level.
Topics in this episode include:
Focusing on real estate and architecture from a young age (01:54)
The value of architecture and putting a premium on excellent design (03:40)
Living in Atlanta and experiencing the city's rapid growth in the 1990s (04:38)
The decision to go into real estate as a career (06:02)
The personal qualities that lead to success in development (13:26)
The hardest challenge or transformation working in the last 10 years (14:48)
Creation of Strategic Property Partners and the project that created the opportunity (15:43)
Defining organizational philosophy at the start of the company (22:55)
Establishing goals for company culture from day one and incorporating learning as part of the process (25:45)
The synergies between sports-anchored entertainment districts and neighborhood development (27:10)
The risks and rewards of determining the development program for the Water Street development (33:42)
What does the future hold for Strategic Property Partners? (39:17)
Speak to One of Our Real Estate Advisors Today
We take a strategic, data-driven approach to solving your real estate problems.
Contact Us