Best Minds: Karen Hollinger, SVP of Strategic Initiatives, AvalonBay Communities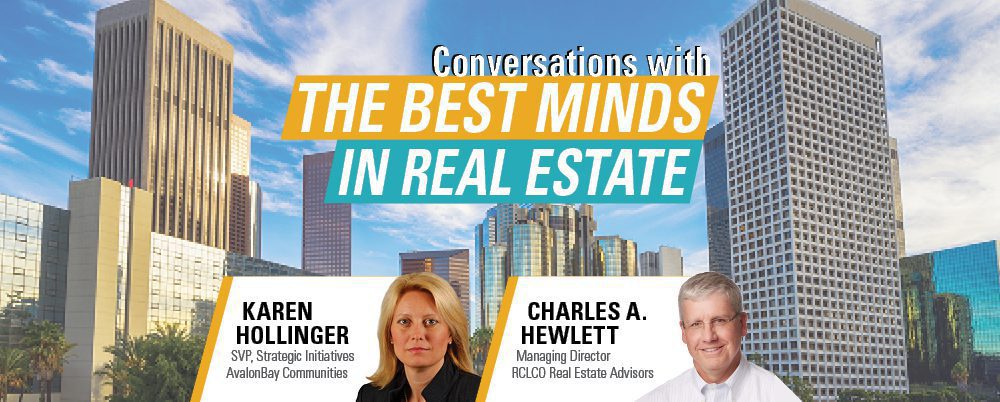 November 30, 2020
Multifamily
Industry Innovation
Podcast
Strategic Planning
Subscribe: Google Podcasts | Spotify | Stitcher | TuneIn | RSS
How is Avalon Bay changing their business model to respond to the challenges and opportunities of 2020 and beyond?
In this episode, RCLCO Managing Director, Charles A. Hewlett, speaks with AvalonBay Communities' SVP of Strategic Initiatives, Karen Hollinger, about her career journey from overseas consulting to domestic real estate, how automation and PropTech is disrupting the multifamily sector, and the impact of the pandemic on the rental apartment industry. She also describes how technology has made it possible to lower operating costs at AvalonBay's newest concept community, Kanso Twinbrook.
"Given the influx of capital from the venture capital space, and just PropTech in general exploding, there's a lot of ways you can mimic an institutional player." – Karen Hollinger
About Karen Hollinger & AvalonBay Communities
Karen Hollinger is Senior Vice President, Strategic Initiatives at AvalonBay Communities and is responsible for leading large strategic corporate initiatives. She also is point on innovation initiatives and for venture-capital investment. She is considered an expert in the multifamily industry, especially in matters related to "PropTech" and technology, and has spoken frequently in the industry. AvalonBay Communities, Inc., an equity REIT, has a long-term track record of developing, redeveloping, acquiring and managing distinctive apartment homes in some of the best U.S. markets, and delivering outsized, risk-adjusted returns to shareholders. With equal parts experience and vision, they've established a leadership position rooted in building value for the long term.
About Charles A. Hewlett & RCLCO
Charles A. Hewlett is a Managing Director based out of the Washington, DC office. He has over 25 years of real estate consulting experience and has advised on commercial and residential properties in most major metropolitan regions. His areas of specialization include corporate, portfolio, and asset-level strategic planning; economic, market, financial feasibility and metropolitan development trend analyses; as well as litigation consulting. Charles has written articles published in the Corridor Real Estate Journal, UrbanLand, and publications of the National Multi Housing Council. He is the author of Strategy Planning for Real Estate Companies.
RCLCO is proud to be the "first call" for real estate developers, investors, the public sector, and non-real estate organizations seeking strategic and tactical advice regarding property investment, planning, and development. RCLCO leverages quantitative analytics and a strategic planning framework to provide end-to-end business planning and implementation solutions at an entity, portfolio, or project level.
Topics in this episode include:
How the AvalonBay family is faring during COVID-19
The biggest challenges of the pandemic and the surprising upsides
The lasting impacts of this pandemic on the rental apartment industry and what the post-COVID "new normal" will look like
What AvalonBay is doing to change the business model to respond to these challenges and opportunities
The impact of technology on real estate over the course of Karen's career and predicted future impacts
How AvalonBay is automating the sales and leasing process, including their new concept community, Kanso Twinbrook
How AvalonBay thinks about data as a strategic edge to think about development decisions
How the influx of venture capital funds in the "Proptech" space impacts multifamily operations beyond the largest institutional competitors
The impact of newer leading-edge technologies, such as artificial intelligence and robotics, could impact real estate
The people and resources that have been most valuable over Karen's career
Speak to One of Our Real Estate Advisors Today
We take a strategic, data-driven approach to solving your real estate problems.
Contact Us