Best Minds: Lili Dunn, President & CEO, Bell Partners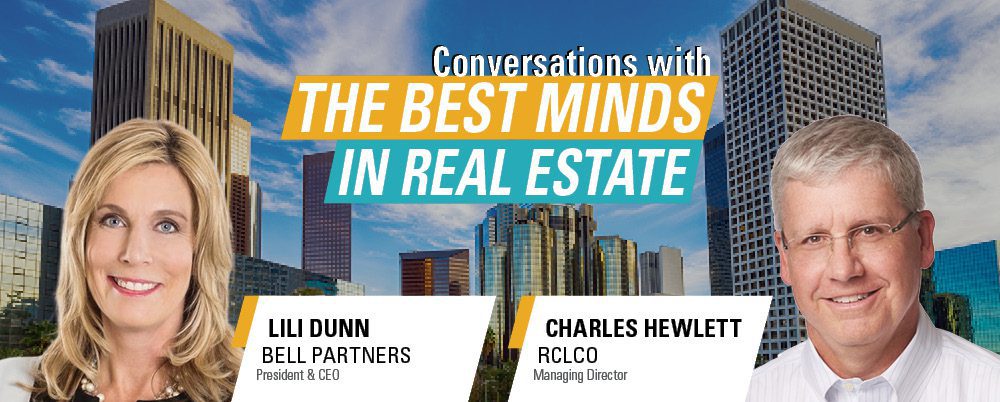 May 24, 2022
Podcast
Succession Planning
Strategic Planning
Management Consulting
Subscribe: Google Podcasts | Spotify | Stitcher | TuneIn | RSS
How does one rise through the ranks in real estate while executing a successful succession plan?
In this episode of Conversations with the Best Minds in Real Estate, Managing Director Charles Hewlett sits down with Bell Partner's President & CEO, Lili Dunn. They discuss Lili's career journey from growing up in the industry and selling houses in college, to working her way up Trammell Crow Residential/Avalon Bay Communities with five kids at home, and becoming Bell Partners' President & CEO after 12 years with the firm. Learn how she is positioning Bell Partners for success after their leadership transition, and her five pieces of advice for people breaking into real estate.
"To have a successful transition it took a lot of trust, an alignment of strategic goals and values, and the ability to disagree with each other, but ultimately be empowered." – Lili Dunn
About Lili Dunn & Bell Partners
Lili Dunn is President & CEO of Bell Partners. She joined Bell in 2010 as Chief Investment Officer and became chair of the Executive Committee in 2014. In 2016, she assumed the role of President and in March 2022 was named Chief Executive Officer. She oversees all aspects of the company's business, including Investments, Fund Management, Operations, Construction, and Accounting & Finance. She leads Bell Partners on a day-to-day basis and is involved in all aspects of the business, with an emphasis on transaction activity, capital raising and overall company strategy.
Prior to joining Bell Partners, Lili was a 20-year veteran with AvalonBay Communities, a leading public apartment REIT and a member of the S&P 500, and Trammell Crow Residential, its predecessor entity. Lili serves on the Executive Board of the National Multi Housing Council (NMHC), is Vice Chair of Urban Land Institute's multifamily council, is a member of Pension Real Estate Association (PREA) and serves on the Board of Directors for the Association of Foreign Investors in Real Estate (AFIRE). She earned her BBA from the University of Michigan, where she graduated with highest honors.
About Charles Hewlett & RCLCO
Charles A. Hewlett is a Managing Director based out of the Washington, DC office. He has over 25 years of real estate consulting experience and has advised on commercial and residential properties in most major metropolitan regions. His areas of specialization include corporate, portfolio, and asset-level strategic planning; economic, market, financial feasibility and metropolitan development trend analyses; as well as litigation consulting. Charles has written articles published in the Corridor Real Estate Journal, UrbanLand, and publications of the National Multi Housing Council. He is the author of Strategy Planning for Real Estate Companies.
RCLCO is proud to be the "first call" for real estate developers, investors, the public sector, and non-real estate organizations seeking strategic and tactical advice regarding property investment, planning, and development. RCLCO leverages quantitative analytics and a strategic planning framework to provide end-to-end business planning and implementation solutions at an entity, portfolio, or project level.
BROWSE MORE PODCAST EPISODES
LEARN MORE ABOUT RCLCO'S MANAGEMENT CONSULTING SERVICES
Speak to One of Our Real Estate Advisors Today
We take a strategic, data-driven approach to solving your real estate problems.
Contact Us