Best Minds: Mike Neal, H.G. Fenton Company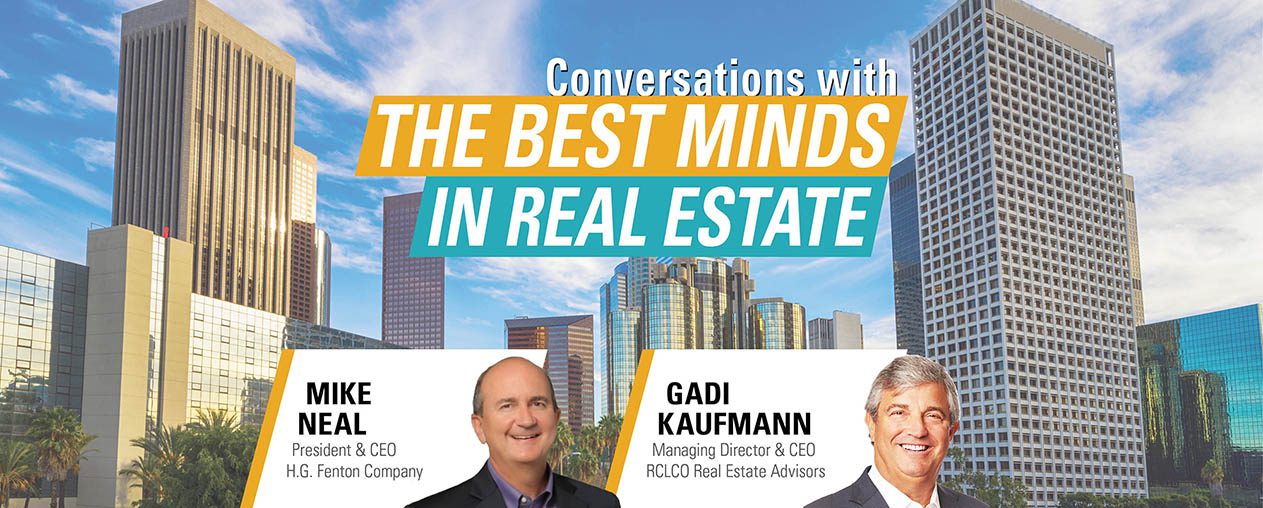 June 6, 2019
Real Estate Investing
Podcast
Subscribe: Google Podcasts | Spotify | Stitcher | TuneIn | RSS
How does H.G. Fenton establish an organizational culture of transparency and communication?
In this episode of our podcast Conversations with the Best Minds in Real Estate, RCLCO CEO and Managing Director, Gadi Kaufmann, speaks with H.G. Fenton Company President and CEO, Mike Neal, for a conversation about creating a positive company culture for multiple stakeholders, balancing the pace of growth with fiscal discipline, and financially preparing for changes in the real estate cycle.
"We build the places where dreams come true and memories are made. That's what we do." Mike Neal, H.G. Fenton Company
About Mike Neal & H.G. Fenton Company
Mike Neal is responsible for development and execution of the H.G. Fenton Group of Companies' strategic plans, including real estate investment policy and the development and implementation of the organizational strategy to support the strategic objectives. The H.G. Fenton Group of Companies own income property; entitle and develop land; and develop industrial, office, and apartment buildings. During Mike's tenure as President, the Group of Companies grew from $370 million in assets (2000) to over $3.45 billion in assets (2016). The growth resulted from implementing a series of strategic plans to convert 6,000 acres of land into income property through a combination of development and IRC 1031 exchanges. The income portfolio consists of over 4.5 million square feet of industrial and office properties and over 4,000 apartment units in San Diego County.
About Gadi Kaufmann & RCLCO
Gadi Kaufmann is Managing Director and CEO of RCLCO, a premier end-to-end solutions provider in the real estate sector. RCLCO offers entity- and portfolio-level strategy planning, economic and market analysis advisory work, due diligence and underwriting services, workouts and restructuring work, turnkey development management services, and transaction services. Gadi joined RCLCO in 1979. He specializes in economic consulting for real estate projects and portfolios; in corporate strategy planning and management consulting at the enterprise level; in transactional and negotiation services; and in financing and capital formation strategy formulation and implementation. He is an active board and committee member of several industry and academic organizations, including the PREA Board of Directors, Editorial Advisory Board Member of The Institutional Real Estate Letter – North America, Chairman of the New Programs Committee of PREA, Trustee of ULI, Governor of the ULI Foundation, and member of the boards of the Ziman Center for Real Estate and the Luskin School for Public Policy at UCLA.
RCLCO is proud to be the "first call" for real estate developers, investors, the public sector, and non-real estate organizations seeking strategic and tactical advice regarding property investment, planning, and development. RCLCO leverages quantitative analytics and a strategic planning framework to provide end-to-end business planning and implementation solutions at an entity, portfolio, or project level.
Topics in this episode include:
Career experience and growing up in a construction family (03:18)
Key factors driving strategy planning for H.G. Fenton (07:03)
How does H.G. Fenton serve all major constituents of the company, including owners, employees, and end-users? (10:20)
How the business environment has changed in the past 10 years (12:45)
The metrics and measurements for managing cash flow throughout market cycles (14:20)
The challenges and process of implementing a modified debt coverage ratio (16:23)
Balancing the pace of growth while maintaining borrowing discipline (18:00)
The cost of maintaining dry powder (20:18)
Prioritizing time and projects from the perspective of the CEO (22:24)
How H.G. Fenton prioritizes the allocation of capital (24:40)
The pros and cons of using only in-house capital (26:20)
Preparing for changes in the real estate cycle and managing timing expectations (28:25)
Mistakes and lessons learned (31:50)
Creating a robust life outside of the professional sphere (33:58)
Identifying and addressing weaknesses and areas for improvement (36:33)
Establishing organizational culture of transparency and communication (39:14)
Resources and insights on becoming an effective leader in a real estate company (42:40)
Marketing real estate with the "Four P's" (44:15)
Advice for young leaders (47:50)
Speak to One of Our Real Estate Advisors Today
We take a strategic, data-driven approach to solving your real estate problems.
Contact Us