Best Minds: Rex Jensen, President and CEO, Schroeder-Manatee Ranch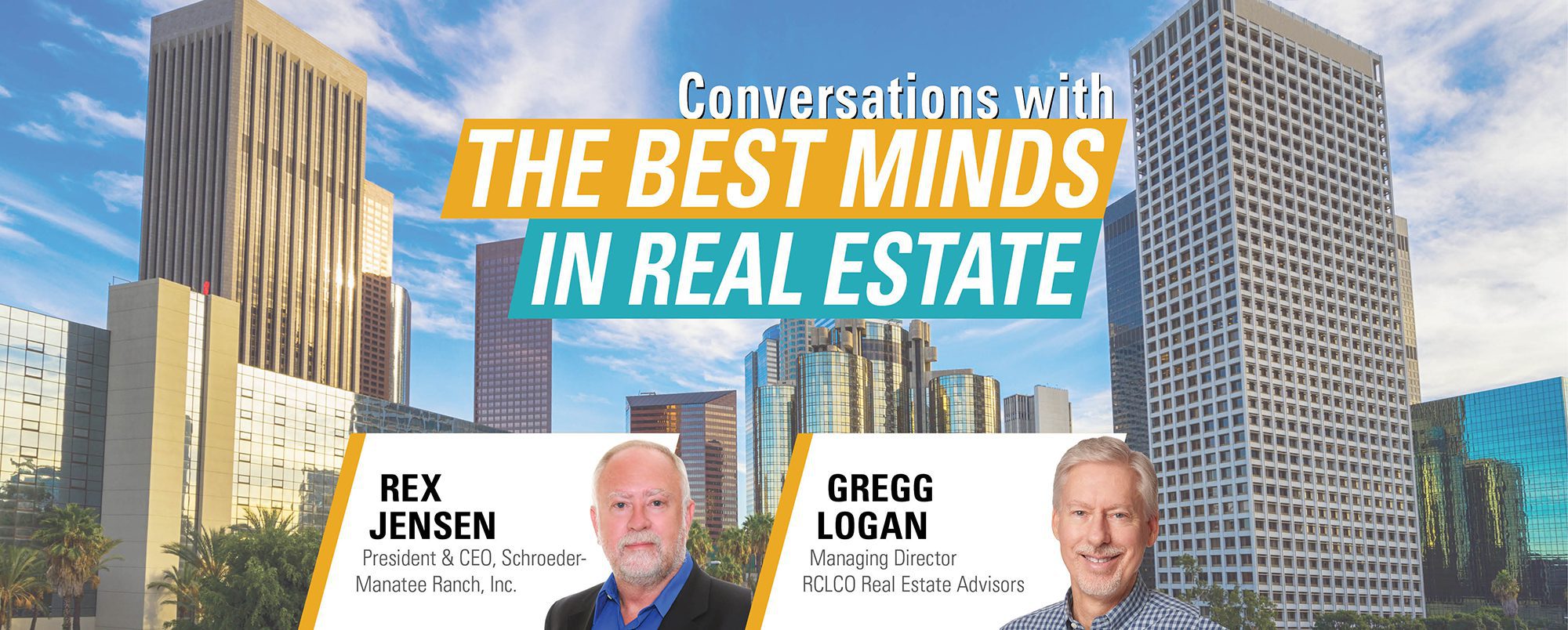 February 27, 2020
Podcast
Master-Planned Communities
Subscribe: Google Podcasts | Spotify | Stitcher | TuneIn | RSS
How has Schroeder-Manatee Ranch actualized their vision to create one of the most successful master-planned communities in the United States?

In this episode, RCLCO Managing Director Gregg Logan speaks with Schroeder-Manatee Ranch President and CEO, Rex Jensen, about pivoting to real estate after beginning a career in law, how to communicate an executive vision that "sees three chess moves ahead" to all internal stakeholders, and what the success of Lakewood Ranch means for the future of the master-planned community concept.
"To me, Lakewood Ranch is not a project. This is a community. The difference between them is like the difference between a square and a cube… there's a whole third dimension you have to pay attention to."– Rex Jensen
About Rex Jensen & Schroeder-Manatee Ranch

Rex Jensen was promoted to President of Schroeder-Manatee Ranch (SMR) in August 2002 and became Chief Executive Officer in February 2005. In that capacity, Jensen oversees all the businesses of SMR, including agriculture, aggregate mining, and real estate development on its 54-square-mile landholding in Manatee and Sarasota counties. The company's award-winning development, Lakewood Ranch, a fully integrated, master-planned community, is ranked in the top 10 fastest selling in the United States from 2011 through 2019. Jensen is a proactive leader known for setting the entitlement, green building, transactional, and financial framework for Lakewood Ranch as well as several public/private partnerships with school boards, local, regional, and state governments, and innovative business approaches to difficult private and public sector issues.
Schroeder-Manatee Ranch (SMR) is the parent company of Lakewood Ranch, a 31,000-acre master-planned community located in Manatee and Sarasota Counties in Southwest Florida. SMR transitioned into community development in February of 1994, and today Lakewood Ranch is home to over 36,000 residents and 16,000 jobs. The community features vibrant town centers, A-rated schools, the Lakewood Ranch Medical Center, Lakewood Ranch Golf & Country Club, Premier Sports Campus, and Sarasota Polo Club.
About Gregg Logan & RCLCO

Over the past 30 years, Gregg Logan has worked with leading real estate developers, landowners, investors, builders, and public sector entities, helping them make the best development, investment, and planning decisions for their real estate. Gregg's advisory work has included market evaluations and strategies for residential, commercial, and mixed-use developments, town centers, and suburban business districts; and economic development studies for cities, counties, and community improvement districts.
RCLCO is proud to be the "first call" for real estate developers, investors, the public sector, and non-real estate organizations seeking strategic and tactical advice regarding property investment, planning, and development. RCLCO leverages quantitative analytics and a strategic planning framework to provide end-to-end business planning and implementation solutions at an entity, portfolio, or project level.
Topics in this episode include:
Beginning a career in law then pivoting to focus on real estate after initial exposure (2:40)
Creating a real estate consultancy and working with local governments in South Florida (5:30)
Overcoming initial reservations to accept a position at Schroeder-Manatee Ranch based on project opportunities (7:05)
Navigating the transition from "running the show" with a consulting firm to being part of a family enterprise (8:55)
The long-term vision and strategy required to create a viable mixed-use community in what was considered "the wrong side of town" (11:06)
Being one of the first developments to utilize community development bond financing to create an employment base (15:00)
Future-proofing and the effects of the Great Recession on the business strategy and viable partnerships (21:30)
Executing on an entrepreneurial mentality by partnering with unique organizations (28:08)
Creating a lifestyle brand for Lakewood Ranch by introducing cultural amenities (31:25)
How to prioritize time and select projects while keeping the big picture in mind (34:30)
Collaborating with Harvard Medical School and others to create the Brain Health Initiative (36:42)
Learning leadership skills and providing advice for young leaders (41:33)
What the success of Lakewood Ranch means for the future of the master-planned community concept (46:10)
How to communicate an executive vision that "sees three chess moves ahead" to all internal stakeholders (47:41)
Speak to One of Our Real Estate Advisors Today
We take a strategic, data-driven approach to solving your real estate problems.
Contact Us