Best Minds: Sandy Sigal, President & Chief Executive Officer, NewMark Merrill Companies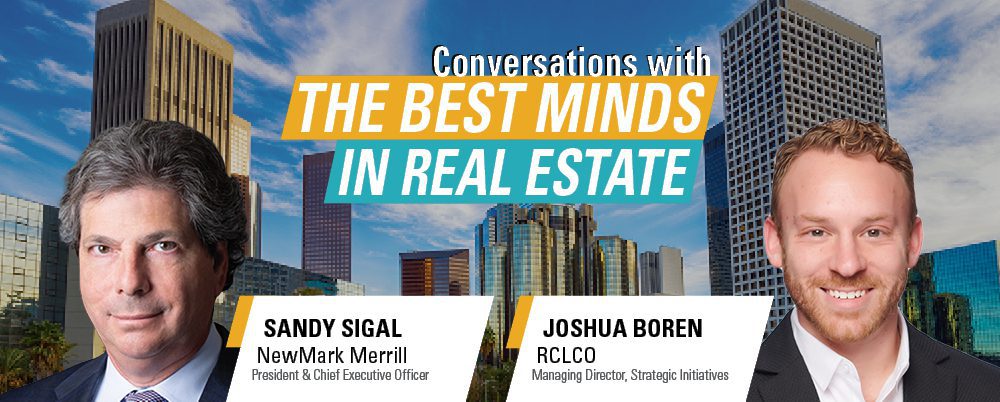 January 16, 2022
Podcast
Retail
Subscribe: Google Podcasts | Spotify | Stitcher | TuneIn | RSS
How does NewMark Merrill leverage consumer retail data to create a successful real estate strategy?
In this episode of Conversations with the Best Minds in Real Estate, Managing Director Joshua Boren speaks with NewMark Merrill Companies' President and Chief Executive Officer, Sandy Sigal, about how learning computer programming at a young age led to a career in real estate. Sigal discusses the often-forgotten benefit of generating detailed consumer data through retail real estate and how leveraging that data has allowed NewMark Merrill to grow. He also addresses the remarkable resiliency of consumer demand for in-store retail experiences, especially within the context of the rapid growth of e-commerce and the challenges of the COVID-19 pandemic.
"In reality, retail has a big advantage that we typically throw away in that we get tons of data all the time: how many customers come every day, where they visit, where they cross-shop, how long do they stay, and if they like the experience."– Sandy Sigal
About Sandy Sigal & NewMark Merrill Companies
Sandy Sigal is a graduate of the University of California at Los Angeles and has been an entrepreneur in the real estate industry for over 30 years. In 1997, Sigal founded and currently serves as Chief Executive Officer and President of NewMark Merrill Companies, which has grown to be one of the fastest-growing privately held developers and owners of shopping centers in California, Colorado, and Illinois. He is also Chairman of BrightStreet Ventures, a company he co-founded to provide more opportunities to his tenants and other owners of centers by integrating online and social platforms with traditional brick-and-mortar businesses.
Since NewMark Merrill's inception in 1997, Sigal has acquired, developed, and/or managed and repositioned over 100 additional retail centers. NewMark Merrill has been ranked one of Los Angeles' Fastest-Growing Private Companies by the Los Angeles Business Journal for 7 years, Top 10 Property Management Firms & Top 10 Development Firms by the Los Angeles Business Journal, and currently owns and/or manages 85 shopping centers throughout California, Colorado and Illinois, representing almost 11,000,000 square feet with a collective value over $2 billion. The Company received "The Best Retail Project of 2013" by the Los Angeles Business Journal for a project it renovated and redeveloped in Baldwin Park, California.
About Joshua Boren & RCLCO
Joshua A. Boren specializes in leading business development, marketing, and strategic initiatives for various real estate needs and solutions as part of the RCLCO team. With nearly 15 years of experience, Joshua specializes in understanding how network building and relationship management are critical to organizational success, which has resulted in millions of dollars of closed engagements. Incredibly involved in the global real estate community, Joshua holds membership and leadership positions at Urban Land Institute Los Angeles and Jewish Federation Los Angeles' Real Estate and Construction Division, among others. Joshua also hosts RCLCO's monthly Round-Up Webinar Series, which dives into the ever-changing impacts of major trends in the real estate markets. As part of the RCLCO sales and marketing team, he was recently recognized as a 2021 Marketing Influencer by Globe St.
RCLCO is proud to be the "first call" for real estate developers, investors, the public sector, and non-real estate organizations seeking strategic and tactical advice regarding property investment, planning, and development. RCLCO leverages quantitative analytics and a strategic planning framework to provide end-to-end business planning and implementation solutions at an entity, portfolio, or project level. With over fifty years of experience, the firm provides unique resource for owners and operators of retail centers, from quickly and efficiently assessing marketing conditions to analyzing the financial implications of redevelopment scenarios. Click here to learn more.
Topics in this episode include:
How learning computer programming at a young age led Sandy to a career in real estate (2:12)
How Sandy and his partners built the NewMark Merrill Companies into a retail real estate powerhouse (5:26)
The special advantage of owning and operating retail real estate: detailed data collection (7:07)
Entering the data brokerage and proptech space both as vendors, via BrightStreet Ventures, and as investors (9:45)
The remarkable resiliency of consumer demand for in-store retail experiences, especially within the context of the rapid growth of e-commerce and the challenges of the COVID-19 pandemic (11:26)
The most important trends and market shifts Sandy has witnessed over his career, including the increasingly cooperative relationships between landlords and retail tenants, the ongoing need for intentional placemaking, and generational demographic drivers for the aging Baby Boomer and Millennial cohorts (15:27)
The biggest mistakes of Sandy's career and the hard lessons learned (17:50)
The importance of mentoring the next generation of executives through YPO and other professional organizations (22:40)
Sandy's ongoing involvement with organizations working to alleviate homelessness and provide resources for the unhoused (26:14)
Juggling competing priorities between work, family, philanthropy, and lifelong learning (32:52)
BROWSE MORE PODCAST EPISODES
LEARN MORE ABOUT RCLCO'S RETAIL REAL ESTATE CONSULTING
Speak to One of Our Real Estate Advisors Today
We take a strategic, data-driven approach to solving your real estate problems.
Contact Us