Best Minds: Steve LeBlanc, CapRidge Partners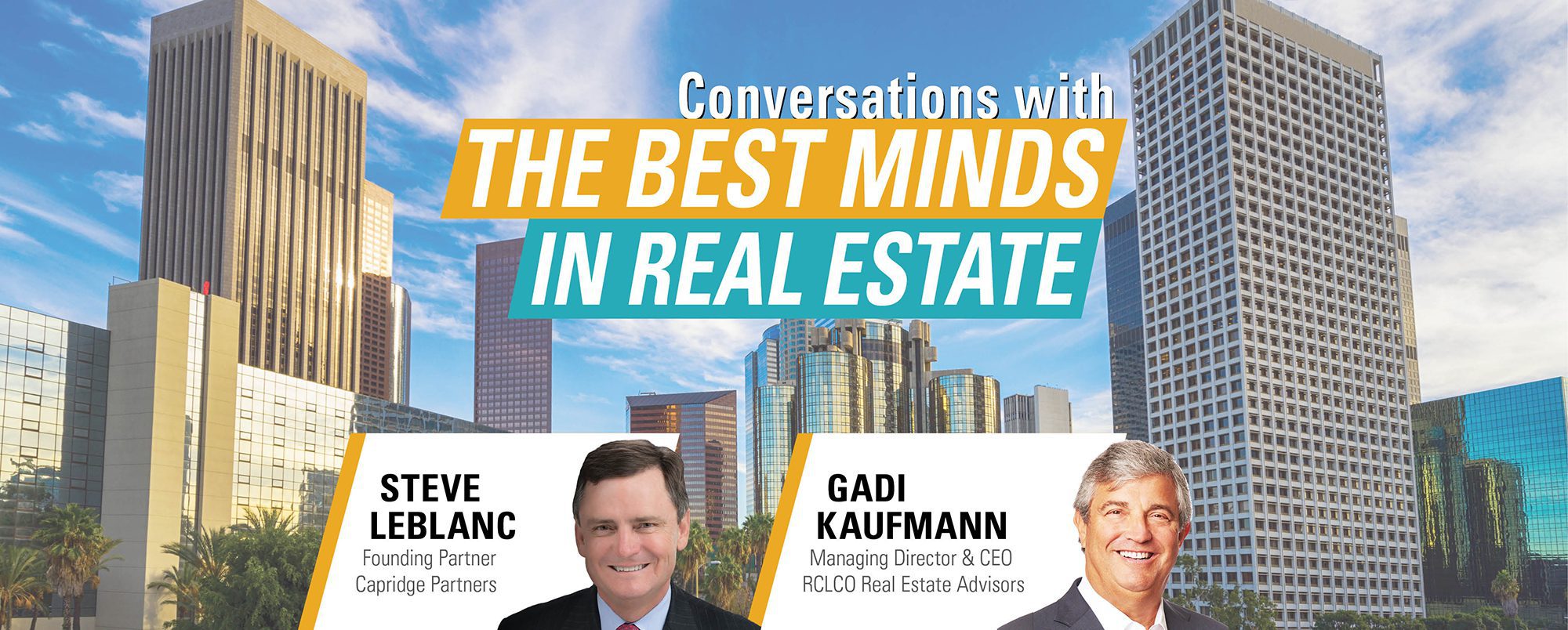 September 19, 2019
Podcast
Succession Planning
Institutional Investment
Subscribe: Google Podcasts | Spotify | Stitcher | TuneIn | RSS
How does CapRidge Partners navigate the complex and ever-changing world of real estate investment?
In this episode, RCLCO CEO and Managing Director, Gadi Kaufmann, speaks with CapRidge Partners' Founding Partner, Steve LeBlanc, for a conversation about the growth in alternative investments for institutional investors and family offices, and the relationship between GPs and LPs.
"The big are going to get bigger, but there's always going to be a need for the small local entrepreneur. We're so early in this industry and there's so much growth for both." – Steve LeBlanc
About Steve LeBlanc and CapRidge Partners
Steve LeBlanc, and his partner Tom Stacy, are Co-Founders of CapRidge Partners, LLC. CapRidge is a fully integrated operating company focused on value investing in growth markets with a strong commitment to customer service. Headquartered in Austin, CapRidge serves the major Texas markets along with select growth markets in the Southeast, Southwest, and Mountain West. The Company combines the 20+ year operating platform experience of Tom Stacy with the institutional investment expertise of Steve LeBlanc. Above all else, CapRidge is dedicated to providing superior services to its tenants, clients, partners, and investors.
LeBlanc is the former Senior Managing Director of private markets, overseeing the real assets, private equity, and principal investments portfolios at the $110 billion Teacher Retirement System of Texas ("TRS"). An experienced leader of investment professionals and assets in the real estate industry, LeBlanc was also president and chief executive officer of NYSE-listed REIT Summit Properties in Charlotte, North Carolina.
About Gadi Kaufmann & RCLCO
Gadi Kaufmann is Managing Director and CEO of RCLCO, a premier end-to-end solutions provider in the real estate sector. RCLCO offers entity- and portfolio-level strategy planning, economic and market analysis advisory work, due diligence and underwriting services, workouts and restructuring work, turnkey development management services, and transaction services. Gadi joined RCLCO in 1979. He specializes in economic consulting for real estate projects and portfolios; corporate strategy planning and management consulting at the enterprise level; transactional and negotiation services; and financing and capital formation strategy formulation and implementation. He is an active board and committee member of several industry and academic organizations, including the PREA Board of Directors, Editorial Advisory Board Member of The Institutional Real Estate Letter – North America, Chairman of the New Programs Committee of PREA, Trustee of ULI, Governor of the ULI Foundation, and member of the boards of the Ziman Center for Real Estate and the Luskin School for Public Policy at UCLA.
RCLCO is proud to be the "first call" for real estate developers, investors, the public sector, and non-real estate organizations seeking strategic and tactical advice regarding property investment, planning, and development. RCLCO leverages quantitative analytics and a strategic planning framework to provide end-to-end business planning and implementation solutions at an entity, portfolio, or project level.
Topics in this episode include:
Why real estate? (03:25)
What are the benefits of the fully-integrated operating company model? (15:40)
Advice for balancing family, friends, and career (25:18)
The changing world of institutional investments (31:20)
How will the institutional investment landscape evolve in the next 5-10 years? (35:27)
The impact of the market shift from defined-benefit to defined-contribution plans for institutional investment (39:07)
New ways for operators to tap into defined-contribution capital (43:02)
Preparing for succession (44:30)
Advice for guiding public plan real estate investments (46:30)
Applicability of "The Canadian Model" for institutional investors in the United States (48:06)
Preparing for cycles and the next downturn (53:20)
Speak to One of Our Real Estate Advisors Today
We take a strategic, data-driven approach to solving your real estate problems.
Contact Us