Best Minds: Ellen Klasson, Managing Director, RCLCO Real Estate Consulting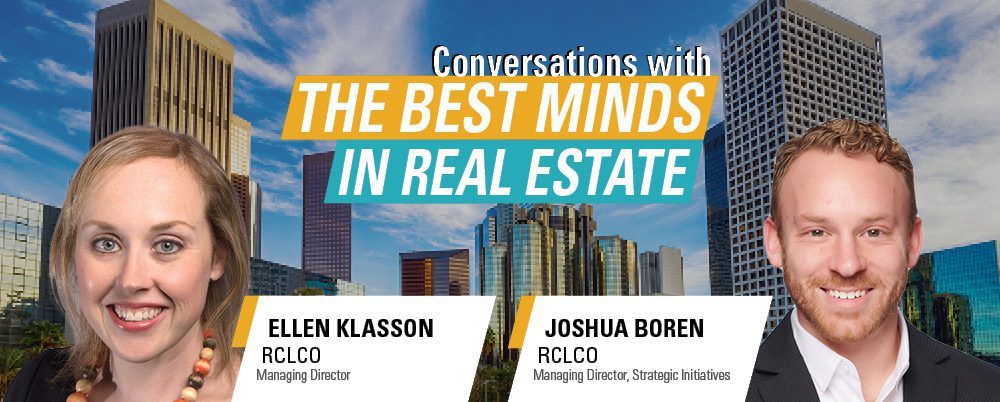 April 26, 2022
Podcast
Management Consulting
Subscribe: Google Podcasts | Spotify | Stitcher | TuneIn | RSS
How does one not only become a successful real estate executive, but learn how to find and place key executives across the country?
In this episode of Conversations with the Best Minds in Real Estate, Managing Director Joshua Boren welcomes Ellen Klasson to the firm with an in-depth interview. They discuss Ellen's 20-year career journey from Atlanta to Washington, DC, including lessons learned from her time at Central Atlanta Progress, CohnReznick, the Urban Land Institute, and Terra Search Partners. Learn how Ellen leveraged her background in real estate analytics to now focus on the human capital aspects and become one of the country's leading recruiters for the real estate industry.
About Ellen Klasson
Ellen Klasson is a Managing Director in RCLCO's Management Consulting practice. Ellen leads executive search engagements for leadership roles at development, investment, and land use companies across all asset classes. Ellen's consultative nature has enabled her to identify and attract talent for both traditional and nuanced roles, and her deep understanding of the business lends itself to a more analytical approach of a candidates' viability. Working for nearly twenty years in the real estate industry has allowed Ellen to forge long-lasting relationships with and earn the trust of both clients and candidates.
Before joining RCLCO, Ellen spent five years as a Managing Director at Terra Search Partners, a national boutique executive search firm focused exclusively on the real estate industry. Previously she worked at the Urban Land Institute as the Senior Director of Leadership, overseeing the leadership programs for the organization's 40,000 members worldwide. Prior to joining ULI, Ellen co-directed CohnReznick's Real Estate Development Advisory practice, analyzing real estate opportunities for developers and municipalities. She is also a former Vice President of Economic Development at Central Atlanta Progress, where she attracted new investment into Downtown Atlanta. She began her career consulting to developers while a project manager at RCLCO.
Ellen continues to be involved with the Urban Land Institute, where she is the Americas Chair of its Women's Leadership Initiative and a member of the Urban Revitalization Council. She is also a volunteer with UrbanPlan, a program for high school and college students that introduces them to the complex trade-offs of real estate development. Ellen earned a Bachelor of Arts degree from Emory University and a Master of City & Regional Planning from the Georgia Institute of Technology.
LEARN MORE ABOUT RCLCO'S EXECUTIVE SEARCH AND RECRUITING SERVICES
About Joshua Boren & RCLCO
Joshua A. Boren specializes in leading business development, marketing, and strategic initiatives for various real estate needs and solutions as part of the RCLCO team. With 15 years of experience, Joshua specializes in understanding how network building and relationship management are critical to organizational success, which has resulted in millions of dollars of closed engagements. Incredibly involved in the global real estate community, Joshua holds membership and leadership positions at Urban Land Institute Los Angeles and Jewish Federation Los Angeles' Real Estate and Construction Division, among others. Joshua also hosts RCLCO's monthly Round-Up Webinar Series, which dives into the ever-changing impacts of major trends in the real estate markets. As part of the RCLCO sales and marketing team, he was recently recognized as a 2021 Marketing Influencer by Globe St.
RCLCO is proud to be the "first call" for real estate developers, investors, the public sector, and non-real estate organizations seeking strategic and tactical advice regarding property investment, planning, and development. RCLCO leverages quantitative analytics and a strategic planning framework to provide end-to-end business planning and implementation solutions at an entity, portfolio, or project level.
Speak to One of Our Real Estate Advisors Today
We take a strategic, data-driven approach to solving your real estate problems.
Contact Us