Office Index – Signs of Office Recovery with Sharp Suburban/CBD Divide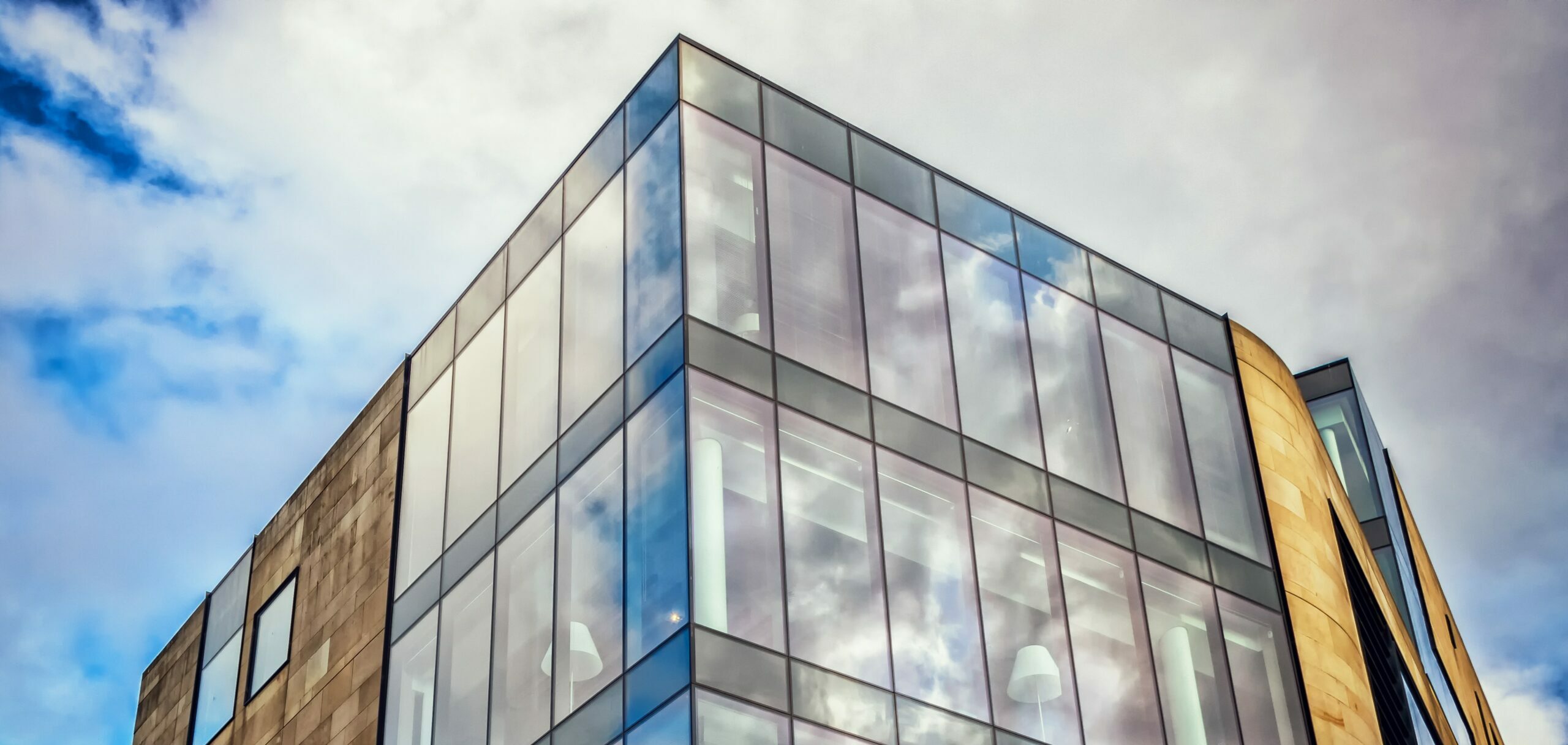 October 1, 2021
Office Market
COVID-19
Real Estate Market Trends
Strategic Planning
Originally published via NCREIF Performance Report Q4 2021
By the end of 2021, the US job market had recovered 85% of the jobs lost to the pandemic, closing out the year 3.6 million jobs behind the pre-pandemic labor force. Office-using employment recovered even more markedly, regaining 96% of lost jobs by the end of 2021. The unemployment rate correspondingly fell to 3.9% in December, only marginally above its February 2020 rate of 3.5% before the onset of COVID-19. The year-end labor force participation rate of 61.9% remains below its pre-pandemic rate of 63.4%. However, the rate of job openings hovered around 6.8% of total jobs throughout H2 2021, over double its 3.3% average since December 2000. This overall favorable outlook has led most economists to consider the US economy as at or close to full employment, a view consistent with the Fed's recent hawkish policy pivot.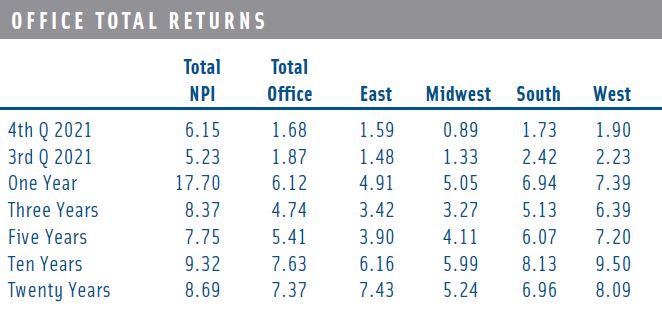 The US office market rebounded along with the labor market in 2021. Nationally, NPI office posted a 1.68% return in Q4, bringing 2021's total annual return to 6.12%. This is an improvement from last year's pandemic-stunted return of 1.57% and is nearly on-par with 2019's 6.59% return. Appreciation remained positive for the third consecutive quarter at 0.63% in Q4 for a total annual appreciation return of 1.57%. Office properties in Central Business Districts continued to struggle with 1.03% quarterly (3.28% annual) returns compared to Suburban office's 2.53% quarterly (10.01% annual) returns. After depreciating for six consecutive quarters, CBD property values increased a modest 4 basis points in Q4 (-0.89% annually) while Suburban values appreciated 1.39% (4.93% annually).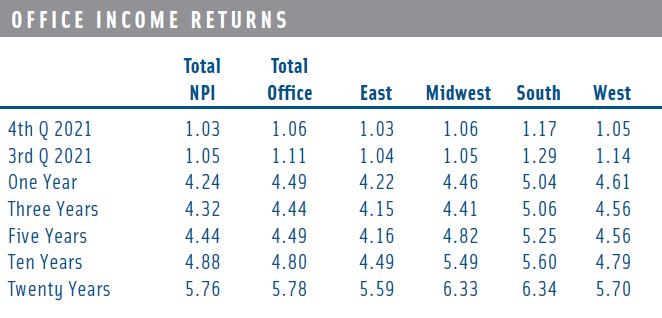 Some of this disparity is likely linked to the broader demographic trend in the US of migration to the Sunbelt and lower-cost markets which has been heightened by continued remote work opportunities. The five largest office markets (New York, Washington DC, San Francisco, Los Angeles, and Boston) account for nearly 70% of CBD office inventory in NPI, and during the pandemic, all of these markets experienced sharper employment losses than the US average. This led to a corresponding drag on CBD returns. Some of this effect will likely dissipate as employment growth in these Gateway markets is projected to outpace US employment growth over the next five years.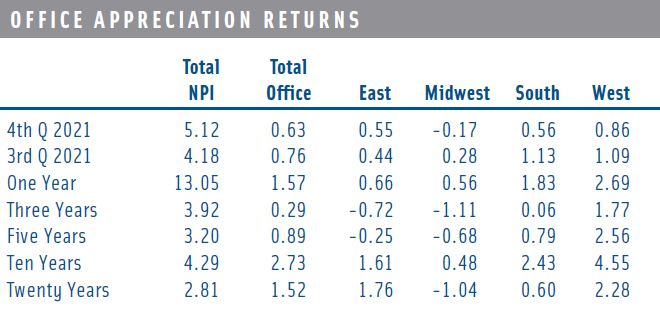 Office returns were most favorable in the Southeast and Mountain-West which saw Q4 returns of 2.27% and 2.17%, respectively. Each region experienced positive appreciation of office property values which increased 1.05% in the Southeast and 1.04% in the Mountain-West. In contrast, the Midwest continues to lag with a quarterly return of 0.89%, dragged down by a 0.17% decrease in property values.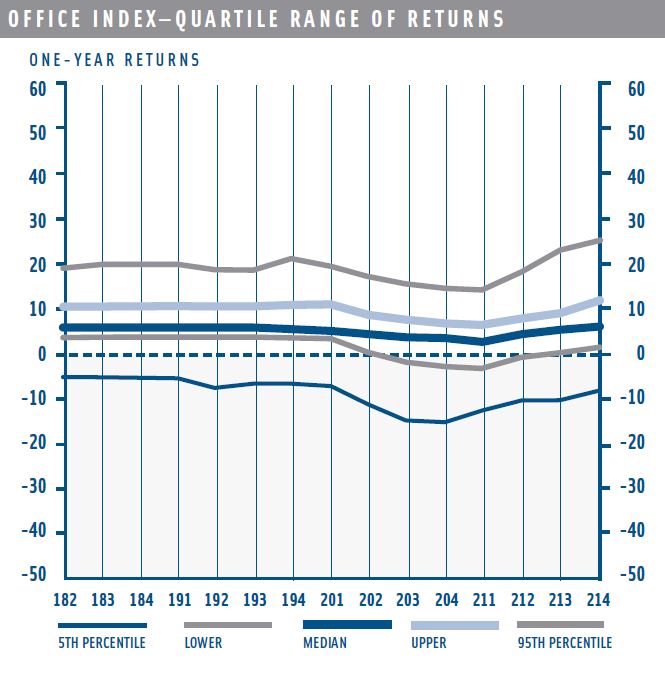 A bright spot in office performance can be discerned in markets with robust life sciences and high-tech industries. Boulder, Raleigh, Durham, and Cambridge, in order, constituted the top four performers in Q4 with returns ranging from 5.43% to 8.59%. As strong demand continues to drive investment in life sciences office, these markets will likely benefit from their existing office ecosystems and connections to research institutions.
---
Disclaimer: Reasonable efforts have been made to ensure that the data contained in this Advisory reflect accurate and timely information, and the data is believed to be reliable and comprehensive. The Advisory is based on estimates, assumptions, and other information developed by RCLCO from its independent research effort and general knowledge of the industry. This Advisory contains opinions that represent our view of reasonable expectations at this particular time, but our opinions are not offered as predictions or assurances that particular events will occur.
Speak to One of Our Real Estate Advisors Today
We take a strategic, data-driven approach to solving your real estate problems.
Contact Us