Press Release: Evolving Preferences of Growing Renter Market Revealed in New Report from RCLCO Real Estate Consulting
March 13, 2023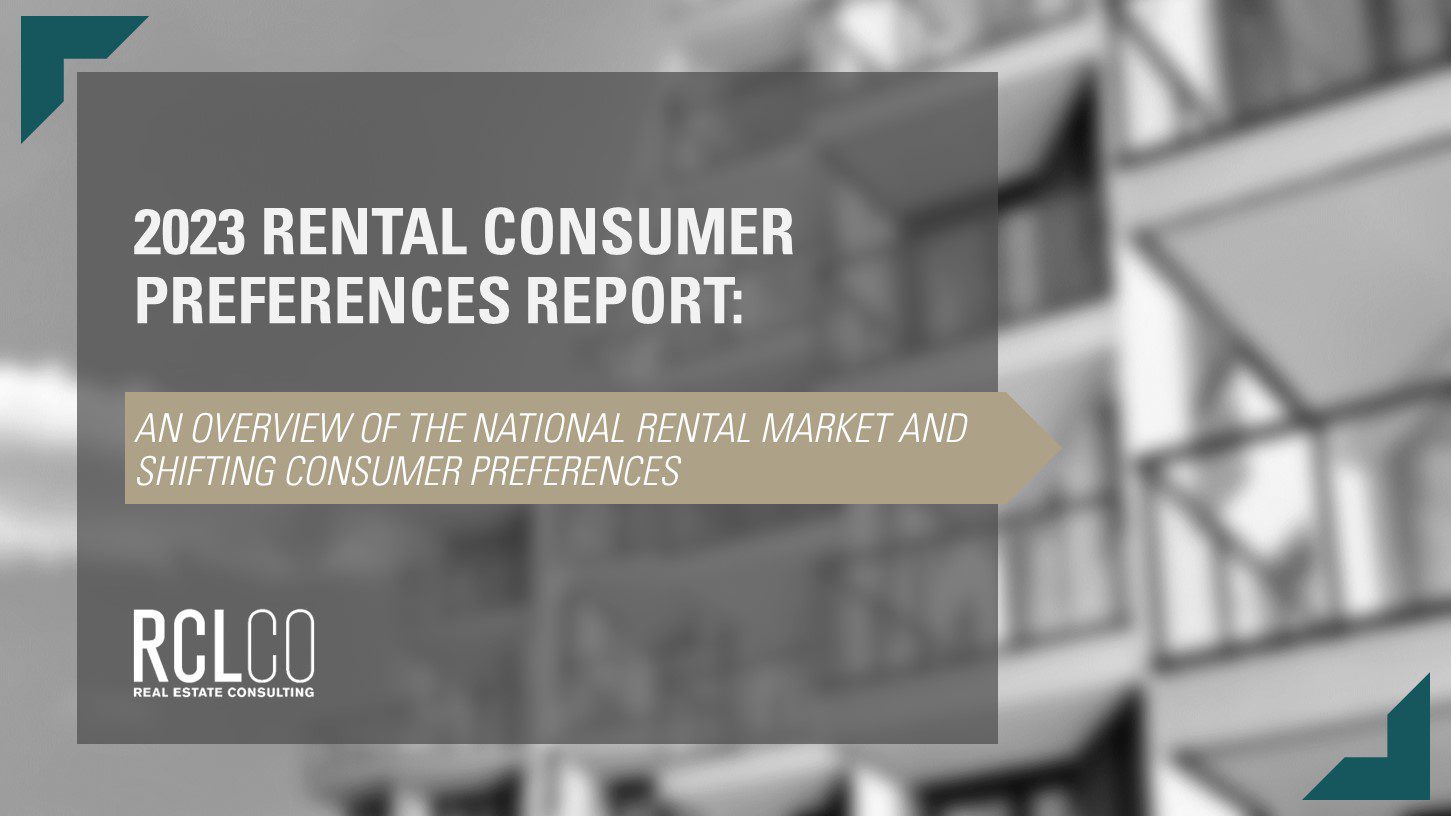 With so much industry emphasis on homeowners, proprietary survey data offers unprecedented and detailed insights into a rising segment of the more than 34% of the population that rents their homes
BETHESDA, MD., March 8, 2023 – Leading real estate consulting firm RCLCO Real Estate Consulting today announced the availability for the first time of a new in-depth national research report on the consumer preferences of renters, a growing and influential market segment comprising over one third of the U.S. population. The report, "2023 Rental Consumer Preferences Survey," will be available for purchase via RCLCO's website, at the following link.
"Despite media and government policy's concentration on homeowners, more than 34% of the U.S. population are renters, and there is a dearth of information about the needs and preferences of this expanding market segment," said Gregg Logan, Managing Director of RCLCO.  "While we have seen a significant building boom in the multifamily sector (particularly the luxury market) over the past two decades, rental demand has been increasing since the economy reopened in 2021, and the survey indicates that there is also a potential unmet demand for single-family rentals. We think the data and insights in this report will be invaluable to builders, developers, property managers and architects when designing and renovating rental communities of all types."
As homeownership has become less affordable, single-family build-for-rent product types have increasingly been developed to meet the evolving preferences of renters. Approximately 6.9% of new single-family home starts were Build-for-Rent in 2022, a share that is increasing upwards. This report offers an in-depth look at what rental households are seeking in their ideal residence – and the motivating factors and preferences for groups seeking three major rental housing types – including multifamily, small single-family, and large single-family rental housing. It also delves into how preferences vary by life stage, or by renters seeking niche products such as 55+ rentals or luxury apartments.
The 58 page report offers an overview of the national rental market and the shifting consumer preferences of this population, including:
How household age and affordability considerations influence the rent vs own decision;
What are ideal rental unit configurations, and what location types are most highly valued;
The amenities and features that renters value most – and the ones that they are willing to pay a premium for;
How the rise of work from home has impacted the preferences of the rental population;
Which preferences are consistent across household types, and which are prioritized most by younger, older, or family renters, and more.
"We're excited to share this information with the real estate community as we believe it will be a valuable tool for those planning new apartment and BFR communities," said Kelly Mangold, Principal at RCLCO. "Although we prepare similar proprietary studies for our clients, focused on specific properties in particular markets, we believe this study goes a long way towards broadening our industry's understanding of consumer desires and we're happy to make it available to a wider audience."
More featured findings from this data:
While only 40% of respondents in RCLCO's renter survey currently live in a single family detached unit or a townhouse, 51% say their ideal rental unit type is a single-family home and 21% prefer a townhouse or duplex – 72% overall. Whether these renters can find and afford a lower density rental home in their market is of course a challenge to them realizing that preference, but clearly there is strong interest.
Closets and kitchens have the most impact in terms of a modern multifamily renter's willingness to pay more for a luxury unit. Interestingly, finish preferences did not vary dramatically across groups, even for those with higher income levels.
Secure package receiving options are the #1 ranked amenity by young singles, couples, and roommates under age 55, as the popularity of online shopping continues to rise.
For developers targeting family renters, it may make sense to forgo development dollars spent on a business center, dog wash, and media/game room – as those ranked lowest on this segment's priority list.
62% of renters who are 55+ prefer either an age-restricted or an age-targeted community, with many mature renters as neighbors.
Due to the continuing structural undersupply of rental housing and strong market fundamentals, and with the pipeline of new deliveries slowing in 2024 and 2025, now is a good time to be planning new multifamily and build-for-rent units for the 2024 to 2025 timeframe. The consumer research data included in RCLCO's 2023 Renter Consumer Preferences Report is intended to provide insights regarding who renters are and what they're looking for in new rental housing. The report is available for purchase for $295 directly on the RCLCO website at https://www.rclco.com/publication/rclco-2023-renter-consumer-preference-survey/. Existing RCLCO clients can obtain a complimentary copy by contacting their project leads, or Kelly Mangold at kmangold@rclco.com.
About RCLCO
RCLCO is the "first call" for real estate developers, investors, the public sector, and non-real estate companies and organizations seeking strategic and tactical advice regarding property investment, planning, and development. Our team leverages quantitative analytics and a strategic planning framework to provide end-to-end business planning and implementation solutions at an entity, portfolio, or project level. With the insights and experience gained over 55 years and thousands of projects, RCLCO brings success to all product types across the United States and around the world. RCLCO has offices in Austin, Denver, Los Angeles, New York, Orlando, and Washington, DC, and offers an array of consulting services across real estate economics and management consulting.
Media Contact
Diana Black
Director of Marketing
E: dblack@rclco.com
Speak to One of Our Real Estate Advisors Today
We take a strategic, data-driven approach to solving your real estate problems.
Contact Us