Press Release: RCLCO Real Estate Consulting Identifies the 50 Top-Selling Master-Planned Communities of 2022
January 4, 2023
Community and Resort
Master-Planned Communities
Real Estate Market Trends
The 50 Top-Selling Master-Planned Communities of 2022 Revealed in RCLCO Real Estate Consulting's Semi-Annual Report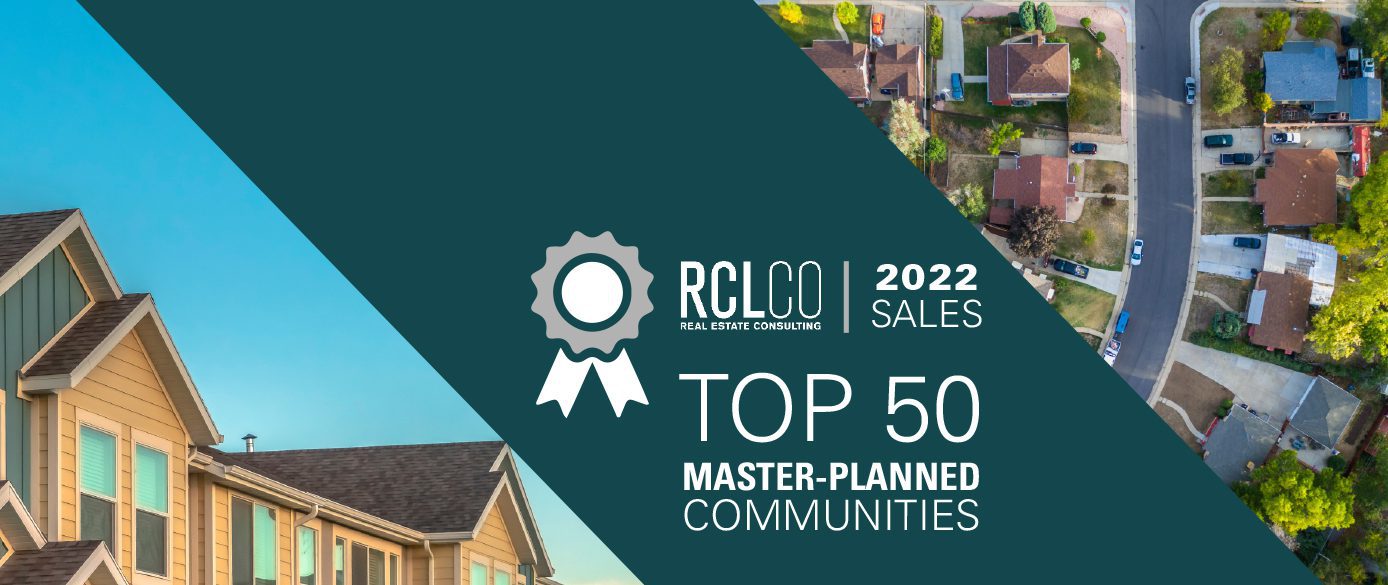 Sales are down 20% from last year among the Top-Selling Master-Planned Communities in the country, as rising interest rates and economic uncertainty continue to impact consumers
BETHESDA, Md., January 4, 2023 — Real estate consulting firm RCLCO has released the results of their semi-annual survey of the top-selling master-planned communities (MPCs) of 2022. RCLCO's ranking is based on total new home sales as reported by each individual community, and establishes updated rankings from the mid-year report. RCLCO has been performing these extensive surveys of the nation's MPCs for almost three decades, which have become an industry standard for monitoring the overall health of the housing market.
Read the report online: https://www.rclco.com/publication/the-top-selling-master-planned-communities-of-2022/
Key changes include:
New home sales among the 50 Top-Selling Master-Planned Communities declined by 20% in 2022 compared to the pace set by 2021's top communities.
Rising interest rates and affordability issues, particularly in the second half of the year, have had a significant impact on visitor traffic and new sales.
Sales in the second half of 2022 were 13% lower than the first half of the year, further highlighting the struggles faced by buyers as mortgage rates peaked above 7% in October.
The Villages active-adult community is once again the top-selling community in the nation with 3,923 sales in 2022, a 2% decline from their record pace set in 2021.
Sarasota, Florida's Lakewood Ranch claimed the number two spot overall, and is the top-selling multi-generational community in the country, with 1,846 sales.
Hutson Companies Silverleaf community, near Jacksonville, Florida, has earned the third-place rank with 1,034 sales in 2022, an 11% increase over 2021.
Southwest Florida's Babcock Ranch ranked within the Top-5 for the first time with a 31% increase in sales.
The Houston MSA was the top-performing metropolitan area with 13 communities in the Top-50, representing nearly 6,000 sales, or almost 19% of all sales among ranked MPCs.
The state of Florida represented about 46% of sales among ranked communities, followed by Texas at nearly 30%.
RCLCO Principal Karl Pischke notes, "Master-Planned Communities, like the broader U.S. housing market, saw a decline in home sales in 2022 compared to their prior year performance. The second half of the year in particular saw significant declines, correlated with rising interest rates, as top communities sold about 13% fewer homes than in the first half of the year. However, Master-Planned Communities have historically increased their overall market share in times of economic turmoil, as consumers perceive that the quality of master-planned communities can provide a level of insulation from broader market trends. As such, optimism from MPC developers remains, even if additional softness in the market might be expected in the near-term."
This initiative exists not only as a way to commend the most successful communities in the country, but also as a tool for monitoring the overall health of the for-sale housing industry, and a means of highlighting the trends affecting communities large and small. This process also serves as a mechanism through which to learn development best practices and pass along lessons gleaned from the MPCs that have pioneered their way into the top ranks.
About RCLCO
Since 1967, RCLCO has been the "first call" for real estate developers, investors, public institutions and non-real estate companies seeking strategic and tactical advice regarding property investment, planning, and development. RCLCO leverages quantitative analytics platforms and a strategic planning framework to provide end-to-end business planning and implementation solutions at an entity, portfolio, or project level. With the insights and experience gained over 55 years and thousands of projects – touching over $5B of real estate activity each year – RCLCO brings success to all product types across the United States and around the world. RCLCO is headquartered in Bethesda, MD, and has offices in Los Angeles, CA, Denver, CO, Orlando, FL, and Austin, TX.
Media Contact
Diana Black
Director of Marketing
E: dblack@rclco.com
Speak to One of Our Real Estate Advisors Today
We take a strategic, data-driven approach to solving your real estate problems.
Contact Us