2021 Top Markets for STEM Job Growth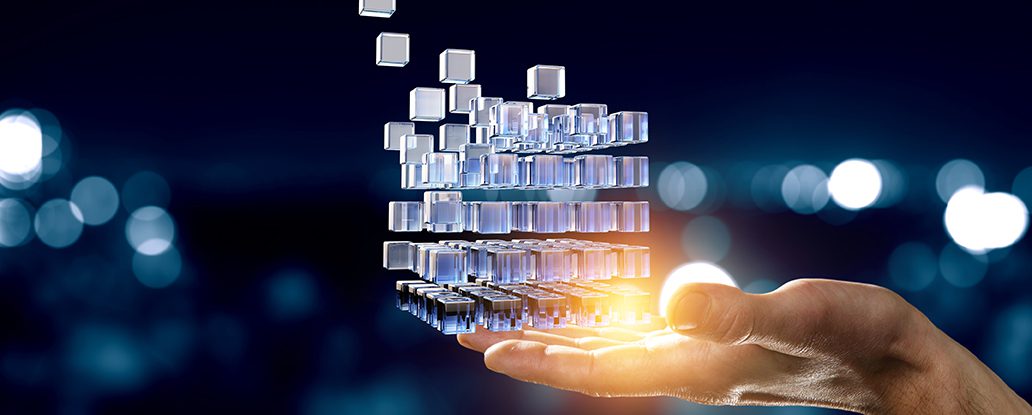 January 18, 2022
STEM
Demographic Trends
RCLCO, partnering with CapRidge Partners, recently produced the fifth annual STEM Job Growth Index ("STEMdex"), highlighting the leading metropolitan areas for both the current presence and future growth potential of STEM jobs (Science, Technology, Engineering, Mathematics).
Not coincidentally, the top STEM market areas include the 10 regions of the country which exhibit the highest location quotients for technology jobs. The location quotient [LQ] is a measure of a metropolitan area's concentration of jobs within a given industry as compared to the national average. In this case it shows which areas have a greater share of technology jobs relative to the rest of the country. STEM jobs include technology, along with other related industries.
The STEMdex tracks STEM job momentum, identifying where these jobs are today, and where they might be going in the future based on changing local economies, migration of young households, and the presence of other factors that have historically been correlated with STEM job growth. We believe understanding where this kind of job growth is occurring or likely to occur helps identify markets in which to pursue real estate opportunities.
RCLCO's top areas for current and future STEM growth are listed in the chart on this page. The RCLCO model that forecasts the top STEM job growth market areas considers population growth metrics, industry-specific growth, STEM wages, educational attainment, cost of living, walk scores, commute times, cost of doing business factors, and other related measures.
Between 2005 and 2015, STEM employment grew by nearly 25% — over five times more than non-STEM employment over the same period. Throughout the 2020s, the U.S. Bureau of Labor Statistics projects more than 1 million STEM jobs will have been added, representing nearly 11% growth compared to less than 8% for all other industries.
The fastest-growing STEM jobs over the last five years are in Computer User Support, Industrial Engineering, Information Security, and Civil Engineering — each adding over 35,000 jobs between 2015 and 2019.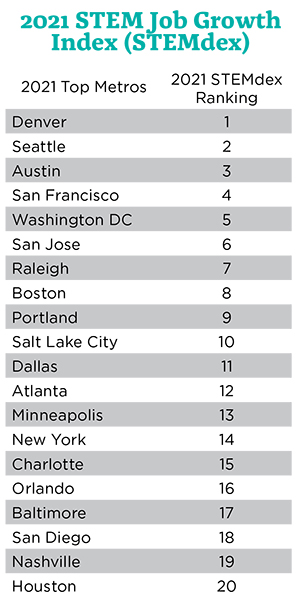 As science and technology become increasingly important components of our lives, STEM jobs and their higher-than-average wages ($89,780 vs $40,020) and employment rates more resistant to economic shocks (unemployment in STEM jobs peaked at 9% in 2020 vs 16% for non-stem jobs) are likely to continue to attract a diverse range of labor. This is certain to have significant implications for both economic development and real estate.
About 47% of STEM jobs are explicitly computer-related (projected to grow to 49% by 2029), including computer and information systems management, programmers, software developers, and other computer support specialists. Mathematics, engineering, life and physical sciences, and social science occupations comprise the other half of STEM jobs.
The fastest-growing STEM jobs over the last five years are in Computer User Support, Industrial Engineering, Information Security, and Civil Engineer — each adding over 35,000 jobs between 2015 and 2019. Over the coming decade, the Bureau of Labor Statistics projects the strongest growth to concentrate in Computers & Mathematics, Architecture and Engineering, and Life, Physical & Social Science, which includes jobs such as medical scientists and epidemiologists, professions critical to overcoming the COVID-19 pandemic.
Where more STEM growth is anticipated is related to the markets which currently have an outsized share of Technology employment, 10 of which are ranked above by their location quotient [LQ].
The 10 markets below are ranked in order of the presence of technology jobs in their regional economy, and the share of those jobs in relation to the share of technology jobs in the nation overall. While STEM includes technology along with other jobs, most of the top technology areas are also among the top areas identified for STEM growth. In fact, all of these areas are in the top 20 of RCLCO's STEMdex, and most are in the top 10.
Denver, Seattle, and Austin are particularly noteworthy among the top Technology markets, in terms of their growth in the younger population over the past 10 years, and their forecast growth in overall employment growth. There is significant new economic activity already underway in those areas. For example, the Colorado Economic Council has committed more than $10 million in tax credits to stimulate additional growth in technology and technology education. Medical research firm Adaptive Biotechnologies has announced a new 100,000-sq.-ft. headquarters in Seattle to continue their research into immune system clinical products. Alphabet/Google has announced plans to more than double their office footprint in Downtown Austin, and Tesla recently announced its relocation to Austin.
Amazon is developing 7.3 million sq. ft. of office in San Jose despite providing much of their workforce the opportunity to work remotely permanently.
Meanwhile, the pandemic: It is difficult to fully assess how the COVID-19 pandemic will ultimately impact local economies over the long term relative to STEM and the subset of Technology jobs in particular.
The historical record from past pandemics (such as with the Spanish Flu) indicates that those areas that quickly implemented robust public health and safety responses experienced faster economic rebounds. Those areas that have been the most proactive, such as San Jose, San Francisco, Seattle, Boston, etc., may have an advantage over less proactive areas.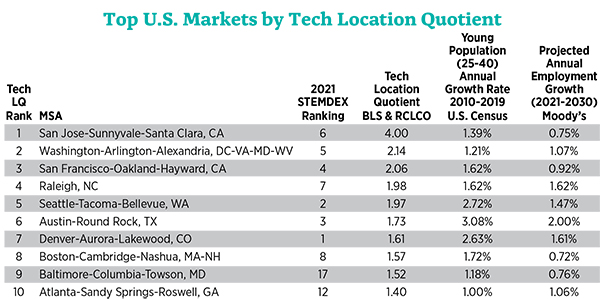 ---
Article and research prepared by Gregg Logan, Managing Director; Karl Pischke, Vice President; and Ryan Guerdan, Senior Associate.
Disclaimer: Reasonable efforts have been made to ensure that the data contained in this Advisory reflect accurate and timely information, and the data is believed to be reliable and comprehensive. The Advisory is based on estimates, assumptions, and other information developed by RCLCO from its independent research effort and general knowledge of the industry. This Advisory contains opinions that represent our view of reasonable expectations at this particular time, but our opinions are not offered as predictions or assurances that particular events will occur.
Speak to One of Our Real Estate Advisors Today
We take a strategic, data-driven approach to solving your real estate problems.
Contact Us