Best Minds: Brian O'Looney, Principal, Torti Gallas + Partners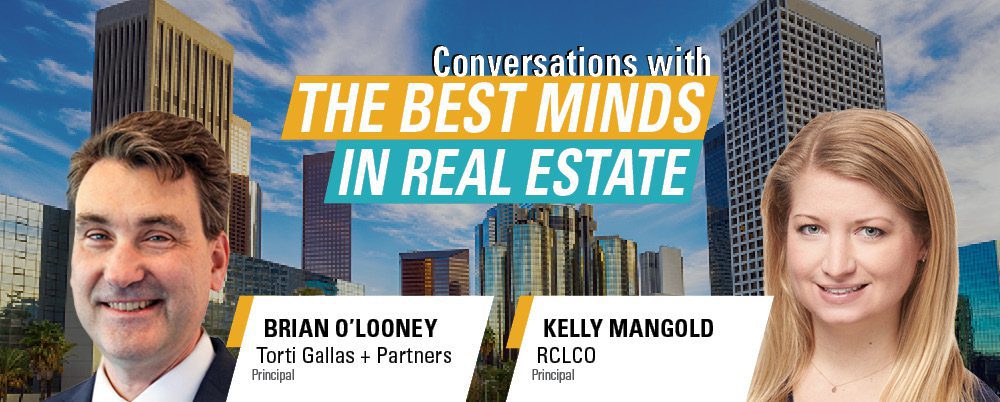 October 14, 2021
Podcast
Mixed-Use Development
Retail
Subscribe: Google Podcasts | Spotify | Stitcher | TuneIn | RSS
Find out how Torti Gallas + Partners are navigating the long-term trends shaping the built environment
In this episode of Conversations with the Best Minds in Real Estate, Principal Kelly Mangold speaks with Torti Gallas + Partners' Principal, Brian O'Looney, about starting a career as an intern for the legendary architect Cesar Pelli and choosing architectural design as an alternative to an automotive design career. O'Looney discusses the process of writing his book, Increments of Neighborhood: A Compendium of Built Types for Walkable and Vibrant Communities, and RCLCO's contribution of original research and analysis. He addresses the factors at play in the architecture world from the impacts of the COVID-19 pandemic on the office sector to the ongoing institutionalization of real estate investment.
"We're seeing malls become more 24/7 synergistic environments where it's not just a retail center you drive to, but there are also opportunities to play, live, and work in those places. We're starting to see them become more vibrant downtowns for communities."
– Brian O'Looney
About Brian O'Looney & Torti Gallas + Partners
Brian O'Looney serves as principal designer for many notable mixed-use, transit-oriented projects. For more than 20 years, he has programmed, planned, and designed a variety of technically complex building types that seamlessly integrate a mix of uses. Mr. O'Looney is a leader in creating innovative housing grounded in the economics of construction and the marketability of building designs. Additionally, he guides the design for many of the firm's award-winning transit-oriented development projects and serves as the principal designer for a number of the firm's current walkable urban building and planning projects. After receiving his BA from Yale University in 1990, Mr. O'Looney earned his Master of Architecture degree at the University of Wisconsin-Milwaukee in 1994. He is a Registered Architect in several states across the US.
Torti Gallas + Partners was established in Silver Spring, Maryland in 1953. Today, with offices in Silver Spring, Los Angeles, and Istanbul, the firm is one of the largest planning and architectural firms in the United States solely dedicated to the principles of New Urbanism. Torti Gallas has extensive experience with all scales of master planning and building projects in the residential, mixed-use downtown, transit-oriented, and commercial markets, applying jurisdictional needs and code requirements in local, national, and international markets.
About Kelly Mangold & RCLCO
Kelly Mangold is a Principal based in RCLCO's Bethesda, Maryland, office. Since joining the firm in 2013, Kelly has worked with clients in the public and private sectors to guide development and planning decisions. Her work is focused within RCLCO's Real Estate Economics Services, where she has had broad exposure to a wide variety of project types including transit-oriented urban developments, suburban master-planned communities, and second-home and resort work. She excels at identifying key market opportunities and strategic positioning for complex projects, leads RCLCO's consumer research efforts, and has experience compiling market feasibility studies, highest-and-best-use analyses, fiscal impact studies, and regional growth analyses.
RCLCO is proud to be the "first call" for real estate developers, investors, the public sector, and non-real estate organizations seeking strategic and tactical advice regarding property investment, planning, and development. RCLCO leverages quantitative analytics and a strategic planning framework to provide end-to-end business planning and implementation solutions at an entity, portfolio, or project level.
Topics in this episode include:
Beginning a career in architecture through educational mentors and landing an internship at Cesar Pelli & Associates (2:50)
Choosing architectural design as an alternative to an automotive design career (4:04)
The most exciting new projects and the types of projects coming in: retail redevelopment and retrofitting suburban areas into walkable communities (5:05)
Long-term trends influencing the architecture business including the changing connections between transit and public space as the autonomous vehicle industry continues to develop (08:41)
Unraveling the impacts of the COVID-19 pandemic from the changing relationships between white-collar employees and business owners to the shift away from office projects for architecture firms (09:57)
The conformity and standardization of new projects brought on by the ongoing institutionalization of the real estate development sector (11:26)
Brian's interests outside of architecture and design (12:57)
The inspiration behind Brian's book, Increments of Neighborhood: A Compendium of Built Types for Walkable and Vibrant Communities and how RCLCO contributed to the research (14:48)
The past year and a half of reactions to the book after its initial publication and what the future holds for further editions (20:15)
Brian's favorite built types in the book: small-scale mixed-use retail buildings with the flexibility to meet the needs of the market and change as needed (22:40)
BROWSE MORE PODCAST EPISODES
LEARN MORE ABOUT RCLCO'S RETAIL MIXED-USE REAL ESTATE CONSULTING
Speak to One of Our Real Estate Advisors Today
We take a strategic, data-driven approach to solving your real estate problems.
Contact Us