Best Minds: Jim Zboril, Tavistock Development Company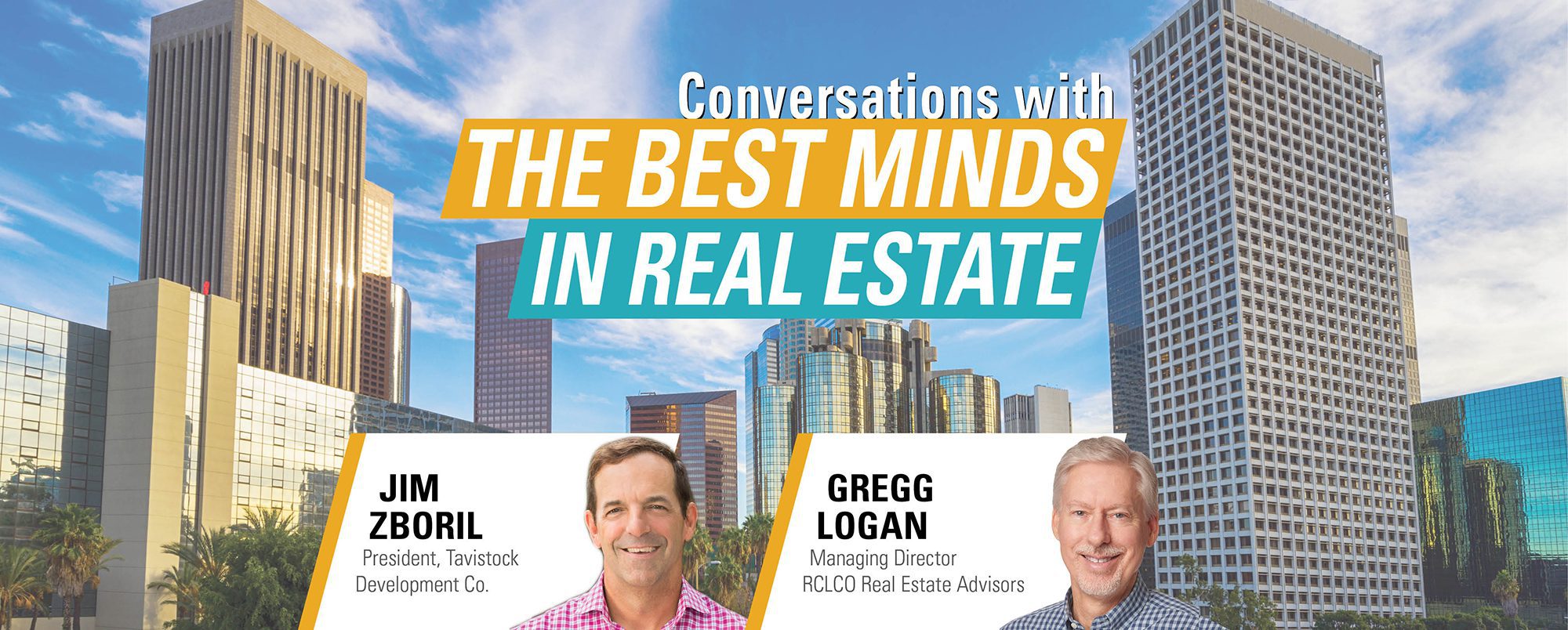 November 26, 2019
Podcast
Master-Planned Communities
Mixed-Use Development
Subscribe: Google Podcasts | Spotify | Stitcher | TuneIn | RSS
How does Tavistock Development Company foster innovation as a building block of company culture?
In this episode, RCLCO Managing Director, Gregg Logan, speaks with Tavistock Development Company President, Jim Zboril, about integrating public art into real estate development, utilizing parks and restaurants for creative placemaking, and the synergies that come from mixed-use development.
"I've done a lot of different projects but it brings me the greatest satisfaction when I see them being enjoyed by other people." – Jim Zboril
About Jim Zboril & Tavistock Development Company
During his nearly 15 years at the helm, Jim Zboril has led the evolution of Tavistock Development Company from land owner to a full-service, integrated, multi-use real estate development, construction, and management firm. He oversees all company operations, including management of Tavistock's flagship project: Lake Nona, a 17-square-mile, master-designed community in Orlando, Florida, ranked among the top-selling communities in America.
For Lake Nona, Jim and the Tavistock team have attracted more than $3 billion of direct investment and construction activity and orchestrated the creation of Lake Nona's landmark projects, including the UCF College of Medicine, the U.S. Tennis Association National Campus, and KPMG's global training facility.
About Gregg Logan & RCLCO
Over the past 30 years Gregg Logan has worked with leading real estate developers, landowners, investors, builders, and public sector entities, helping them make the best development, investment, and/or planning decisions for their real estate. Gregg's advisory work has included market evaluations and strategies for residential, commercial, and mixed-use developments; town centers and suburban business districts; and economic development studies for cities, counties, and community improvement districts.
RCLCO is proud to be the "first call" for real estate developers, investors, the public sector, and non-real estate organizations seeking strategic and tactical advice regarding property investment, planning, and development. RCLCO leverages quantitative analytics and a strategic planning framework to provide end-to-end business planning and implementation solutions at an entity, portfolio, or project level.
Topics in this episode include:
Becoming an empty nester (2:02)
Career beginnings, getting into real estate, and ending up at Tavistock (6:50)
Leveraging strategic partnerships for achieving mutual goals (11:57)
Creating experiences and placemaking (17:56)
Centering innovation as a foundation of company culture (24:20)
Integrating public art into real estate development (29:35)
Creating "neo-urban" developments that incorporate mixed-use and increased density (33:55)
Utilizing parks and restaurants for creative placemaking (37:25)
Challenges of creating a town center: balancing priorities between amenities and profitable businesses (42:23)
Synergy that comes from mixed-use development is central to the strategy (47:48)
Advice for young leaders (49:43)
Speak to One of Our Real Estate Advisors Today
We take a strategic, data-driven approach to solving your real estate problems.
Contact Us