Best Minds Podcast: Earl Santee, Global Chair/Founder, Populous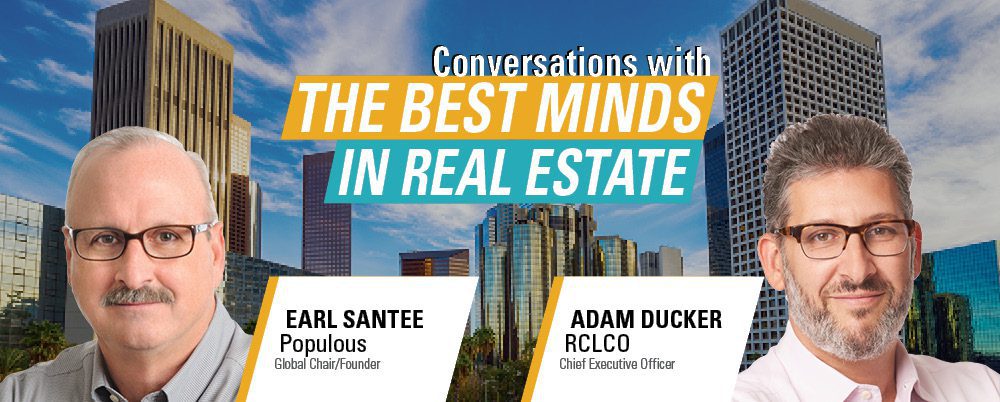 August 26, 2021
Podcast
Sports-Anchored Mixed-Use Development
Subscribe: Google Podcasts | Spotify | Stitcher | TuneIn | RSS
Find out how Populous successfully brings to life the most innovative sports and entertainment projects across the world.
In this episode of Conversations with the Best Minds in Real Estate, RCLCO's Chief Executive Officer Adam Ducker speaks with Populous' Global Chair/Founder, Earl Santee, about what's next in the decade ahead for venue development. Santee discusses Populous' history of planning and designing Olympic venues through collaboration with local and international Olympics committees. He addresses the potential urbanizing impacts of venue development on surrounding neighborhoods and delves into how his firm has adapted to the challenges of the hybrid work model in an international context.
"It's not just about baseball. We're trying to build a relationship with the community that is purposeful and fulfilling but at the same time sustainable over the years to come." – Earl Santee
About Earl Santee & Populous
Earl Santee joined HOK Sport in 1985 and later co-founded Populous in 2009. He now serves as the Global Chairman of the firm and sits on the Board of Directors. Recently, he completed his 4-year term as the America's Managing Director and membership of a three-person Global Officer group. Earl defines architecture as the art and design experiences that create memorable buildings. His work includes iconic examples of urban design, placemaking, trendsetting, and future-proofing that have transformed cities and forever changed the way that community and fans view sports.
Founded in 1983 and headquartered in Kansas City, Missouri, Populous is a global architectural and design firm with colleagues spanning four continents. Working with communities of all sizes and using a range of disciplines, they create experiences that amplify the joy felt in shared human moments. With over three thousand projects and thirty-five years of experience, Populous is designing the next generation of sports and entertainment venues with equal parts data and an understanding of how people come together.
About Adam Ducker & RCLCO
Adam Ducker is Chief Executive Officer of RCLCO and oversees the firm's real estate economics and management consulting services. Adam joined RCLCO in the mid-1990s as an associate directly after graduate school and learned the trade with the firm. He is a recognized expert in strategic planning for real estate companies, investment analysis, market and financial analysis, and marketing of real estate assets. He has a particular depth of expertise in high-density housing, sports and entertainment districts, and hotel development.
RCLCO is proud to be the "first call" for real estate developers, investors, the public sector, and non-real estate organizations seeking strategic and tactical advice regarding property investment, planning, and development. RCLCO leverages quantitative analytics and a strategic planning framework to provide end-to-end business planning and implementation solutions at an entity, portfolio, or project level.
Topics in this episode include:
Populous' history of planning and designing Olympic venues through collaboration with local or international Olympics committees (6:06)
How the facilities design process now leverages future use planning around non-venue buildings (7:36)
The emergence of Populous' venue-anchored urban mixed-use district practice in the 1990s (10:13)
The current state of play for the sector where all venue projects have surrounding land considerations (14:07)
The potential urbanizing impacts of venue development on surrounding neighborhoods (16:02)
How venue development can unleash creative synergies to enhance or accelerate the forces of urbanization (17:48)
The example of the Nationals ballpark in Washington, DC (19:01)
The now commonplace practice of using real estate development as a revenue generation mechanism to fund venues (21:15)
What's next in the decade ahead after the retail/entertainment model? Flexible entertainment venues driven by programming and increasing investment in arts and music (22:38)
The potential for esports venue development to take a substantial hold of the market and the unique flexibility that these venues can provide (24:18)
The increased development of open-air entertainment venues where music comes first and sports is secondary (25:48)
How Populous is aiming to grow by evolving to fit client needs, focusing on data-driven processes to bring projects to life, and preparing for a new approach to traditional architecture and
fabrication (28:56)
The technologically-assisted blending of the design and construction industry and the workforce challenges that will alter scheduling for construction projects (31:15)
How Earl keeps the best talent at Populous and how the firm has adapted to the challenges and conveniences of the hybrid work model in the context of an international business (32:57)
Speak to One of Our Real Estate Advisors Today
We take a strategic, data-driven approach to solving your real estate problems.
Contact Us