Best Minds: Tony Ruggeri and Jake Wagner, Republic Property Group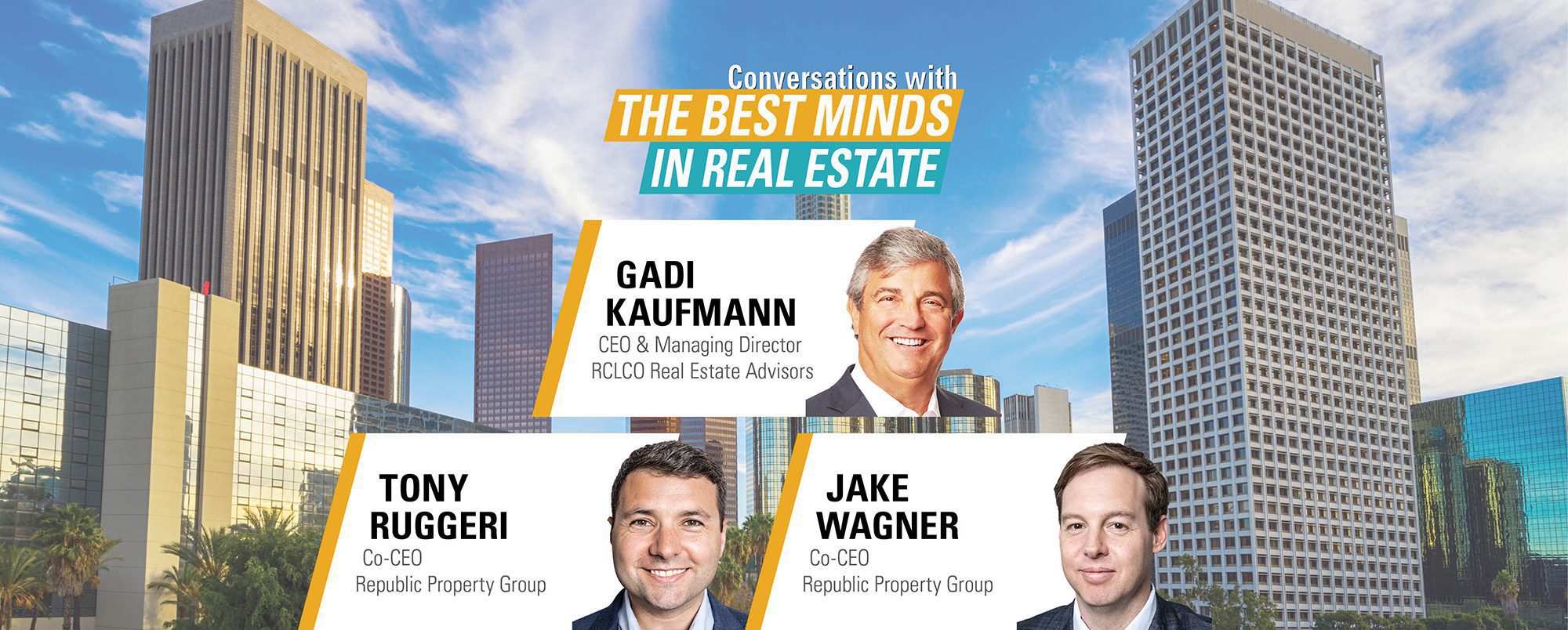 July 18, 2019
Podcast
Residential Housing
Subscribe: Google Podcasts | Spotify | Stitcher | TuneIn | RSS
How does Republic Property Group build successful communities in the face of changing market dynamics?

In this episode, RCLCO CEO and Managing Director, Gadi Kaufmann, speaks with Republic Property Group Co-CEOs, Tony Ruggeri and Jake Wagner, for a conversation about creative ways to activate and use land, manage a co-leadership dynamic, and develop innovative amenities to drive community place-making.
"We learn a lot just by talking to the residents in our communities about what's missing in the market and where we can fill a void." – Tony Ruggeri
"I realized I could take my joy of building things and my appreciation for real estate and do both by going into development." – Jake Wagner
About Tony Ruggeri, Jake Wagner, & Republic Property Group

Tony Ruggeri and Jake Wagner are Co-CEOs of Republic Property Group. As co-leaders, Tony and Jake Wagner work hand-in-hand to shape the vision for the company by driving high-level strategy, business planning, and leadership development. In conjunction with their leadership team, they have evolved their portfolio of businesses and projects to include homeowners association administration, hospitality management, and technology services.
Over the course of 50 years, Republic Property Group has developed real estate projects with a value in excess of $7 billion across eight states. RPG has a proven track record in all facets of the development process, from site selection and financial analysis to planning, development, and management.
About Gadi Kaufmann & RCLCO

Gadi Kaufmann is Managing Director and CEO of RCLCO, a premier end-to-end solutions provider in the real estate sector. RCLCO offers entity- and portfolio-level strategy planning, economic and market analysis advisory work, due diligence and underwriting services, workouts and restructuring work, turnkey development management services, and transaction services. Gadi joined RCLCO in 1979. He specializes in economic consulting for real estate projects and portfolios; corporate strategy planning and management consulting at the enterprise level; transactional and negotiation services; and financing and capital formation strategy formulation and implementation. He is an active board and committee member of several industry and academic organizations, including the PREA Board of Directors, Editorial Advisory Board Member of The Institutional Real Estate Letter – North America, Chairman of the New Programs Committee of PREA, Trustee of ULI, Governor of the ULI Foundation, and member of the boards of the Ziman Center for Real Estate and the Luskin School for Public Policy at UCLA.
RCLCO is proud to be the "first call" for real estate developers, investors, the public sector, and non-real estate organizations seeking strategic and tactical advice regarding property investment, planning, and development. RCLCO leverages quantitative analytics and a strategic planning framework to provide end-to-end business planning and implementation solutions at an entity, portfolio, or project level.
Topics in this episode include:
History of Republic Property Group and Chairman Rick Strauss (05:21)
Working together in real estate after being close childhood friends (08:25)
The choice to focus on residential land development (10:52)
Impact of the Great Recession on community development (11:53)
Adapting to changes in demographics and homebuyer preferences (14:40)
Using a mix of consumer research and intuition to address the "Double-Edged Sword" of designing communities (16:00)
Approaching challenges of rising infrastructure costs with unique low-cost amenities (23:11)
The planning required to create a sense of place (28:45)
What's the magic formula for determining an amenities budget? (30:08)
Managing a co-leadership dynamic with an eye toward seamless partnership (33:55)
Reflecting on career history, including mistakes and lessons learned (41:23)
Creating company culture through hiring practices (44:45)
What does the future hold for Republic Property Group? (49:05)
Speak to One of Our Real Estate Advisors Today
We take a strategic, data-driven approach to solving your real estate problems.
Contact Us