Best Minds: Warren Fields, President & CEO, Pyramid Hotel Group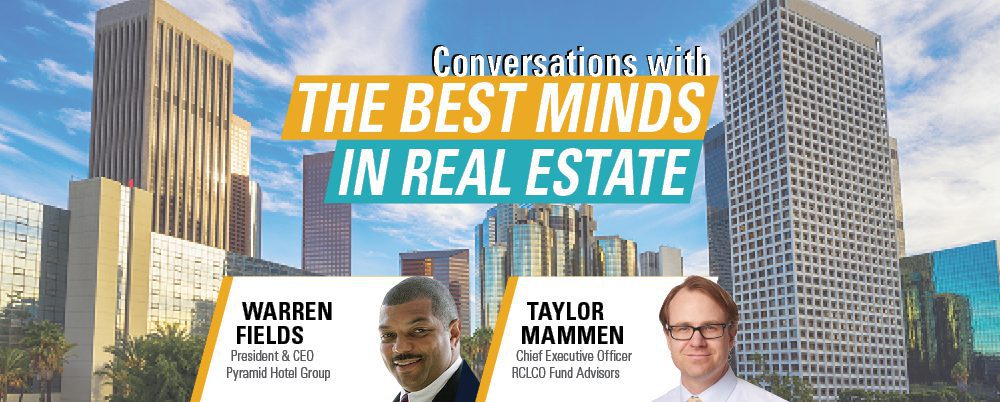 May 27, 2021
Podcast
Hospitality
Subscribe: Google Podcasts | Spotify | Stitcher | TuneIn | RSS
Find out how executives at Pyramid Hotel Group effectively lead a diverse group of employees and ensure their paths to success.
In this episode of Conversations with the Best Minds in Real Estate, Chief Executive Officer of RCLCO Fund Advisors (RFA), Taylor Mammen, speaks with Pyramid Hotel Group's President & CEO, Warren Fields. Fields discusses his career journey, from entering the workforce at Wendy's, going to Cornell, and his eventual entry and rise to lead Pyramid Hotel Group. He addresses what operators and investors of other property types can learn about running a business from the hotel sector, and how traditional expectations about qualifications needed to succeed are changing throughout the industry.
"All the real work starts when we buy the asset and we own it. We can buy hotels with the best of them, but when you get in there, that is when the fun starts" – Warren Fields
Warren Fields has over two decades of experience in all facets of hospitality finance, acquisitions, and operations. Fields has overseen the growth of Pyramid's portfolio to its current levels of hotels through development, acquisitions, third-party management, and asset management for over 15 years. He began his career with Beacon Hotel Corporation, a predecessor company to Promus, where he served as Vice President of Development for Guest Quarters Suites, and later DoubleTree. He returned to Boston in 1999 to form Pyramid.
Pyramid Hotel Group, established in 1999, is a privately owned full-service hotel and resort company based in Boston. They manage over 90 hotels with more than 12,000 team members across the United States, the Caribbean, Ireland, and the UK. In 2016, Pyramid partnered with the Winegardner & Hammons Hotel Group to add another 1700 team members and 17 hotels. The two companies share hotel development opportunities and revenue management platforms to experience cost savings and increased margins because of size and scale. With more than $1 billion in revenue, Hotel Group Magazine ranked Pyramid Hotel Group as the third largest management company in 2016.
About Taylor Mammen & RCLCO Fund Advisors
Taylor Mammen is Chief Executive Officer of RCLCO Fund Advisors (RFA), which advises institutional investors on all aspects of their complex real estate investment portfolios, from strategy development to underwriting and asset management. Taylor helped pioneer this business beginning in the aftermath of the Global Financial Crisis, when several prominent pension funds turned to RFA with the goal to construct better performing and more resilient real estate portfolios, and has grown it to become a highly respected institutional real estate advisor, working with some of the largest and most dynamic institutional investors in the world. In the process, Taylor and RFA have sourced, underwritten, and overseen investments on behalf of clients well in excess of $10 billion. Taylor leads the firm's institutional investor client relationships and is responsible for the firm's growth and development, in addition to serving on the boards of clients' portfolio companies.
Established in 2011 and an SEC Registered Investment Advisor since 2014, RFA (an affiliate business of RCLCO) advises institutional investors on real estate investments through its analytical rigor, highly customized client-centric service, and impassioned search for alignment. RFA's diverse and experienced team offers a differentiated approach to real estate investing to address the unique challenges faced by institutional investors through its focus on demand-driven investing, real estate operations, and partnership alignment.
Topics in this episode include:
Entering the workforce by working at Wendy's before going to Cornell to study Hospitality and ultimately starting at The Beacon Group as an analyst (2:53)
Getting into the real estate business through mentorship with developers, builders, investors, and owners (5:18)
The evolution of capital providers becoming more sophisticated in terms of understanding the businesses they invest in (6:26)
How the hospitality space is being disrupted by tech companies and the innovation required to stay one step ahead of these groups (7:01)
How Pyramid has expanded into Western Europe for more favorable market conditions (7:40)
What operators and investors of other property types can learn about running a business from the hotel industry (9:34)
The value of the team in achieving operational excellence (12:37)
Prioritizing projects that move the organization forward and remove barriers for the team (15:30)
Tips for effectively leading a diverse group of employees and ensuring there are corresponding pathways to success (17:55)
Starting to change traditional expectations about what background and qualifications are needed to succeed in real estate (24:11)
How Pyramid survived the pandemic in the wider context of the difficulties faced by the hospitality sector (25:47)
The importance of learning about the real estate 'food groups' as a young leader (29:46)
Speak to One of Our Real Estate Advisors Today
We take a strategic, data-driven approach to solving your real estate problems.
Contact Us