Best Minds: H. Jerome Russell, President, H. J. Russell & Company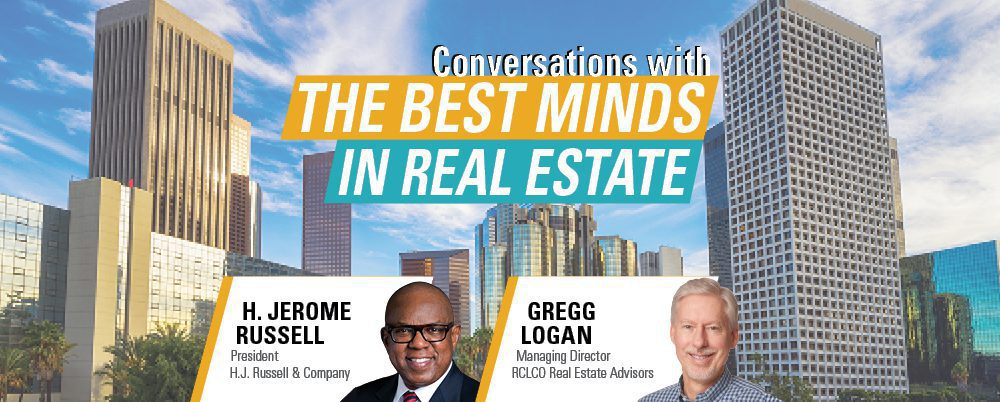 May 28, 2020
Affordable Housing
Podcast
Strategic Planning
Subscribe: Google Podcasts | Spotify | Stitcher | TuneIn | RSS
How does H. J. Russell & Company ensure the historical and social legacy of a multigenerational family business while creating new opportunities for growth?
In this episode, RCLCO Managing Director, Gregg Logan, speaks with H. J. Russell & Company President, H. Jerome Russell, about falling in love with real estate as a project manager, how to prioritize "doing well, while doing good", and what H.J. Russell is doing to address the challenges posed by the COVID-19 downturn.
"If you're uplifting and bringing others with you, the profits will follow; do good, be good, and good things will happen." – H. Jerome Russell
About H. Jerome Russell and H. J. Russell & Company
H. Jerome Russell is President of H. J. Russell & Company and Russell New Urban Development, LLC where his focus is on the firm's strategic direction and new business development. Over his career, he has experience with beverage distribution, consumer marketing, banking, construction and real estate for over 25 years, which has led him to his current role as the lead owner over the $250M real estate portfolio and Chairman of the newly formed Herman J. Russell Center for Innovation and Entrepreneurship. During this tenure, the company's earnings increased 20% every year. Mr. Russell started Russell New Urban Development, LLC in 2003 to provide high quality in-town developments that stimulate economic growth and excite people about urban living. Recently, Mr. Russell is focusing his energies into the opening of the Russell Center of Innovation and Entrepreneurship (RCIE). RCIE is an economic mobility engine geared towards Black entrepreneurship.
About Gregg Logan and RCLCO
Over the past 30 years, Gregg Logan has worked with leading real estate developers, landowners, investors, builders, and public sector entities, helping them make the best development, investment, and planning decisions for their real estate. Gregg's advisory work has included market evaluations and strategies for residential, commercial, and mixed-use developments; town centers and suburban business districts; and economic development studies for cities, counties, and community improvement districts.
RCLCO is proud to be the "first call" for real estate developers, investors, the public sector, and non-real estate organizations seeking strategic and tactical advice regarding property investment, planning, and development. RCLCO leverages quantitative analytics and a strategic planning framework to provide end-to-end business planning and implementation solutions at an entity, portfolio, or project level.
Topics in this episode include:
Beginning a career working as a beer distributor then pivoting to real estate
The historical legacy and vision of business founder Herman J. Russell
Philosophy of giving back to the community: doing well while doing good
Managing the growth of the enterprise between parents, siblings, and the younger generations
H. Jerome's strategies for career and business planning
The role of data in increasing the speed and velocity of the real estate market
Growing wealth inequality and the crisis currently facing the affordable housing sector
Speak to One of Our Real Estate Advisors Today
We take a strategic, data-driven approach to solving your real estate problems.
Contact Us