Best Minds: Eddie Lorin, Co-Founder & CEO, Alliant Strategic Development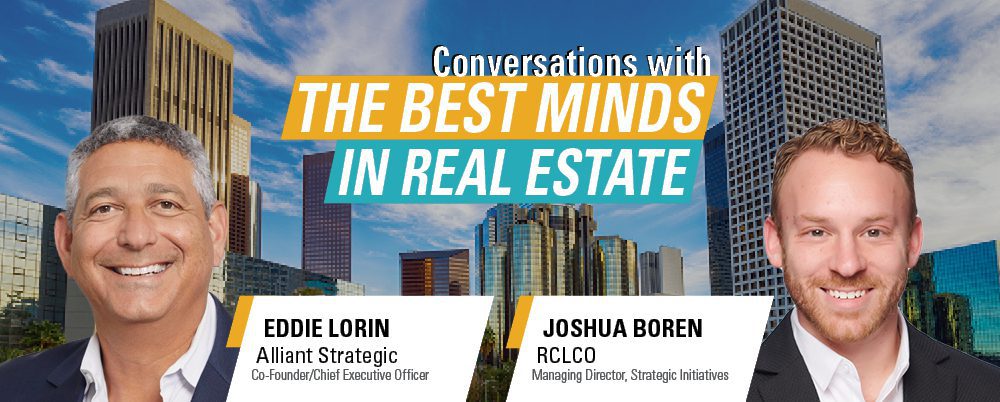 March 28, 2022
Affordable Housing
Podcast
Subscribe: Google Podcasts | Spotify | Stitcher | TuneIn | RSS
How does Alliant Strategic Development create affordable housing that delivers triple bottom line results?
In this episode of Conversations with the Best Minds in Real Estate, Managing Director Joshua Boren speaks with Alliant Strategic Development Co-Founder & CEO, Eddie Lorin, about his personal  journey, including how an orphaned 17 year old became the co-founder of a multifamily real estate investment firm, as well as his passionate mission to increase affordable and workforce housing across the country.
 "If we can all get in the same room and solve the problems together I think we can end this homeless crisis and the housing crisis. We just have to readjust the way we think about life and it is really important that everybody get on the same page." – Eddie Lorin
About Eddie Lorin & Alliant Strategic Development
Eddie Lorin is Co-Founder and Chief Executive Officer of Alliant Strategic Development. He is a real estate owner, developer and acting principal. Throughout the course of his career, he has successfully acquired more than 200 properties and over 40,000 units, amounting to $4.2 billion in real estate. Eddie is a member of the EIF and the Novogradac coalitions for Opportunity Zones. He earned his bachelor's degree from the University of California, Los Angeles and has been a licensed California real estate broker since 1988.
Alliant Strategic Development is a multifamily real estate investment firm focused on the acquisition and preservation of affordable and workforce housing communities in diverse markets throughout the U.S. Their socially responsible, multifamily investments directly and positively impact the daily lives of residents. Alliant Strategic's goal is to provide safe, sustainable, high-quality affordable and workforce housing to communities across the U.S. They are committed to good stewardship of their growing portfolio of properties; strategic priorities include fiscal management of properties, proactive asset management, and providing environmental, social, and corporate governance (ESG) to positively impact the performance of their investments and the daily lives of residents and communities.
About Joshua Boren & RCLCO
Joshua A. Boren specializes in leading business development, marketing, and strategic initiatives for various real estate needs and solutions as part of the RCLCO team. With 15 years of experience, Joshua specializes in understanding how network building and relationship management are critical to organizational success, which has resulted in millions of dollars of closed engagements. Incredibly involved in the global real estate community, Joshua holds membership and leadership positions at Urban Land Institute Los Angeles and Jewish Federation Los Angeles' Real Estate and Construction Division, among others. Joshua also hosts RCLCO's monthly Round-Up Webinar Series, which dives into the ever-changing impacts of major trends in the real estate markets. As part of the RCLCO sales and marketing team, he was recently recognized as a 2021 Marketing Influencer by Globe St.
RCLCO is proud to be the "first call" for real estate developers, investors, the public sector, and non-real estate organizations seeking strategic and tactical advice regarding property investment, planning, and development. RCLCO leverages quantitative analytics and a strategic planning framework to provide end-to-end business planning and implementation solutions at an entity, portfolio, or project level.
BROWSE MORE PODCAST EPISODES
LEARN MORE ABOUT RCLCO'S MANAGEMENT CONSULTING SERVICES
Speak to One of Our Real Estate Advisors Today
We take a strategic, data-driven approach to solving your real estate problems.
Contact Us