Best Minds: Charles R. Brindell, Jr., Mill Creek Residential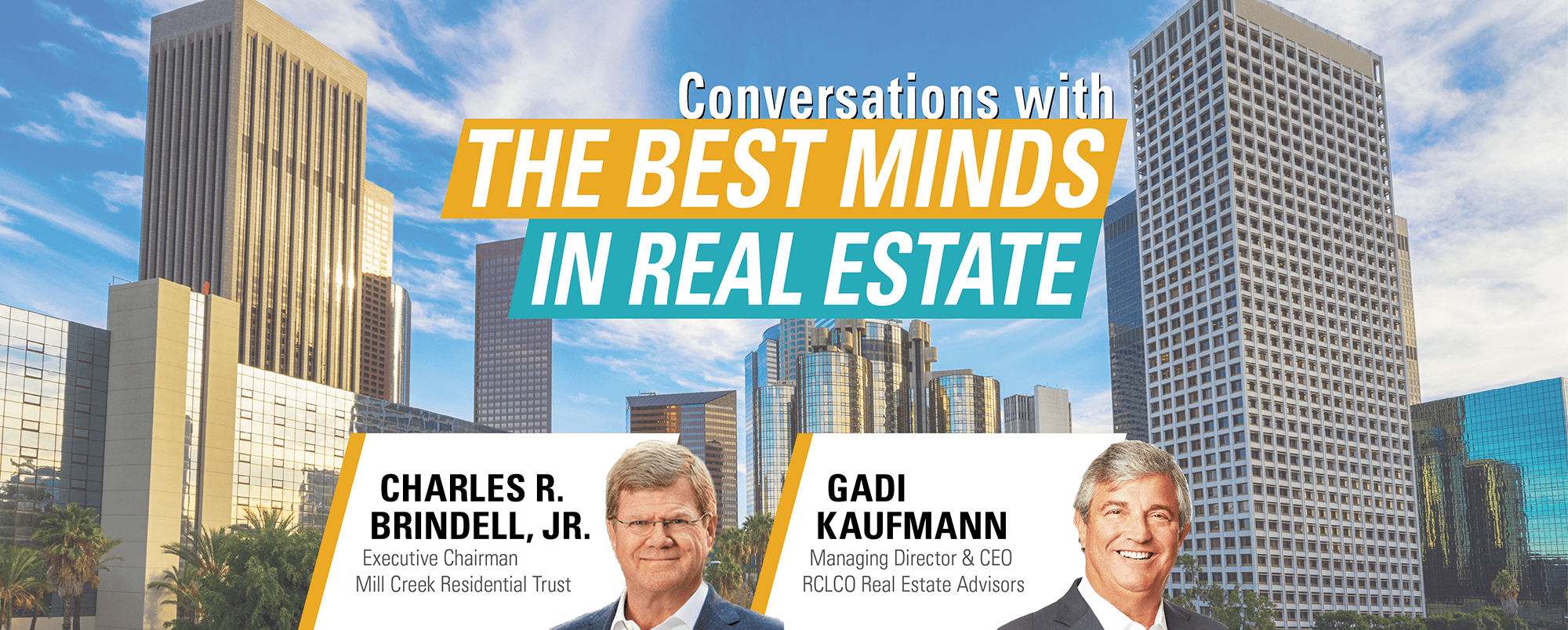 April 4, 2019
Multifamily
Podcast
Subscribe: Google Podcasts | Spotify | Stitcher | TuneIn | RSS
How does Mill Creek Residential scale while maintaining local expertise?
In the latest installation of our podcast series, Charles R. Brindell, Jr. of Mill Creek Residential Trust joins RCLCO CEO & Managing Director, Gadi Kaufmann, to discuss the changing landscape of multifamily development, the viability of scaling a "sharpshooter" strategy, and navigating the details of a recapitalization transaction.
"Today's apartment resident – our primary customer – is far more savvy and has a much higher level of expectation than ever in the past. We no longer simply provide shelter, we're trying to create real communities." – Charles R. Brindell, Jr.
About Charles R. Brindell, Jr. & Mill Creek Residential Trust
Charles R. Brindell, Jr. is Executive Chairman and former CEO of Mill Creek Residential Trust, LLC. Prior to the founding of Mill Creek Residential Trust, Brindell was associated with Trammell Crow affiliated entities for 28 years, including the Trammell Crow Company, Crow Holdings, and Trammell Crow Residential where he served as President and Chief Executive Officer. Mill Creek Residential is an apartment builder, owner, and operator in 14 markets across the United States.
About Gadi Kaufmann & RCLCO
Gadi Kaufmann is Managing Director and CEO of RCLCO, a premier end-to-end solutions provider in the real estate sector. RCLCO offers entity- and portfolio-level strategy planning, economic and market analysis advisory work, due diligence and underwriting services, workouts and restructuring work, turnkey development management services, and transaction services. Gadi joined RCLCO in 1979. He specializes in economic consulting for real estate projects and portfolios; in corporate strategy planning and management consulting at the enterprise level; in transactional and negotiation services; and in financing and capital formation strategy formulation and implementation. He is an active board and committee member of several industry and academic organizations, including the PREA Board of Directors, Editorial Advisory Board Member of The Institutional Real Estate Letter – North America, Chairman of the New Programs Committee of PREA, Trustee of ULI, Governor of the ULI Foundation, and member of the boards of the Ziman Center for Real Estate and the Luskin School for Public Policy at UCLA.
Topics in this episode include:
First meeting (2:03)
Career overview (3:32)
Personal bio (6:42)
Why real estate? (8:38)
What's changing in multifamily in the next 5 years? (10:25)
How does Mill Creek approach new growth opportunities? (13:44)
Does the "Sharpshooter" strategy necessarily limit growth? (17:08)
How does Mill Creek reconcile sharpshooter strategy with institutional professionalism (21:24)
To the layperson, who is Mill Creek Residential? (26:01)
Speak to One of Our Real Estate Advisors Today
We take a strategic, data-driven approach to solving your real estate problems.
Contact Us