Gadi Kaufmann
Chairman RCLCO & RFA
P: (310) 203-3033
E: gkaufmann@rclco.com

Gadi Kaufmann serves as Chairman of RCLCO and RFA/RCLCO Fund Advisors. Prior to assuming this role in 2021, he has served as the firm's CEO since 2000. Under his leadership, the firm solidified its status and prestige as an industry leader while growing revenue five-fold and guiding the firm through challenging economic downturns.
Gadi has over 40 years of experience working with developers, lenders, private and institutional investors, and non-real estate entities, conducting engagements in the U.S. and abroad. Gadi's areas of expertise include economic consulting for real estate projects and portfolios; corporate strategy planning and management consulting at the enterprise level. He accumulated vast experience in formulating and implementing successful investment and portfolio strategies, and in successfully concluding several large-scale transactions involving the acquisition, disposition, and capitalization of numerous individual properties, portfolios, and operating companies with an aggregate transaction value of several billion.
Gadi currently serves as special advisor to several promising real estate companies, helping shape and implement strategies to realize their untapped potential. Gadi has also enjoyed acting as a trusted advisor to some of America's top real estate CEOs, and as a mentor to many young professionals and industry veterans alike through his consulting activities and various programs at UCLA, ULI, and YPO.
Gadi has been an active board member of several industry and educational organizations, including current and past board service on the boards of the Urban Land Institute (ULI), the UCLA Ziman Center for Real Estate, UCLA Luskin School of Public Affairs, Young Presidents' Organization (YPO), and Pension Real Estate Association (PREA).
Gadi holds a Bachelor's degree in Economics from UCLA and has been married to Karen Kaufmann, a professor at UCLA, since 1985. The couple has two grown daughters.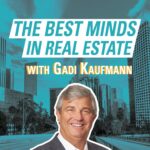 'The Best Minds in Real Estate with Gadi Kaufmann' limited edition video series, posted on RCLCO's YouTube channel, explores a wide range of critical decisions chief executives across the real estate sector are facing in today's unique and challenging times. Subscribe to the channel and check out all of the episodes online here.
Industry Involvement
Gadi's Speaking Engagements