Top-Selling Master-Planned Communities of 2018

January 3, 2019
Master-Planned Communities
Top 50
Every year since 1994, RCLCO has conducted a national survey identifying the top-selling MPCs through a rigorous search of high-performing communities in each state. For this year's 2018 report, we have surveyed MPCs throughout the country to establish the rankings following the release of The Top-Selling Master-Planned Communities: Mid-Year Update 2018. Sales totals may adjust slightly as estimates which have been provided by some communities are finalized over the coming days and weeks.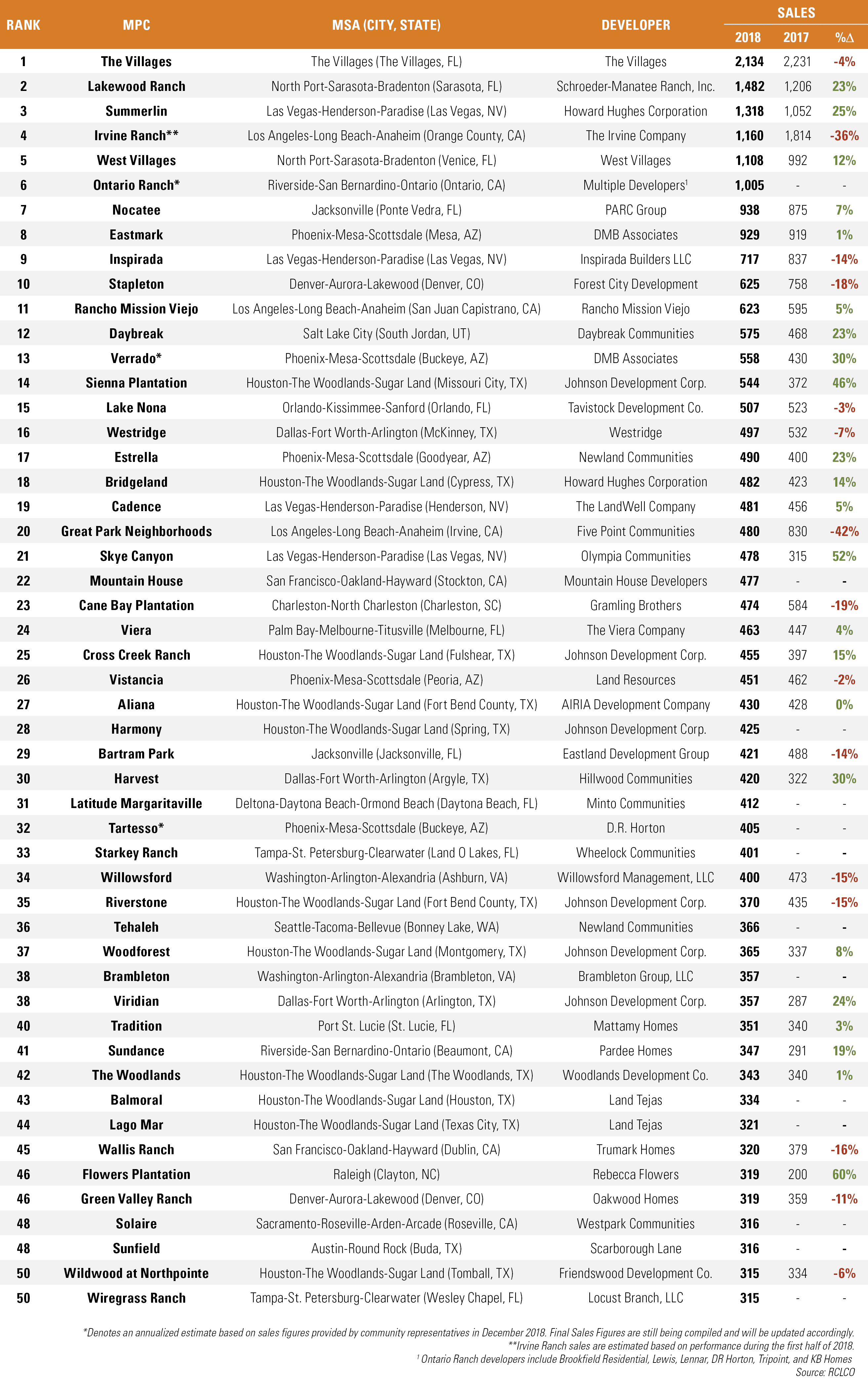 Communities on the 2018 Top-Selling Master-Planned Community (MPC) List experienced average growth of approximately 5% over their totals in 2017 for those that were previously ranked. The Villages, with 2,134 home sales, is once again the top-selling community in the country. Sarasota, Florida's Lakewood Ranch improved its ranking, claiming the second overall spot. Texas, Florida, and California account for 68% of total sales among the 50 top-selling communities, with the share of total sales in other states remaining at about 32% since 2017. Florida continues to dominate the Top-5 of the list, with The Villages, Lakewood Ranch, and West Villages reaching the first, second, and fifth spots, respectively. Summerlin, in Las Vegas, Nevada achieved a 25% increase in sales over their 2017 total, placing them in third place with 1,318 homes sold.
Nationally, sales for new single-family homes in the 12 months trailing October 2018 were up by 2% over 2017 totals, according to Federal Reserve Economic Data (FRED). Despite this, the volume of sales from the Top-10 MPCs in the country has never fully recovered to pre-recession levels, as shown in the chart below.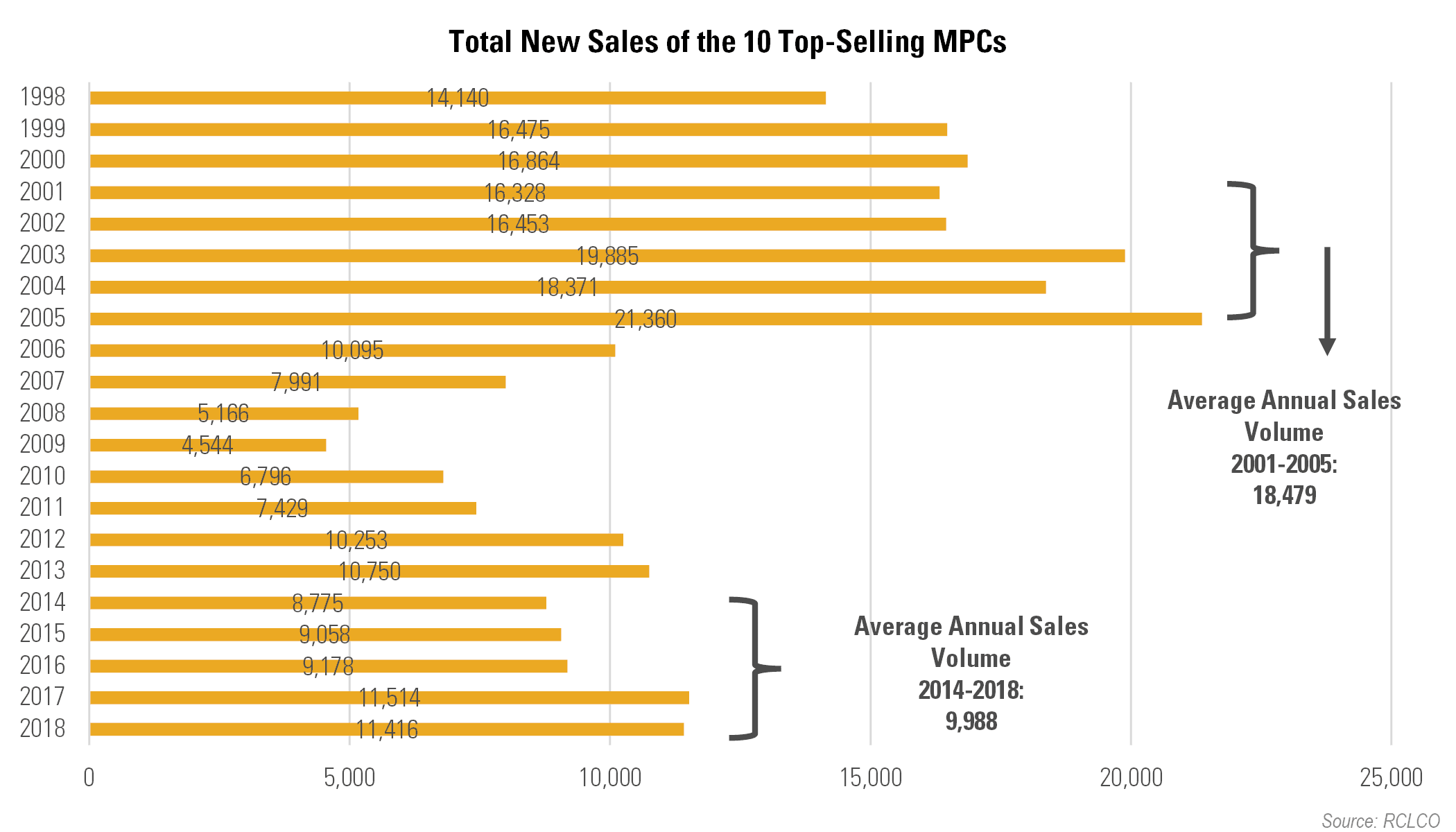 RCLCO's 2018 Housing and Community Preference Survey indicates there is demand for a broader range of home types and sizes than is currently being offered, though builders give many reasons why they cannot meet the demand for lower-priced, entry-level homes. These findings, along with the demonstrated decline in total sales in the top-selling communities following the Great Recession, suggests that MPCs have an opportunity to diversify product types and homes sizes to expand market share. MPCs that have consistently achieved the highest sales have credited their market segmentation strategy–the targeting of a wide range of age, income, and household segments with appropriately priced and designed residential product types and lifestyle amenities–as a key ingredient of their success. Sienna Plantation, which experienced a 46% increase in sales over 2017, is one example of this. Jimmie Jenkins, Vice President of Master Planned Communities for Toll Brothers, said that "Sienna Plantation experienced continued sales growth in 2018, due to increased housing segmentation and more on-site schools."
The chart above summarizes RCLCO's list of the 50 top-selling communities in 2018, including a comparison with 2017 home sales. The Villages is once again the top-selling MPC in the country with 2,134 sales. Sarasota's Lakewood Ranch has continued its climb on RCLCO's list, experiencing a 23% increase in sales over 2017 totals to command the second spot on our 2018 list. Las Vegas' Summerlin has consistently remained among the top five communities in the nation, with an increase in sales this year of 25% placing the community in third place. California's Irvine Ranch declined to provide sales information for the second half of 2018, but it is estimated to have reached a volume of approximately 1,160 sales based on mid-year performance, which represents a 36% decrease in sales from 2017. West Villages, Sarasota's second largest community, saw a 12% increase in sales in 2018, keeping the community in fifth place.
Texas
Sales within the leading Texas MPCs have continued to be strong through 2018, despite concerns that rising land and construction costs are making the provision of affordable homes more difficult. The Houston-The Woodlands-Sugar Land, TX metropolitan area accounts for 70% of the communities on this year's Texas Top-10 list. The Houston area continues to see momentous growth particularly in Fort Bend County to the southwest and increasingly in Montgomery County to the north, aided by major road expansions, such as the Grand Parkway, which continue to increase accessibility across suburban areas outside the central Houston core. Developers cite easy freeway access, a mix of quality builders, social and recreational amenities, and high-quality schools as the primary sales drivers at the top-selling communities in Texas. Despite significant flooding across the metro in 2017 due to Hurricane Harvey, sales in the northwest and southwest suburbs have remained particularly strong.
Communities located within the Dallas-Fort Worth-Arlington, TX metropolitan area comprise the remaining 30% of 2018's Top-10 selling Texas communities. Employment and household growth continue to stretch north of Dallas, predominantly along major corridors such as the Dallas North Tollway. With rising interest rates and increasing construction costs, builders in Dallas have noted that they are losing an increasing share of buyers due to unattainably high price points, especially in the Plano and Frisco region. As a result, the metropolitan area has seen an increase in smaller-lot positions this year, and development has pushed even further north, where there is abundant land and builders can afford to deliver at lower price points. Job creation related to multiple corporate relocations such as Toyota, Liberty Mutual, and JP Morgan Chase continue to serve as major drivers of new home demand in the area.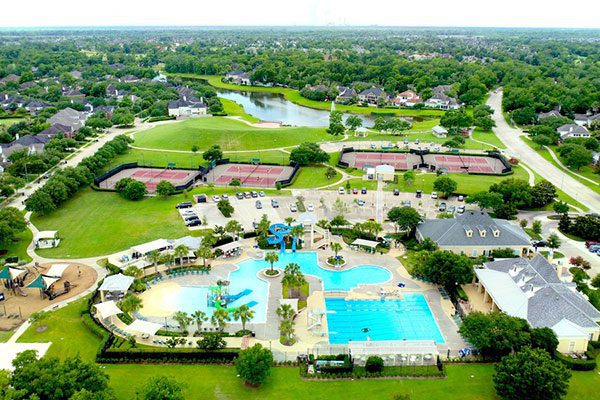 The Austin-Round Rock, TX metropolitan area maintains its position as the third largest market in Texas. The population of Austin continued to grow at a rapid pace through 2018, in part fueled by large technology employers that have an increasing presence in the metro area. Due to the difficulty of new housing supply keeping pace with this rapid growth, affordability is a significant issue, especially for first-time home buyers, which represent a major demographic in the Austin market. As central Austin is largely built out, development continues to push into outlying counties in the metro area, such as Williamson and Hays counties. Additionally, there has been a recent uptick in development outside of Austin's traditional northern and southern growth corridors to areas east of central Austin, where lower land values and more generous entitlements allow for denser, less expensive housing options that better suit first-time home buyers.
Florida
Florida is once again well represented in the Top Selling MPC Survey with 11 of the top 50 communities, up from eight during the mid-year report. Altogether, MPCs in Florida accounted for 30% of Top-50 sales. The Villages retained the top spot for the sixth year in a row, although Sarasota's Lakewood Ranch has narrowed the gap with a spectacular 23% increase in home sales since last year. The expansion in activity at Lakewood Ranch is driven in part by the opening of Waterside, the community's 16th village, on the southern edge of the community. The neighborhood, which will have a new town center with 100,000 square feet of retail, dining, and office space, will include 5,000 homes at buildout, meaning Lakewood Ranch's time near the top of the MPC Survey will likely continue for the foreseeable future. An important aspect of Lakewood Ranch's success is its multigenerational approach to defining its market. Laura Cole, Vice President at LWR Communities, notes that "Our lifestyle and amenities are without peer and we have a dynamic and thriving business environment. These factors attract consumers of all ages and walks of life. Young families, their parents, and grandparents have all found their home in Lakewood Ranch, and this reinforces our very strong extended family dynamic and helps amplify our home sales."
West Villages, Sarasota's second-largest community, and Nocatee in Jacksonville round out Florida communities making the Top-10. Nocatee offers a broad range of builders and lifestyle options and abundant amenities, including a town center, a water park, Nocatee Greenway Trails, and numerous events throughout the year. Lake Nona in Orlando (ranked 15th) continues to establish itself as a premier destination with home sites for sale in nine neighborhoods that are oriented around Medical City, a major cluster of hospitals and medical centers with a large number of high-paying jobs. In the Tampa area, Starkey Ranch and Wiregrass Ranch joined the Top-50 list for the first time.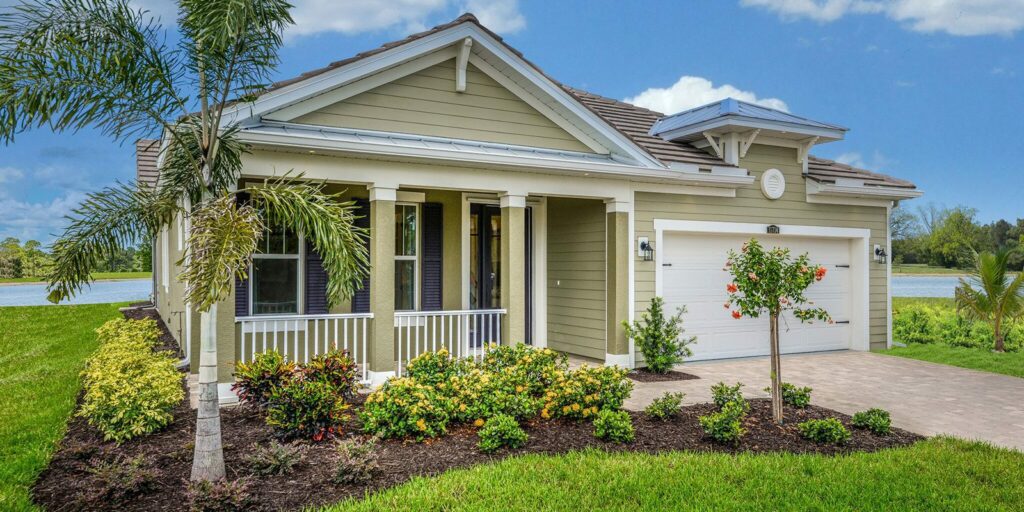 The most successful communities promote attractive lifestyle opportunities for their current and future residents. For example, Starkey Ranch features 12 miles of trails that are planned to connect to the nature trails of Jay Starkey Wilderness Preserve next door, and the community offers over 150 acres of parks, including four dog parks. Wiregrass Ranch offers a variety of neighborhoods and homes for families at various stages of life, including its resort-style The Ridge at Wiregrass Ranch set amidst several lakes and nature preserves. The Shops at Wiregrass provides residents with convenient access to shopping and services.
The Florida market continues to be buoyed by mature buyers due to the state's long-term attractiveness as a retirement destination, and many of the top-performing Florida communities offer age-restricted product, including The Villages, Lakewood Ranch, and Nocatee. In 2018, Florida accounted for 12% of out-of-market mortgage loans nationwide, according to LendingTree's State Migration Study, the highest figure in the country. Younger buyers are also having an impact, as the volume of first-time home buyers in the state has increased 66% since 2014, according to Genworth Mortgage Insurance, the third fastest rate in the nation. Communities that create affordable product targeting younger buyers will continue to see an increase in sales activity moving forward.
West
California's economy has grown at a rapid pace since the Great Recession and would rank as the fifth largest economy in the world if viewed as a sovereign nation. Employment gains in California have outpaced broader US job growth and as such population growth and household formations have expanded. Home sales in Southern California have slowed on the high end, but there remains strong demand for more affordably priced homes. Rising interest rates and murky trade relations that have slowed down international cash inflows have likely contributed to the deceleration in high-value housing. The strong economy has also attracted additional land investments from builders, causing increased competition, which ultimately benefits the consumer in the form of additional options via differentiated product lines.
Summerlin in Las Vegas grew total net new home sales by a robust 25%. Within the Las Vegas-Henderson-Paradise, NV metropolitan statistical area, new home sales have performed exceptionally well due to a lack of resale supply in the area. Prices in 2018 have experienced significant increases, particularly for new homes as November marked the fifth straight month of double-digit price increases year over year.
More affordably priced homes are seeing increased sales volumes elsewhere in the west. Communities like Denver's Stapleton have described single-family homes with smaller footprints (between 800 and 1,000 square feet) as performing well due to buyers' demands for more affordable housing stock in a relatively expensive market. Strong employment growth in both Colorado and Arizona has been cited as a key driver for robust sales numbers.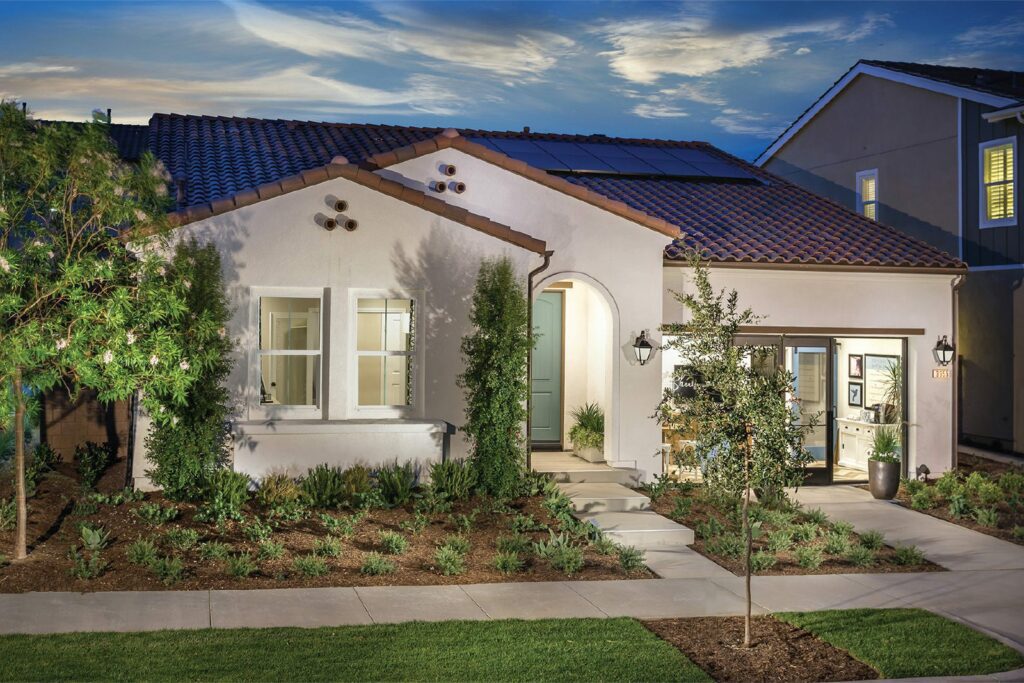 Atlantic
Sales growth at Atlantic Coast Top-50 communities has been fairly muted in this year's survey. Willowsford in Ashburn, Virginia, experienced a 15% decline in total sales as the community, which has experienced tremendous success within the DC area market, is approaching buildout. The community is notable for their "connection to nature" established by the presence of numerous nature trails, waterways, and a functioning farm that help differentiate them from the competition and attract homebuyers.
Brambleton is ranked 38th in this year's survey after coming in at the 36th spot in the mid-year rankings and missing the Top-50 in 2017. Their recent development of an active adult community (AAC) within the community has helped them to gain a previously underserved segment of the buyer pool and reclaim a spot in the rankings. In addition, strong local schools and unique urban-style townhome product have effectively targeted younger home buyers.
Summary
Despite steadily rising home prices and rising mortgage interest rates, 2018 was generally a good year for MPCs. The outlook for 2019 is that even with the pace of home price increases slowing, reduced affordability will make it challenging to maintain the total sales pace without a shift in the mix of housing products being offered to include a greater share of attainably priced product. Average new home prices are up over 50% since the recovery from the Great Recession (not adjusted for inflation) and that combined with higher interest rates will continue to dampen the pace of sales. While economic growth may slow in 2019, most economists are not predicting a recession before 2020. Consumer confidence remains strong. If and when uncertainty becomes greater, MPCs typically benefit as consumers perceive them to be a safer bet to preserve equity. All this suggests that 2019 will be a good, if not great year, for MPCs. Stay tuned.
---
The ranking of 2018's 50 top-selling communities is based on total net new home sales as reported by each individual community. To be included in our ranking, MPCs must have a number of features. True MPCs are developed from a comprehensive plan by a master developer, and incorporate a variety of housing types, sizes, and prices, with shared common space, amenities, and a vital public realm. The best examples of MPCs are developed with a strong vision and comprehensive plan that guide development and unify the community through distinctive signage, wayfinding, entry features, landscaping, and architectural/design standards. Beyond the built environment, MPCs differentiate themselves from typical suburban subdivisions in that they provide a means for interaction among neighbors in the sense of the word "community." They foster an environment within which generations can live better in terms of housing and the community environment, and many offer educational opportunities, neighborhood shopping and services, and even employment centers to complement the residential neighborhoods. Although rooted in a vision, the most resilient MPCs have flexible master plans that are environmentally sensitive, market responsive, and nurture the lifestyles of their residents.
Given the above criteria, we do not include the collective sales of multiple, separate communities that are unified only through marketing efforts rather than a preconceived community vision, nor do we include communities that are a collection of subdivisions that have few unifying elements other than consistent signage and name.
---
Report prepared by Gregg Logan, Managing Director, and Karl Pischke, Senior Associate. Additional research support was provided by Sevan Douzdjian, Ryan Guerdan, Dominic Mazza, Cameron Pawelek, Dana Schoewe, Eric Whinnen, and Morgan Zollinger.
References
In order of appearance:
Photo courtesy of www.har.com
Photo courtesy of Mattamy Homes
Photo courtesy of Brookfield Residential
Photo courtesy of Walnut Creek SC
Reasonable efforts have been made to ensure that the data contained in this report reflect accurate and timely information, and the data is believed to be reliable and comprehensive. The Advisory is based on estimates, assumptions, and other information developed by RCLCO from its independent research effort and general knowledge of the industry. This report contains opinions that represent our view of reasonable expectations at this particular time, but our opinions are not offered as predictions or assurances that particular events will occur.
Speak to One of Our Real Estate Advisors Today
We take a strategic, data-driven approach to solving your real estate problems.
Contact Us