RCLCO's Data Visualization Toolkit & Insights for the Real Estate Industry
April 27, 2021
Real Estate Market Trends
Interactive
A question that we often hear is "How is technology and big data impacting the real estate industry?" We are aware that there are many emerging technologies and big ideas that are being pursued with the possibility to change, disrupt, or create new business models for real estate in the future. However, there are still data gaps given the lack of public reporting in the industry, which have slowed down the ability of technology to revolutionize the space. The biggest advances are being made by those who are active in the industry and can see where data and technology can make improvements from the bottom up, mitigating inefficiencies, improving operations, and optimizing utilization.
At RCLCO we wanted to share how we are utilizing data and technology in our work, by:
improving our existing methodologies and analysis,
expanding the ways we interact with clients and what a "deliverable" is, and
partnering with others in the industry who are utilizing data and analytics in new ways.
RCLCO has also brought on Scott Stoltzman as the Director of Data Science, to help further our ability to harness big data in our work. We shared some of the ways we are currently utilizing technology in a webinar last week and wanted to highlight a few of the key takeaways, including some recent data-driven tools.
Browse through all of RCLCO's interactive tools >>
When seeking to become a more data-driven company, the first step is not to gather data and then run analyses to see is something useful or relevant comes out. What makes data science most effective is when a company identifies an opportunity or challenge within their business, and then structures a targeted question that data can answer to further their overall business strategies and priorities. What follows are the results of using data to respond to specific objectives within the real estate industry.
Neighborhood Classification
The first tool is RCLCO's Neighborhood Atlas, which is an interactive visualization of U.S. suburban and urban neighborhoods which was developed to complement work done by ULI's Terwilliger Center for Housing. This tool was created to help define, at a more specific level, the distinction between different types of neighborhoods that previously fell under the more broad 'urban' or 'suburban' classifications. For example, in a city like Washington, D.C. there are areas within the city limits (AU Park or Takoma) that qualify as established or stable suburbs, and areas further out in neighboring Virginia (Reston Town Center and Tysons) that qualify as urban emerging economic centers.
You can actively explore the neighborhood atlas just like any other online map, easily identifying the classification for neighborhoods where you live, work, play, or may be planning a real estate development. Click here to explore the Neighborhood Atlas, to learn more about the methodology, and to read the full study document.
Performance Tracking Pre- and Post-Pandemic
The second tool is an interactive dashboard tracking urban and suburban apartment market performance over the Covid-19 pandemic. This tool allows for the comparison between metro areas or between neighborhood types within a metro. The tool also includes metrics such as effective rent and occupancy, and suggests that there is some nuance to the more binary statement that suburbs have outperformed urban areas.
In Atlanta, for example, urban rents dropped overall, though stable and challenged residential neighborhoods saw rents increase during the same period that high-end neighborhoods, mixed-use districts, and economic centers saw effective rents drop. In most areas you can also expand the timeline to look back pre-pandemic. Click here to explore the apartment performance data and methodology.
Interactive Reports for Clients
The third example we shared in our webinar was of a sample dashboard, representing the type of custom deliverable we have begun to create for our clients who are interested in geographic expansion analyses, and responds to highly targeted questions tailored to each client's unique business strategy. Data can be collected on factors, including household growth, potential rent upside, growth/share of key employment industry sectors, top of market rent levels, and many other factors, which can be weighted based on a company's specific expansion criteria.
In these analyses, we look at data on the metro and submarket level and create a proprietary scoring methodology that allows us to prioritize and rank submarkets. This dashboard allows the client more functionality than a static PDF report, as they are able to run and adjust scenarios as they see fit and visualize the information instantaneously. The below is a screenshot of this analysis, but please watch our webinar to see an interactive demonstration.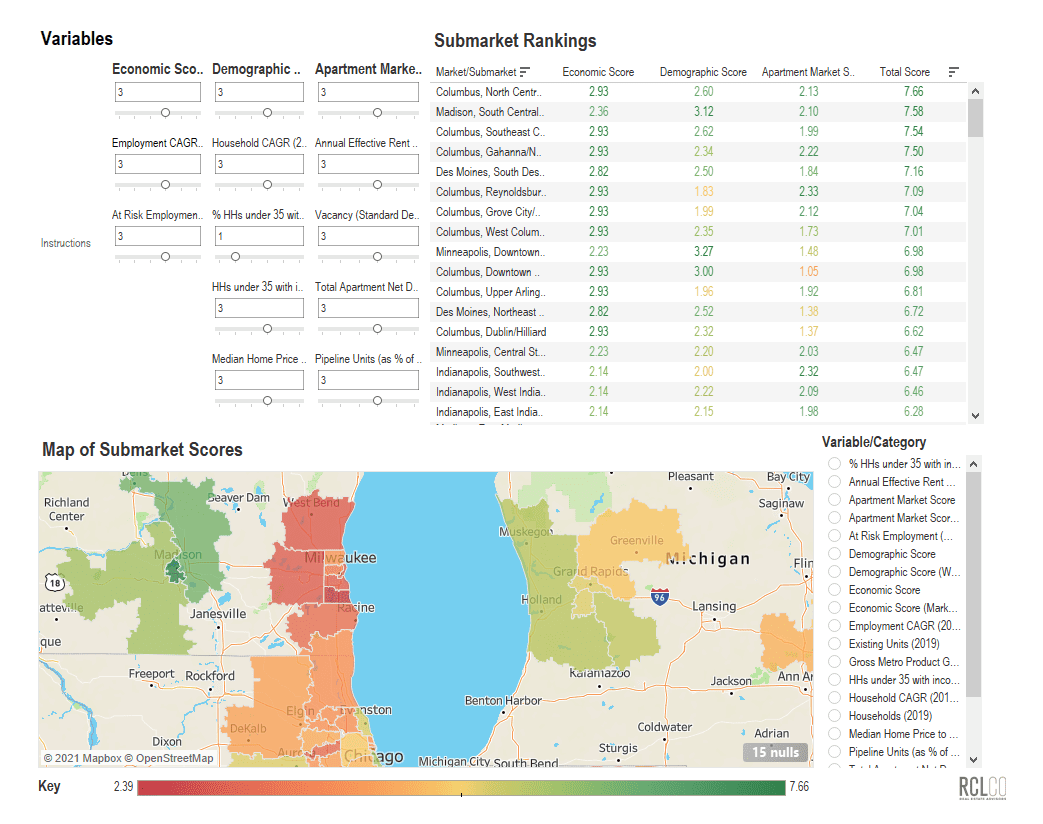 The XO
As a final example, RCLCO has partnered with Cecilian Partners, a customer experience company that created an innovative proptech offering called The XO, which delivers a faster, better experience to the home buyer and simplifies operations for home builders and developers. This software provides high-quality, up-to-the-minute data at the community level, which results in higher visibility and insights into sales and operational information, data which previously was often provided piecemeal and with months of lag time. More information about this innovative tool can be found at the Cecilian Partners website.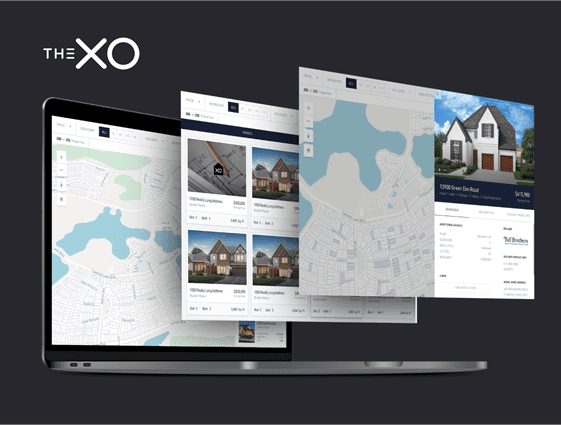 ---
We at RCLCO are excited by these tools that we have shared, and by the possibility of tools that are still under development. We hope that this overview helps illuminate a little bit about where RCLCO is headed, and also may provide some ideas for where there may be opportunities for utilizing technology in your own business. If you have any questions about how you can best utilize these tools, feel free to email Kelly Mangold at kmangold@rclco.com.
---
Article and research prepared by Erin Talkington, Managing Director and Todd LaRue, Managing Director
Disclaimer: Reasonable efforts have been made to ensure that the data contained in this Advisory reflect accurate and timely information, and the data is believed to be reliable and comprehensive. The Advisory is based on estimates, assumptions, and other information developed by RCLCO from its independent research effort and general knowledge of the industry. This Advisory contains opinions that represent our view of reasonable expectations at this particular time, but our opinions are not offered as predictions or assurances that particular events will occur.
Speak to One of Our Real Estate Advisors Today
We take a strategic, data-driven approach to solving your real estate problems.
Contact Us