The Top-Selling Master-Planned Communities of Mid-Year 2020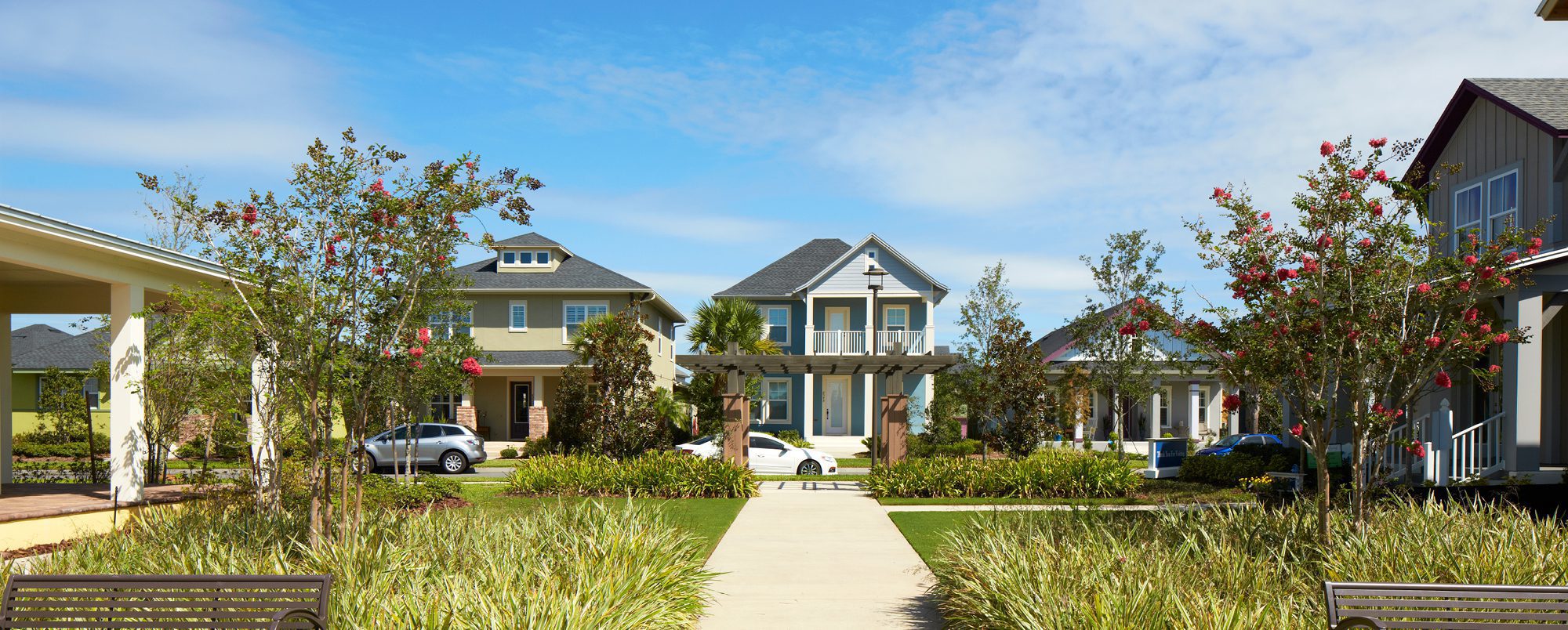 July 9, 2020
Master-Planned Communities
Top 50
Total new home sales among those communities tracked in both our 2019 mid-year survey and 2020 mid-year survey are up over 16%, despite the economic impacts of the COVID-19 pandemic. The 50 Top-Selling Master-Planned Communities (MPCs) in the country sold almost 7% more homes than the communities that made up last year's Top 50 list (note that those communities that comprise the Top 50 changes from year to year). The Villages retiree-focused community once again claims the top spot in RCLCO's ranking, along with two other Florida communities that round out the top three. Sarasota, Florida's Lakewood Ranch claimed the number two spot overall, and is the top-selling multi-generational community ahead of its pace this time last year by 2%. Venice, Florida's Wellen Park (formerly West Villages) increased its 2019 mid-year new home sales pace by 1%, coming in third overall. In this issue of The Advisory we discuss how some of the best-selling communities in the country are thriving despite the COVID-19 pandemic, and what that means for sales in the second half of the year.
Every year since 1994, RCLCO has conducted a national survey identifying the top-selling master-planned communities (MPCs) through a rigorous search of high-performing communities in each state. Each year we report total year-end sales among the Top-50 communities at the beginning of the new year, as well as publish this mid-year report each July. For this mid-year 2020 report, we have surveyed MPCs throughout the country to establish the current rankings as an update to our Top-Selling Master-Planned Communities of 2019 and Best of the Decade. Also in this issue, we examine the ways in which the top-selling communities are realizing strong sales despite the coronavirus crisis and what that might mean for sales in the second half of the year.
Top-Selling Master-Planned Communities of Mid-Year 2020
In our Year-End 2019 issue of RCLCO's Top-Selling Master-Planned Communities Report, we reported that the demand for new homes in master planned communities was strong and growing, and that we believed 2020 and beyond would be good years for MPC sales and marketing. Of course no one knew then that we'd be dealing with a worldwide pandemic, and optimism for the real estate market was high. New home sales were almost 22% higher in January 2020 compared to a year earlier, and almost 8% higher in February. March sales were another story, falling almost 13% from a year earlier, and almost 15% below February 2020 new home sales, and the slide continued into April. However, the April data for MPC's showed something different, with a majority of surveyed developers reporting that in the second half of April their sales pace recovered, even with State lockdowns in place in many locations. A similar trend showed up in the overall new home sales for May, but has been even stronger among MPC's.
Annualized Pace of New Home Sales (000's)
Source: U.S. Census
Total new home sales among those communities tracked in both our 2019 mid-year survey and 2020 mid-year survey are up over 16% compared to last year, despite the economic impacts of the COVID-19 pandemic. It's important to note that the communities comprising the Top-50 changes somewhat from year to year, as some communities sell out and others come on-line. For the first part of this year, the communities comprising the 50 Top-Selling Master-Planned Communities (MPCs) in the country sold 6.8% more homes through the mid-year than the MPCs which comprised the last mid-year list, putting them on track to be nearly 10% higher than 2019's year-end Top-50 list. Retiree-oriented The Villages once again claims the top spot in RCLCO's ranking of the top-sellers, followed by Lakewood Ranch, which is the top-selling multigenerational community in the country.
Sarasota, Florida's Lakewood Ranch is currently ahead of its pace this time last year by 2%. Just south of Lakewood Ranch, in Venice, Florida, Wellen Park (formerly West Villages) increased its 2019 mid-year pace by 1%, claiming the third overall spot in the mid-year survey. The top-five communities are rounded out by Las Vegas's Summerlin in the fourth-place spot with 642 sales through the mid-year, and Salt Lake City's Daybreak claiming fifth place after an impressive 40% increase in its sales compared to this time last year.
Texas and Florida combined account for 61% of total sales among the 50 top-selling communities. Texas leads all other States in terms of total MPCs represented on the list with 20 MPCs among the ranks of this mid-year's top-sellers, up from 11 this time last year. Texas is experiencing significant migration from high tax States such as California. Florida continues to dominate the very top of the list, (The Villages, Lakewood Ranch, and Wellen Park). Outstanding performances from Daybreak in the Salt Lake City MSA, and Cane Bay Plantation in Charleston, South Carolina, puts a spotlight on those markets. The Houston-The Woodlands-Sugar Land, TX MSA ranks as the top-selling master-planned community market overall with ten communities accounting for 2,853 sales through the first half of the year. In terms of total sales volume, the Las Vegas-Henderson-Paradise, NV MSA comes in at second place with 2,028 sales representing five communities.
Master-Planned Communities and the Impacts of COVID-19
2020 began as a strong year for new home sales across all categories, with sales up almost 22% in January compared to a year earlier. By March of this year that pace had slowed, but data from the US census through the end of the first quarter still showed a 4% increase over the same time period last year. Consumer fears along with State and local stay-at-home orders and quarantine measures took a toll on physical traffic to sales offices in March and early April, causing sales to fall substantially at most MPC's and in the market overall. But after dropping dramatically in late March and early April, sales in the last two weeks of April rebounded and the trend continued into May and June. Online traffic has been up across the board even as physical traffic has returned, and those MPCs with more advanced tech features (virtual tours, community apps, etc.) to facilitate home sales had the most success during the slower period. Prior to the social and economic upheaval of the pandemic, there was already a great need to update and improve the consumer experience around home buying, and those builders and developers who were already utilizing online and virtual technology to make such improvements have had a significant advantage during this period of social distancing.
Builders, developers, and salespeople are adapting to new technology solutions as consumers remain wary of returning to business as usual. We are seeing that those organizations that are adopting new technologies, such as accommodating self-showings and online transactions, are attractive to consumers for their safety as well as their simplicity and ease of use. In addition to moving more sales and marketing online, the increased use of community apps and online amenities and services have become critically important aspects of both the sales and community building processes. Consumer's hesitation to participate in large-scale social gatherings may be one of the long term impacts of the Covid-19 pandemic, making virtual solutions very important to many aspects of community life. The execution of virtual sales, marketing, and community amenity components have helped both to facilitate new home sales as well as to sustain the sense of community which Master-Planned Communities strive to create and which is key to their "lifestyle" appeal. (see The New Normal for Master-Planned Communities Sales, Marketing, and Management Technology).
Despite continuing concerns about the recent increase in coronavirus cases as States have rushed to re-open, and how the pandemic will ultimately be resolved, MPC developers are generally optimistic about the balance of the year. MPCs have historically performed better than other new residential communities in times of economic hardship. Year to date MPC sales have performed stronger than the market overall, and this is consistent with historical trends. Master-Planned Communities have increased their market share in times of economic uncertainty, as shown in the graph below which compares sales in the Top-10 master-planned communities in the country to overall sales in the year's following the great recession. During the run-up to that crisis, sales at the top-10 MPCs (used as a proxy for MPCs overall) saw their market share fall as markets were in fact over-supplied, but then as The Great Recession severely impacted overall new home sales the top MPCs saw their market share increase. We believe this is a "flight to quality" and perhaps a "flight to safety" wherein MPC's are perceived as a better, safer investment as well as place to live.
MPCs Gain Market Share in Tough Times
Source: RCLCO
Further evidence of this is indicated by communities such as Daybreak in Salt Lake City, a market with few other Master-Planned Community options, which experienced an increase in sales of almost 40% compared to last year despite the current health and economic concerns. Similarly, Viera in Melbourne, Florida and Tradition in Port St. Lucie, Florida, both markets with few other MPC competitors, saw increases in sales of 41% and 62%, respectively.
State of the MPC Market Moving Forward
How the pandemic will ultimately resolve, as well as its impacts on the economy and real estate, remains uncertain, but it has been refreshing to see that among the top-selling master-planned communities, after a pause in March and early April, consumers grew tired of deferring the home-buying decision, and by mid-April, motivated buyers were back in the market and have largely remained. The fact that MPC's have been able to grow their market share in tough times also bodes well for the rest of the year and beyond. RCLCO consumer research consistently indicates that there is more demand for MPC home sales than supply, if homes can be delivered at the price points consumers can afford. Consumers value well executed communities.
Moving forward, there are two important factors that may ultimately play a role in the magnitude of MPC sales in the second half of 2020:
The first wave of COVID-19 lockdowns had an impact on lot takedowns by builders, which may not be fully realized until later in the year, or after the other effects of the virus have diminished. Demand for new homes in MPCs was impacted most significantly in March and April as a result of stay-at-home orders when foot traffic was heavily reduced, however this demand surged at the end of April and early May as lockdown restrictions began to end. While consumer demand may have taken a brief hit, conversations with community representatives indicated that many builders asked to slow lot takedowns amidst the uncertainty of the economic environment. While developers generally continued with infrastructure and development efforts that were already underway, some did pause on new investments until the impacts on sales could become clear. These hesitations, coupled with the fact that months' supply of new homes remains at a low of just 5.6 months (compared to 12.2 months of supply prior to The Great Recession and 11.6 months of supply prior to the Energy Crisis Recession), indicate that there may be some instances of insufficient lot inventory in some places to keep up with new home demand. Master-Planned Communities that are able to work with builders to maintain inventory at levels comparable to those seen before this crisis will obviously perform most successfully through this crisis and beyond.
Housing attainability, and the ability to provide a diversity of product at a variety of price points, remains a critical issue that will continue to be important for Master-Planned Communities to address. A potential scarcity in new home inventory may only serve to exacerbate this problem, as it keeps pressure on prices. MPCs that work to refine their segmentation strategies, targeting a diverse array of market audiences through specific product and pricing programs, will likely be the big winners in the Top-Selling Master-Planned Communities of 2020 to be released later this year, based on our experience.
There are of course other considerations for evaluating prospects for the housing market over the balance of the year, such as the impact of political and social unrest leading into the November election, potential increases in bankruptcies and layoffs without Congress and the White House agreeing on further federal stimulus funding, lenders implementing more stringent lending standards potentially stifling demand, etc. As always we will be carefully monitoring the market and updating our assessment of trends and their impacts here in The Advisory.
---
The ranking of Mid-Year 2020's 50 top-selling communities is based on total net new home sales as reported by each individual community. Preliminary sales numbers were provided by communities in mid-June and pro-rated in order to arrive at estimated mid-year sales, with final sales figures provided during the first week of July, and in some cases being updated periodically throughout the month. To be included in our ranking, MPCs must have a number of features. True MPCs are developed from a comprehensive plan by a master developer, and incorporate a variety of housing types, sizes, and prices, with shared common space, amenities, and a vital public realm. The best examples of MPCs are developed with a strong vision and comprehensive plan that guide development and unify the community through distinctive signage, wayfinding, entry features, landscaping, and architectural/design standards. Beyond the built environment, MPCs differentiate themselves from typical suburban subdivisions in that they provide a means for interaction among neighbors in the sense of the word "community." They foster an environment within which generations can live better in terms of housing and the community environment, and many offer educational opportunities, neighborhood shopping and services, and even employment centers to complement the residential neighborhoods. Although rooted in a vision, the most resilient MPCs have flexible master plans that are environmentally sensitive, market responsive, and nurture the lifestyles of their residents.
Given the above criteria, we do not include the collective sales of multiple, separate communities that are unified only through marketing efforts rather than a preconceived community vision, nor do we include communities that are a collection of subdivisions that have few unifying elements other than consistent signage and name.
---
Article and research prepared by Gregg Logan, Managing Director, and Karl Pischke, Vice President.
Additional research support was provided by Josh Ball, Sevan Douzdjian, Ryan Guerdan, Liam Mercer, Cameron Pawelek, and Eric Whinnen.
Disclaimer: Reasonable efforts have been made to ensure that the data contained in this Advisory reflect accurate and timely information, and the data is believed to be reliable and comprehensive. The Advisory is based on estimates, assumptions, and other information developed by RCLCO from its independent research effort and general knowledge of the industry. This Advisory contains opinions that represent our view of reasonable expectations at this particular time, but our opinions are not offered as predictions or assurances that particular events will occur.
Speak to One of Our Real Estate Advisors Today
We take a strategic, data-driven approach to solving your real estate problems.
Contact Us